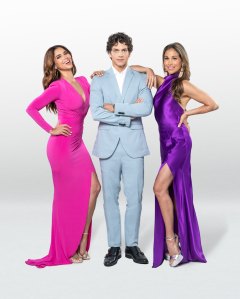 Roselyn Sánchez and Isaac Hernández to return this season alongside Bianca Marroquín as expert judges of the hit reality dance competition 
Click here to download promotional assets 
MIAMI, FL. – AUGUST 14, 2023 – Univision announced today that "Domingos en Familia" (Family Sundays) will be coming back recharged this fall with an expert judging panel for the upcoming season of MIRA QUIÉN BAILA LA REVANCHA featuring Broadway star Bianca Marroquín, acclaimed ballet dancer Isaac Hernández, and triple-threat Roselyn Sánchez. The stellar group of judges is tasked with using their expertise to critique, guide, and influence the eight participants who will be leaving it all on the dance floor for a cause close to their hearts.  
Actress and dancer Bianca Marroquín broke barriers and became the first Mexican actress to obtain a leading role in Broadway. She launched herself into stardom in the U.S. with her impeccable interpretation of "Roxie Hart" in the emblematic musical "Chicago." Marroquín made her debut as a judge for MIRA QUIÉN BAILA in 2010 and stayed on for four consecutive years and returned in 2020.  
Internationally decorated Mexican ballet dancer and actor Isaac Hernández returns for the second consecutive year as judge for the reality dance competition. From an early age, Hernández took an interest in the art of dance and through the years perfected his craft thus landing a role as the lead principal at the world-renowned San Francisco Ballet.  
In addition, actress, model, singer, and philanthropist Roselyn Sánchez also returns for a second stint on the judge's podium of MIRA QUIÉN BAILA. The protagonist on FOX's television series "Fantasy Island," made her Hollywood debut in "As the World Turns" making history as the first Latina character in the series. After conquering the big screen with her roles in "Chasing Papi," "Boat Trip," and "Rush Hour 2," Sánchez launched her singing career with her album Borinqueña a tribute to her native island of Puerto Rico.  
MIRA QUIÉN BAILA LA REVANCHA is hosted by Chiqui Delgado and Mane de la Parra and will showcase dancers Adrián Lastra, Amara La Negra, Diego Amozurrutia, Frida Sofía, Lambda García, Lis Vega, Raúl Coronado, and Sandra Itzel who will give it their all over a course of eight weeks to be crowned the eleventh winner of the hit reality show. 
MIRA QUIÉN BAILA LA REVANCHA is a co-production of TelevisaUnivision and EndemolShine Boomdog. 
Viewers can join the conversation on social media by following the hashtag #MiraQuienBaila on Facebook, Instagram and Twitter. For more information visit Univision.com/shows.  
Visit televisaunivision.com for more information on TelevisaUnivision and follow us on Twitter and Instagram.   
CONTACTS:   
Laura Paez lpaez@televisaunivision.com 
Bettina Humphreys bhumphreys@televisaunivision.com 
###
MIRA QUIÉN BAILA LA REVANCHA de Univision anunció su panel de jueces

repleto de estrellas
Roselyn Sánchez e Isaac Hernández regresarán esta temporada junto a Bianca Marroquín como jurado experto de la exitosa competencia reality de baile 
Haz clic aquí para descargar material promocional 
Miami,. FL. – 14 de agosto de 2023 – Univision anunció hoy que "Domingos en familia" regresará recargado este otoño con un jurado experto para la próxima temporada de MIRA QUIÉN BAILA LA REVANCHA con la estrella de Broadway Bianca Marroquín, el aclamado bailarín de ballet Isaac Hernández y la actriz, cantante y bailarina Roselyn Sánchez. El grupo estelar de jueces tiene la tarea de usar su experiencia para ofrecer críticas, guiar e influir en los ocho participantes que lo dejarán todo sobre la pista de baile por una causa cercana a sus corazones.   
La actriz y bailarina Bianca Marroquín rompió barreras y se convirtió en la primera actriz mexicana en obtener un papel protagónico en Broadway. Alcanzó el estrellato en Estados Unidos con su impecable interpretación de "Roxie Hart" en el emblemático musical "Chicago". Marroquín debutó como jueza de MIRA QUIÉN BAILA en 2010, formó parte del jurado durante cuatro años consecutivos y regresó en 2020.   
Isaac Hernández, el actor y bailarín mexicano de ballet de renombre internacional, regresa por segundo año consecutivo como juez de la competencia reality de baile. Desde temprana edad, Hernández se interesó en el arte de la danza y, a lo largo de los años, perfeccionó su oficio y consiguió un papel como bailarín principal en el mundialmente famoso Ballet de San Francisco.  
Además, la actriz, modelo, cantante y filántropa Roselyn Sánchez también regresa por segunda vez al podio de jueces de MIRA QUIÉN BAILA. La protagonista de la serie de televisión de FOX "Fantasy Island" hizo su debut en Hollywood en "As the World Turns", haciendo historia como el primer personaje latino de la serie. Después de conquistar la pantalla grande con sus papeles en "Chasing Papi", "Boat Trip" y "Rush Hour 2", Sánchez lanzó su carrera como cantante con su álbum Borinqueña, un tributo a su isla natal de Puerto Rico.  
MIRA QUIÉN BAILA LA REVANCHA es presentado por Chiqui Delgado y Mane de la Parra y contará con la participación de los bailarines Adrián Lastra, Amara La Negra, Diego Amozurrutia, Frida Sofía, Lambda García, Lis Vega, Raúl Coronado y Sandra Itzel, quienes darán lo mejor de sí a lo largo de ocho semanas para convertirse en el onceavo ganador o ganadora del exitoso reality show. 
MIRA QUIÉN BAILA LA REVANCHA es una coproducción de TelevisaUnivision y EndemolShine Boomdog. 
Los televidentes pueden unirse a la conversación en las redes sociales siguiendo el hashtag #MiraQuienBaila en Facebook, Instagram y Twitter. Para más información visita Univision.com/shows. 
Visita televisaunivision.com para obtener más información sobre TelevisaUnivision y síguenos en Twitter e Instagram.    
CONTACTOS:   
Laura Paez lpaez@televisaunivision.com 
Bettina Humphreys bhumphreys@televisaunivision.com