SPECIAL COVERAGE ALERT
NOTICIAS UNIVISION Brings Special Coverage of New Federal Indictment and Court Appearance of Former President Donald Trump in Washington DC
NOTICIAS UNIVISION's live coverage begins Thursday, August 3 at noon ET and will be broadcast on UNIVISION and streamed on ViX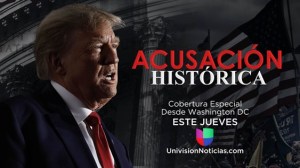 WHAT:  NOTICIAS UNIVISION will bring special coverage of former President Donald Trump's federal indictment in Washington DC on Thursday, August 3. The current presidential candidate for the Republican party, Donald Trump has been indicted by the Department of Justice on four felony counts: conspiracy to defraud the United States, conspiracy to obstruct an official proceeding, obstruction of and attempt to obstruct an official proceeding and conspiracy against rights. The four federal charges are related to the attempted overturning of the 2020 Election. This is the third time the former president is facing charges as he seeks to be the Republican Party's nominee to face President Joe Bien in the 2024 presidential election.
WHO: NOTICIAS UNIVISION's coverage will be led by the country's most trusted Hispanic anchors, Jorge Ramos and Ilia Calderón. Along with our news correspondents, guests and analysts, Jorge and Ilia will provide all the details onsite live from Washington, DC, alongside NOTICIAS UNIVISION's top commentators, and analysts.
WHEN/WHERE: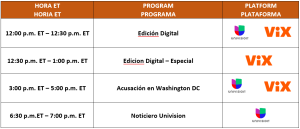 ###
ALERTA DE COBERTURA ESPECIAL
NOTICIAS UNIVISION trae cobertura especial de la nueva acusación federal y comparecencia judicial del expresidente Donald Trump en Washington DC
La cobertura de NOTICIAS UNIVISION comienza en vivo el Jueves, 3 de agosto al mediodía ET y será transmitiendo por UNIVISION y streaming en ViX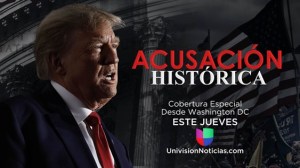 QUÉ: NOTICIAS UNIVISIÓN ofrecerá una cobertura especial de la acusación federal del expresidente Donald Trump en Washington DC el jueves 3 de agosto. El actual candidato presidencial por el partido republicano, Donald Trump, ha sido acusado por el Departamento de Justicia de cuatro cargos de delito grave: conspiración para defraudar a los Estados Unidos, conspiración para obstruir un procedimiento oficial, obstrucción e intento de obstruir un procedimiento oficial y conspiración contra los derechos. Los cuatro cargos federales están relacionados con el intento de anular las elecciones de 2020. Esta es la tercera vez que el expresidente se enfrenta a cargos mientras busca ser el candidato del Partido Republicano para enfrentarse al presidente Joe Bien en las elecciones presidenciales de 2024.
QUIÉN: La cobertura de NOTICIAS UNIVISION estará dirigida por los presentadores hispanos de mayor confianza del país, Jorge Ramos e Ilia Calderón. Los copresentadores ofrecerán todos los detalles en directo desde Washington, DC, junto con los principales comentaristas y analistas de NOTICIAS UNIVISION.
CUANDO/DONDE: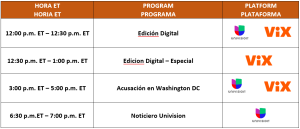 ###