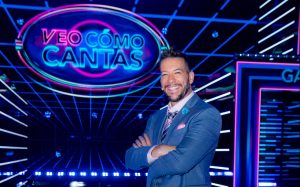 Click here to download promotional assets
MIAMI, FL. – AUGUST 1, 2023 – Univision announced the new game showVEO CÓMO CANTAS will premiere next Sunday, August 6 at 7p/6c. The fun and dynamic TV show, hosted by actor, host and comedian Faisy, will bring a dose of joy and good music to Univision's "Domingos en Familia" (Family Sundays) slot.
Before joining VEO CÓMO CANTAS, Faisy had already made his mark in the artistic field. Here is what you should know about him:
In 2001 he was part of the musical group "Perfiles" with actress Sandra Echeverría.  

He made his acting debut in 2004, in the television series "Las Juanas",where he played the role of "Gualberto." 

In 2008, he made his debut in cinema with the film "24 Marcos de Terror"(24 Frames of Terror.)

His success on the big screen came in 2014 with the film "Cantinflas,"alongside actors Óscar Jaenada and Michael Imperioli.  

He met his wife, Spaniard dancer Iratxe Beorlegui, more than 15 years ago and the pair tied the knot in March 2022.
In VEO CÓMO CANTAS, Faisy will join advisors Beto Cuevas, Erika Buenfil, José Eduardo Derbez, Natalia Téllez, and Ricardo Montaner, to help two contestants define who is a real singer and who has a terrible voice to win a fabulous cash prize. For more information visit televisaunivision.com and join the conversation on Twitter and Instagram.
CONTACTS:
Mauricio Ginestra mginestra@televisaunivision.com
Laura Paez lpaez@televisaunivision.com
###
Faisy: Lo que debes conocer sobre el presentador de VEO CÓMO CANTAS, el nuevo game show de Univision que se estrena el próximo 6 de agosto
Haz clic para descargar material promocional
Miami, FL. – 1 de agosto de 2023 – Univision anunció el estreno del nuevo game show VEO CÓMO CANTAS para el próximo domingo seis de agosto a las 7p/6c. El divertido y muy dinámico programa de televisión, presentado por el actor, conductor y comediante Faisy, llega a darle una dosis de alegría y buena música a la franja de "Domingos en Familia" de Univision.  
Antes de sumarse a la conducción de VEO CÓMO CANTAS, Faisy ya contaba con una extensa carrera en el medio artístico. Aquí te contamos lo que debes saber sobre él:
En el año 2001 fue parte del grupo musical "Perfiles" junto a la actriz Sandra Echeverría.  

Su debut actoral lo tuvo en el año 2004, en la serie de televisión "Las Juanas", donde hizo el papel de "Gualberto".

En el año 2008 se estrenó en el cine de forma terrorífica, con la película "24 Marcos de Terror".

Su consagración en la pantalla grande llegó en el año 2014 con el filme "Cantinflas", junto a los actores Óscar Jaenada y Michael Imperioli.  

Conoció a su esposa, la bailarina española Iratxe Beorlegui hace más de 15 años y se unieron en matrimonio el pasado 12 de marzo del año 2022.
En VEO CÓMO CANTAS, Faisy acompañará a un grupo de asesores conformado por Beto Cuevas, Erika Buenfil, José Eduardo Derbez, Natalia Téllez, y Ricardo Montaner, para ayudar a dos concursantes a definir quién es cantante de verdad, quien tiene una voz terrible, y así ganar un fabuloso premio en efectivo. Para más información visita televisaunivision.com y únete a la conversación en Twitter e Instagram.
CONTACTOS: 
Mauricio Ginestra mginestra@televisaunivision.com
Laura Paez lpaez@televisaunivision.com