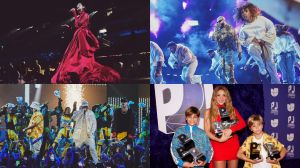 The hottest party of the summer paid tribute to urban music, the genre of the youth worldwide, with an opening number produced by Daddy Yankee and Luny Tunes featuring reggaeton icons Wisin, Zion y Lennox, De La Ghetto, Chencho Corleone, and more
Continuing with her commitment to social change, Camila Cabello surprised the audience by granting a scholarship to a local environmental activist,

while

J Balvin announced

, in partnership with OYE,

a donation to Reinserta

Foundation

 
Ángela Aguilar and Eslabon Armado among the performers that cemented the power of Regional Mexican's global movement on the PJ stage
For the full winner's list, click here
MIAMI, FL. – JULY 21, 2023 – The 20-year celebration of Univision's PREMIOS JUVENTUD was a memorable event filled with stars, musical performances, surprise collaborations, debuts, and major recognitions. Global superstar Shakira was the night's top winner with 8 awards, followed by Karol G and Peso Pluma, with 5 awards, respectively. Presented by Ángela Aguilar, Alejandra Espinoza, Dayanara Torres, and Marcus Ornellas, the annual awards show took place at Coliseo de Puerto Rico José Miguel Agrelot.
"Big Boss" Daddy Yankee and talented Dominican duo Luny Tunes were in charge of bringing to life an exhilarating opening act with the production of an unparalleled musical number dedicated to the legacy of urban genre that brought together icons such as Alexis y Fido, Angel y Khriz, Chencho Corleone, Chesca, De La Ghetto, Khea, Omar Courtz, RaiNao, RKM & Ken-Y, Wisin, and Zion y Lennox. 
One of the most anticipated moments of the night was the presentation of the "Agent of Change" recognitions. Kany García took the stage to honor Shakira for her extensive work with "Fundación Pies Descalzos" (Barefoot Foundation) which has created equal opportunities for underserved communities and for children to receive a good education. Camila Cabello also received this honor for her commitment to improving the lives of youth around the world and using her powerful voice to make a difference through her work with charities such as Global Citizen, This is About Humanity, Protect our Kids, The Voter Fund, among others. The international superstar also surprised the audience by announcing that she was granting local environmental activist Isabel Valentín with a scholarship. Following his commitment to destigmatizing mental health, J Balvin, who is on the frontline of the emotional and mental health conversation, alongside OYE, which has a mission to help people feel better, announce a donation to Reinserta Foundation, a foundation that is dedicated to supporting the socio-emotional development of children and adolescents who are victims of violence. 
The night continued with an act that set the PREMIOS JUVENTUD stage ablaze with the most emblematic figures of merengue coming together to pay tribute to the musical genre. Los Hermanos Rosario chose this stage for a historic reunion after several decades with Toño Rosario and thus, relive the magic of the Rosario Dynasty, through classics such as La Dueña del Swing, Rompecintura, and Dale Vieja Dale. Fernando Villalona, better known as "El Mayimbe", Pavel Núñez, Jandy Ventura, La Materialista, and Ilegales, also joined in on the show-stopping tribute.
The hottest party of the summer featured unforgettable performances including CNCO, who returned to the stage where they began their career to deliver one last serenade to all their fans in Puerto Rico. The group Camila reunited as a trio after a decade, to offer an unforgettable performance of their greatest hits Mientes, Todo Cambió, and their soon-to-be-released singleFugitivos.   
Chiquis, Jacqie, and Jenicka came together in what was one of the most emotional moments of the night to remember their mother Jenni Rivera, and pay tribute to her legacy with a performance of Pedacito De Mí. A song from the recently released album Misión Cumplida of unreleased songs that were left unfinished by the Diva de la Banda.
During the event, Camilo returned to the stage that catapulted him to stardom alongside one of the most prominent figures of Regional Mexican music, singer-songwriter Carín León, to perform their most recent collaboration. In addition, La Chica Dorada, Paulina Rubio delivered the first live performance of Propiedad Privada.
In addition, alternative rock band Hoobastank and salsa singer-songwriter Moly took the audience on a trip down memory lane with a rendition of Hoobastank's The Reason, the track that launched them to fame, which also celebrates 20 years.
The night concluded with a performance by international star Danna Paola, and the talented Sofía Reyes who bid the audience farewell with their pop hit Tqum.
For the latest news on the big Premios Juventud celebration visit  PremiosJuventud.com. Join the conversation using the hashtag #PremiosJuventud on Instagram, Facebook, Twitter and TikTok.
CONTACTS:   
TelevisaUnivision
Laura Paez lpaez@televisaunivision.com
Bettina Humphreys bhumphreys@televisaunivision.com 
Media Room Agency 
Paola Marin Paola@mediaroomline.com
Linda Carta 22starsagency@gmail.com
###
Shakira, máxima ganadora de PREMIOS JUVENTUD de Univision
La fiesta más hot del verano rindió homenaje a la música urbana, el género de la juventud en todo el mundo, con un opening producido por Daddy Yankee y Luny Tunes, presentado por los íconos del reggaetón Wisin, Zion y Lennox, De La Ghetto, Chencho Corleone y más
Continuando con su compromiso al cambio social, Camila Cabello sorprendió a la audiencia otorgándole una beca a una boricua activista del medio ambiente,

mientras

J Balvi

n

en con junto con

OYE

anuncian

una donación a

F

undación

Reinserta
Ángela Aguilar y Eslabon Armado entre los artistas que consolidaron en el escenario de PJ el poder del movimiento global del Regional Mexicano
Para ver la lista completa de ganadores, haz clic aquí
Miami, FL. – 21 de julio de 2023 – PREMIOS JUVENTUD de Univisioncelebró su vigésimo aniversario con un evento memorable en Puerto Rico colmado de estrellas, presentaciones musicales, inolvidables colaboraciones, grandes estrenos y prestigiosos reconocimientos. El icono global de la música latina Shakira fue la máxima ganadora de la noche con 8 galardones, seguida por Karol G y Peso Pluma, con 5 reconocimientos respectivamente. Presentada por Ángela Aguilar, Alejandra Espinoza, Dayanara Torres y Marcus Ornellas, la muy anticipada premiación tuvo lugar en el Coliseo de Puerto Rico José Miguel Agrelot.
La gran apertura de PREMIOS JUVENTUD estuvo a cargo del "Big Boss" Daddy Yankee y el talentoso dúo dominicano Luny Tunes, quienes se unieron para producir un número musical sin igual dedicado al género urbano que reunió a grandes íconos como Alexis y Fido, Angel y Khriz, Chencho Corleone, Chesca, De La Ghetto, Khea, Omar Courtz, RaiNao, RKM & Ken-Y, Wisin, y Zion y Lennox. El opening celebro en grande la explosión que ha tenido el reggaetón entre los jóvenes a nivel mundial.
Uno de los momentos más esperados de la noche fue la entrega del reconocimiento "Agente de Cambio". Kany García tomó el escenario para honrar a Shakira por la extensa labor que ha realizado con la "Fundación Pies Descalzos" creando igualdad de oportunidades para que niños de bajos recursos tengan la oportunidad de tener una buena educación. Camila Cabello también recibió este honor por su compromiso para mejorar la vida de la juventud en el mundo y usar su poderosa voz para marcar la diferencia a través de su trabajo con organizaciones benéficas como Global Citizen, This is About Humanity, Protect our Kids, The Voter Fund, entre otras. La superestrella internacional también sorprendió al público otorgándole una beca a Isabel Valentín, una activista boricua del medio ambiente. Por su lado, siguiendo con su compromiso de desestigmatizar la salud mental, J Balvin en conjunto con OYE, que tiene como misión ayudar al mundo sentirse mejor, anuncian la entrega de una donación a Fundación Reinsterta que se dedica a apoyar el desarrollo socioemocional de niños y adolescentes víctimas de la violencia del sistema. 
La noche continuó con un tributo al merengue. El escenario de PREMIOS JUVENTUD se encendió cuando las figuras más emblemáticas del merengue brindaron un homenaje a este género musical caribeño. Los Hermanos Rosario, escogieron esta ocasión para un reencuentro histórico con Toño Rosario después de varias décadas y así, revivir la magia de la Dinastía Rosario, a través de clásicos como La Dueña del Swing, Rompecintura y Dale Vieja Dale. A este homenaje se unieron figuras como Fernando Villalona mejor conocido como "El Mayimbe", Pavel Núñez, Jandy Ventura, La Materialista y Ilegales.
La celebración de la fiesta más hot del verano contó con presentaciones inolvidables como la que ofreció el grupo CNCO, quienes regresaron a este escenario que los vio comenzar su carrera para darle una última presentación a todos sus fans de la Isla del Encanto. El grupo Camila se reunió como trio por primera vez después de 10 años para ofrecer una interpretación inolvidable de sus grandes éxitos Mientes, Todo Cambió y su próximo estreno Fugitivos.  
El momento más emotivo de la noche fue el de Chiquis, Jacqie y Jenicka quienes se reunieron para recordar a su madre Jenni Rivera y rendirle un emotivo homenaje para celebrar su legado con la interpretación de Pedacito De Mí. Una canción del álbum recientemente lanzado Misión Cumplida de temas inéditos que quedaron inconclusos por la Diva de la Banda.
Durante el evento se reunieron aquellos artistas que han marcado la historia de PREMIOS JUVENTUD durante todos estos años. Camilo volvió a la tarima que lo vio incursionar musicalmente al lado de uno de los mayores exponentes del Regional Mexicano, el cantautor Carín León para cantar su más reciente colaboración. Además, la chica dorada, Paulina Rubio presentó por primera vez en vivo su más reciente sencillo Propiedad Privada.
También, la banda de rock alternativo Hoobastank y el cantautor de salsa Moly subieron a la tarima y llevaron a la audiencia en un viaje por los recuerdos con una interpretación única de The Reason de Hoobastank. El tema que los lanzó al estrellato, y que también celebra 20 años.
La gran noche cerró con broche de oro con una vibrante presentación de la estrella internacional Danna Paola, y la talentosa Sofía Reyes quienes despidieron al público con su tema Tqum. 
Para las últimas noticias sobre la gran celebración de Premios Juventud visita PremiosJuventud.com. Únete a  la conversación usando el hashtag #PremiosJuventud en Instagram, Facebook, Twitter y TikTok.
CONTACTOS:    
TelevisaUnivision
Laura Paez lpaez@televisaunivision.com
Bettina Humphreys bhumphreys@televisaunivision.com 
Media Room Agency 
Paola Marin Paola@mediaroomline.com
Linda Carta 22starsagency@gmail.com