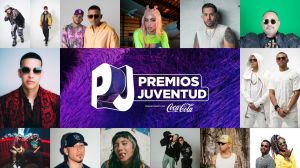 The 20th edition of the awards show will celebrate the meteoric rise of reggaeton among youth worldwide 
Alexis y Fido, Angel y Khriz, Chencho Corleone, Chesca, De La Ghetto, DJ Playero, Khea, Omar Courtz, RaiNao, RKM & Ken-Y, Wisin and Zion y Lennox to perform in opening act 
Click here to download promotional materials    
MIAMI, FL. – JULY 18, 2023 – PREMIOS JUVENTUD will inaugurate its 20th anniversary celebration with an opening number, produced by legendary global music figure Daddy Yankee, that pays tribute to the musical genre that's taken over the world. Recognized as the top winner of PREMIOS JUVENTUD with a total of 23 awards, including an "Agent of Change" recognition in 2021, The Big Boss, now a businessman and producer, will join forces with Dominican producers Luny Tunes to produce an unforgettable moment for audiences to enjoy, next Thursday, July 20 from LIVE from Puerto Rico at 7p/6c on Univision.  
The inaugural performance will feature urbano icons performing some of the genre's greatest hits. Confirmed artists include the renowned reggaeton duo Alexis y Fido, and Angel y Khriz, the urban pop sensation Chesca, legends RKM & Ken-Y and Zion y Lennox, as well as De La Ghetto and new-generation stars Khea and RaiNao. In addition, one of the most respected names in urban music Wisin will deliver the TV debut of his recent single Baja Sube Sube alongside Jowell & Randy. The popular duo will also take part in the special opening act with a performance of Saoco with Omar Courtz and Chencho Corleone.   
Tickets for PREMIOS JUVENTUD 2023 are available at PremiosJuventud.com.  
Join the conversation on social media using the hashtag #PremiosJuventud on Instagram, Facebook, Twitter and TikTok. Visit PremiosJuventud.com for more information.   
Visit televisaunivision.com for more information and follow the TelevisaUnivision PR Team on Twitter and Instagram.      
CONTACTS:      
TelevisaUnivision   
Laura Paez lpaez@televisaunivision.com  
Bettina Humphreys bhumphreys@televisaunivision.com     
Media Room Agency 
Paola Marin Paola@mediaroomline.com  
Linda Carta 22starsagency@gmail.com  
###
PREMIOS JUVE

NTUD 

contará con una 

gran 

apertura musical

 

producida por 

Daddy

 

Yankee

 y 

Luny

Tunes

 

dedicada a

l género urbano, la 

música

 de la juventud

 

 
El opening del 20 aniversario de la fiesta más hot del verano celebrará la explosión que ha tenido el reggaetón entre los jóvenes a nivel mundial  
Encabezando la presentación estarán Alexis y Fido, Angel y Khriz, Chencho Corleone, Chesca, De La Ghetto, DJ Playero, Khea, Omar Courtz, RaiNao, RKM & Ken-Y, Wisin y Zion y Lennox
Haz clic para descargar material promocional    
Miami, FL. – 18 de julio de 2023 – PREMIOS JUVENTUD iniciará la celebración de sus 20 años con una gran apertura musical dedicada al impacto global del género urbano que será producida por la figura legendaria global de la música Daddy Yankee en su nueva faceta como empresario y productor. Reconocido durante estos años como el máximo ganador de PREMIOS JUVENTUD con un total de 23 Premios, incluyendo un reconocimiento de Agente de Cambio en el 2021, El "Big Boss" se une al talentoso dúo dominicano Luny Tunes para producir un evento musical inolvidable, el próximo jueves 20 de julio desde Puerto Rico a las 7p/6c por Univision.   
El opening reunirá a íconos de la música urbana incluyendo al reconocido dúo de reggaetón Alexis y Fido, y Angel y Khriz, la sensación del pop urbano Chesca, los legendarios RKM & Ken-Y, y Zion y Lennox, los populares raperos De La Ghetto y Khea, y la cantautora puertorriqueña RaiNao. Además, la leyenda del género urbano Wisin estará presentando por primera vez en TV junto a Jowell & Randy su más reciente éxito Baja Sube Sube, también se unirá al acto de apertura del espectáculo junto a Omar Courtz, y Chencho Corleone para cantar el tema Saoco.   
Los boletos para PREMIOS JUVENTUD 2023 están disponibles en PremiosJuventud.com.     
Únete a la conversación en las redes sociales usando el hashtag #PremiosJuventud en Instagram, Facebook, Twitter y TikTok. Visita PremiosJuventud.com para obtener más información.     
Visita televisaunivision.com para obtener más información y sigue al TelevisaUnivision PR Team en Twitter e Instagram.        
CONTACTOS:        
TelevisaUnivision 
Laura Paez lpaez@televisaunivision.com    
Bettina Humphreys bhumphreys@televisaunivision.com       
Media Room Agency   
Paola Marin Paola@mediaroomline.com    
Linda Carta 22starsagency@gmail.com