This season marks the directing debut of Ana de la Reguera, who has written, produced and starred in the series throughout its run
All episodes of seasons 1 and 2 are also now available on the platform
Download the new series poster and trailer HERE
MIAMI – July 12, 2023 – ViX, the world's leading Spanish-language streaming service, announced today that all six episodes of the last and final season of ANA are now available exclusively within the service's Premium plan.
The comedy series and GLAAD- and IMAGEN-award nominee tells a fictional story based on some of Ana de la Reguera's real-life experiences, as she uses humor to face assorted challenges in her personal and professional lives. In the new season, after fleeing her own wedding, Ana loses her TV career and her financial stability, and Papasito is left out of her reach. Now she has to rebuild her life and demonstrate (to herself) that she is a serious, versatile actor. To that end, she will explore her theatrical side and take LSD for the first time. Her trip will be "inward," and will include a deal with The Devil (a playwright), who will show Ana a new world through the written word and some amazing sex.
The final season of the fun-filled series consists of six 30-minute episodes, the last two of which are directed by Ana de la Reguera and the rest by Marcelo Tobar. The main cast also includes Tina Romero, David Palacio, Ali Gua Gua, Paly Duval and Gabriela Roel, who are now joined by such big names as Paralympian Arly Velázquez and Mariana Gajá. The season also features cameos and guest appearances by high-profile international figures.
In 2020, the first season of ANA was nominated for an IMAGEN award in the Best Primetime Program: Comedy category, and in 2021 it received a nomination from the GLAAD Media awards for Outstanding Spanish-Language Scripted Television Series. The series is a production of studio VIS, an international division of Paramount, with Ana de la Reguera as showrunner. Writers are de la Reguera, Fernanda Eguiarte, Anaí López, Marcelo Tobar and Alejandra Olvera.
ViX offers more than 75,000 hours of on-demand content and more than 100 streaming channels, all in Spanish. The app offers two levels of access, one free with ads and one premium with subscription, in the U.S., Mexico and most Spanish-speaking countries in Latin America, on all major mobile platforms, connected TV devices and online at vix.com.
Join the conversation using hashtag #ViX and follow ViX on Instagram, Twitter, Facebook and TikTok.
Visit televisaunivision.com for more information about TelevisaUnivision and follow us on Twitter and Instagram.
CONTACTS:
United States and Latin America
Casandra Blanco, cmblanco@televisaunivision.com
Mexico
Sandra Oropeza, soropezagonzalez@televisaunivision.com
###
Todos los episodios de la tercera y última temporada de ANA ya están disponibles en exclusiva por ViX
Esta temporada marca el debut de Ana de la Reguera como directora, quien además ha escrito, producido y protagonizado a lo largo de toda la serie
 Todos los episodios de la temporada 1 y 2 también están disponibles en la plataforma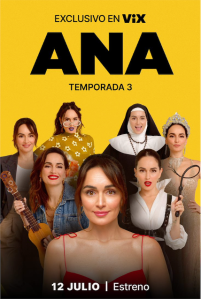 Descarga el nuevo póster y tráiler de la serie AQUÍ
MIAMI – 12 de julio de 2023 – ViX, el principal servicio de streaming en español del mundo, anunció hoy que los seis episodios de la nueva temporada de ANA ya están disponibles en exclusiva dentro del plan Premium del servicio.
La serie de comedia nominada a los premios GLAAD e IMAGEN sigue una historia de ficción basada en algunas experiencias de la vida de Ana de la Reguera, quien enfrenta con humor diferentes desafíos en su vida personal y profesional. En la nueva temporada, tras la huida de su propia boda, Ana pierde su carrera televisiva, su estabilidad económica y Papasito queda fuera de su alcance. Ahora, debe reconstruir su vida y demostrar(se) que es una actriz seria y versátil. Para hacerlo, explorará su vena teatral y consumirá LSD por primera vez. El viaje será "hacia adentro" e incluirá un pacto con El Diablo (un dramaturgo), quien le descubrirá a Ana un mundo nuevo a través de la palabra escrita y un increíble sexo.
La temporada final de la divertida serie consta de seis episodios de 30 minutos de duración, de los cuales los últimos dos son dirigidos por Ana de la Reguera y el resto dirigidos por Marcelo Tobar. El elenco principal está integrado también por Tina Romero, David Palacio, Ali Gua Gua, Paly Duval y Gabriela Roel, a quienes ahora se suman nombres como los del atleta paralímpico Arly Velázquez y Mariana Gajá, así como cameos y apariciones especiales de importantes figuras internacionales.
En 2020, la primera temporada de ANA fue nominada a un Premio IMAGEN en la categoría de Mejor Comedia en Horario Estelar, y en 2021 recibió una nominación de los Premios GLAAD Media como Mejor Serie de Televisión con Guion en español. La serie es una producción de VIS, estudio que es una división internacional de Paramount con Ana de la Reguera como showrunner y escrita por De la Reguera, Fernanda Eguiarte, Anaí López, Marcelo Tobar y Alejandra Olvera.
ViX ofrece más de 75,000 horas de contenido on demand y más de 100 canales de streaming, todos en español. La aplicación ofrece dos niveles de acceso, uno gratuito con anuncios y otro premium con suscripción, en Estados Unidos, México y la mayoría de los países hispanohablantes de Latinoamérica, en todas las principales plataformas móviles, dispositivos de televisor conectado y en internet en vix.com.
Participa en la conversación usando el hashtag #ViX y sigue ViX en Instagram, Twitter, Facebook and TikTok.
Visita TelevisaUnivision.com para más información sobre TelevisaUnivision y síguenos en Twitter e Instagram.
CONTACTOS:
Estados Unidos y Latinoamérica
Casandra Blanco, cmblanco@televisaunivision.com 
México
Sandra Oropeza, soropezagonzalez@televisaunivision.com
###