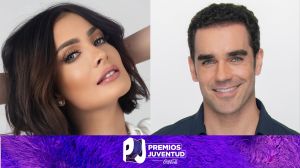 Click here to download promotional material
MIAMI, FL. – JULY 10, 2023 – Model, actress and host Dayanara Torres and Brazilian actor and model Marcus Ornellas join previously announced artists Ángela Aguilar and Alejandra Espinoza as official hosts of Univision's PREMIOS JUVENTUD. The prestigious event, which this year celebrates its 20th anniversary, will be broadcast live from the Coliseo de Puerto Rico José Miguel Agrelot on Thursday, July 20 at 7p/6c.
Former beauty queen Dayanara Torres arrives for the first time from her native Puerto Rico as host of PREMIOS JUVENTUD. Considered one of the most beloved celebrities in the entertainment industry, Torres has conquered the world with her talent and beauty. Throughout her career she has served as an entrepreneur, writer and spokesperson for various social causes and has participated in a variety of television projects in both Spanish and English including the novela "The Young and the Restless" and most recently the Univision show MIRA QUIÉN BAILA among others.
Brazilian actor and model Marcus Ornellas will make his official debut as host during the grand celebration. The star of ETERNAMENTE AMÁNDONOS, the Spanish-language adaptation of the Turkish series İstanbullu Gelin, which hits Univision screens today, is also one of the nominees in the "My Favorite Actor" category.
This year, the annual awards show is giving inclusion a front row seat, encouraging attending celebrities and the audience to come as they are under the theme "Exprésate a tu Manera" (Express Yourself Authentically). The main event will be preceded by the dynamic pre-show NOCHE DE ESTRELLAS that will be hosted by Borja Voces, Danilo Carrera, Ela Velden, Migbelis Castellanos, Roberto Hernández, José Figueroa, and Yayis Villareal.  
Fans can purchase tickets at PremiosJuventud.com.
Join the conversation on social media by following the hashtag #PremiosJuventud on Instagram, Facebook, Twitter and TikTok. For more information visit PremiosJuventud.com.
Visit televisaunivision.com for more information about TelevisaUnivision and follow us on  Twitter and Instagram.
CONTACTS:  
TelevisaUnivision
Laura Paez lpaez@televisaunivision.com
Bettina Humphreys bhumphreys@televisaunivision.com 
Media Room Agency 
Paola Marin Paola@mediaroomline.com
Linda Carta 22starsagency@gmail.com
###
Dayanara Torres y Marcus Ornellas completan el grupo de anfitriones de PREMIOS JUVENTUD el 20 de julio por Univision
Haz clic aquí para descargar material promocional
Miami, FL. – 10 de julio de 2023 – La modelo, actriz y presentadora Dayanara Torres, y el actor y modelo brasileño Marcus Ornellas se unen a las artistas previamente anunciadas Ángela Aguilar y Alejandra Espinoza como conductores oficiales de PREMIOS JUVENTUD de Univision. El prestigioso evento que este año celebra su 20 aniversario se transmitirá en vivo desde el Coliseo de Puerto Rico José Miguel Agrelot el jueves 20 de Julio a las 7p/6c.
La exreina de belleza, Dayanara Torres llega por primera vez desde su natal Puerto Rico como conductora de PREMIOS JUVENTUD. Considerada como una de las celebridades más queridas dentro del espectáculo, Torres ha conquistado el mundo con su talento y belleza. A través de su carrera se ha desempeñado como empresaria, escritora y portavoz de diversas causas sociales y ha participado en una gran variedad de proyectos televisivos tanto en español como en ingles que incluyen, la novela "The Young and the Restless" y más recientemente el show de Univision MIRA QUIÉN BAILA entre otros.
Por su parte el actor y modelo brasileño Marcus Ornellas debuta oficialmente como conductor durante la gran celebración. El protagonista de ETERNAMENTE AMÁNDONOS, adaptación en español de la serie turca İstanbullu Gelin, que llega a las pantallas de Univision el día de hoy, es además uno de los nominados dentro de la categoría "Mi Actor Favorito".
Este año la premiación pone la inclusión en primera fila invitando a las estrellas y al público a venir tal y como son con el lema "Exprésate a tu Manera". La ceremonia será precedida por la dinámica alfombra y programa de antesala NOCHE DE ESTRELLAS que será conducido por Borja Voces, Danilo Carrera, Ela Velden, Migbelis Castellanos, Roberto Hernández, José Figueroa y Yayis Villareal.  
Los fans pueden obtener boletos en PremiosJuventud.com.
Únete a la conversación en las redes sociales siguiendo el hashtag #PremiosJuventud en Instagram, Facebook, Twitter y TikTok. Para obtener más información visita PremiosJuventud.com.
Visita televisaunivision.com para obtener más información sobre TelevisaUnivision y síguenos en Twitter e Instagram.
CONTACTOS:    
TelevisaUnivision
Laura Paez lpaez@televisaunivision.com
Bettina Humphreys bhumphreys@televisaunivision.com 
Media Room Agency 
Paola Marin Paola@mediaroomline.com
Linda Carta 22starsagency@gmail.com