The true crime documentary series debuts Thursday, July 13th on the streaming service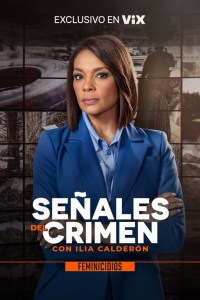 MIAMI, FL – July 6, 2023 – ViX, the leading Spanish-language streaming service in the world, announces the launch the original true-crime series, SEÑALES DE CRIMEN CON ILIA CALDERÓN. The show revisits harrowing cases that shocked the public using the words of victims' families, along with criminal experts and journalists. Host, Ilea Calderón reveals the contributing factors and warning signs that ultimately lead to each of these tragedies with access to exclusive personal images, videos, and locations of the victims and their assailants. The true crime documentary series, SEÑALES DE CRIMEN CON ILIA CALDERÖN launches the first 3 cautionary tales to the public on Thursday July 13th, streaming exclusively on ViX.
Host, Ilia Calderón is an Emmy-Award-winning journalist and the first Afro-Latina to Anchor a national weekday evening newscast for major Hispanic broadcast network in the United States. Calderon worked over the course of several months traveling throughout the United States, Mexico and beyond to tell these victims true stories.
"Over the course of my 25-year career, I have listened to many stories shared by mothers, fathers and children who have lost a loved one to violence. The first thing they always say is: I don't want this to happen to others. With SENALES DE CRIMEN, we provide a platform for the loved ones of murder victims to raise awareness on issues that are ending the dreams of thousands," says Ilia Calderon, Executive Producer and Host of SEÑALES DE CRIMEN, Co-Anchor of NOTICIERO UNIVISION and Co-Host of AQUÍ Y AHORA. "This first season is dedicated to a tragedy that is unjustly claiming lives worldwide, the suffering and murder of women also known as femicides, in order to help fulfill the wishes of the families' victims who say: Not One More."
Every possible clue will be unearthed and examined to discover what went wrong, how to potentially prevent these crimes from being committed again and shares the lasting impact on the victim's family and friends. The first season of SEÑALES DE CRIMEN CON ILIA CALDREÓN consists of 13 hour-long episodes tackling femicides, with its host searching through all the past evidence, conducting fresh interviews and meeting with experts to accurately piece together and share the victim's stories.
SEÑALES DE CRIME CON ILIA CALDERÓN will be available on-demand in the United States, Mexico, and Latin America. The first 3 of 13 episodes will all be available on Thursday, July 13th and a new episode will stream every following Thursday.
Follow all the latest news on TelevisaUnivision's streaming shows on ViX by following on Twitter and Instagram. For more information on ViX and answers to frequently asked questions, please visit vix.com.
For more press information on TelevisaUnivision please visit our Newsroom or follow us on Twitter and Instagram.
Contact: Melissa Agudelo magudelo@univision.net
###
SEÑALES DE CRIMEN CON ILIA CALDERON se estrena en exclusiva en ViX
La serie documental sobre crímenes reales se estrena el jueves 13 de julio en el servicio de streaming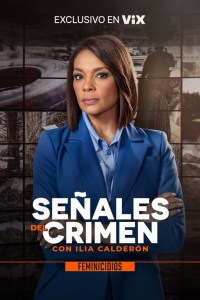 MIAMI, FL – 6 de julio de 2023 – ViX, el servicio de streaming en español líder en el mundo, anuncia el lanzamiento de la serie original de crímenes reales, SEÑALES DE CRIMEN CON ILIA CALDERÓN. El programa revisa casos desgarradores que conmocionaron a la opinión pública utilizando las palabras de las familias de las víctimas, junto con expertos criminales y periodistas. La presentadora, Ilea Calderón, revela los factores que contribuyeron y las señales de advertencia que finalmente condujeron a cada una de estas tragedias con acceso a imágenes personales exclusivas, vídeos y localizaciones de las víctimas y sus agresores. La serie documental sobre crímenes reales, SEÑALES DE CRIMEN CON ILIA CALDERÖN lanza al público las 3 primeras historias con moraleja el jueves 13 de julio, en streaming exclusivo en ViX.
La presentadora, Ilia Calderón, es una periodista galardonada con un premio Emmy y la primera afrolatina en presentar un noticiario nacional vespertino entre semana para una de las principales cadenas hispanas de Estados Unidos. Calderón trabajó durante varios meses viajando por Estados Unidos, México y otros países para contar las historias reales de estas víctimas.
"A lo largo de mis 25 años de carrera, he escuchado muchas historias compartidas por madres, padres e hijos que han perdido a un ser querido a causa de la violencia. Lo primero que dicen siempre es: No quiero que esto les pase a otros. Con SENALES DE CRIMEN, proporcionamos una plataforma para que los seres queridos de las víctimas de asesinatos conciencien sobre temas que están acabando con los sueños de miles de personas", afirma Ilia Calderón, productora ejecutiva y presentadora de SENALES DE CRIMEN, copresentadora de NOTICIERO UNIVISION y copresentadora de AQUÍ Y AHORA. "Esta primera temporada está dedicada a una tragedia que se está cobrando vidas injustamente en todo el mundo, el sufrimiento y asesinato de mujeres también conocido como feminicidios, con el fin de ayudar a cumplir los deseos de las familias de las víctimas que dicen: Ni Una Más".
Traducción realizada con la versión gratuita del traductor www.DeepL.com/Translator
Cada pista posible será desenterrada y examinada para descubrir qué salió mal, cómo potencialmente prevenir que estos crímenes se vuelvan a cometer y compartir el impacto duradero de la familia y amigos de la víctima. La primera temporada de SEÑALES DE CRIMEN CON ILIA CALDREÓN consiste de 13 episodios de una hora de duración en los que se abordan los feminicidios, y en los que su presentadora busca entre todas las pruebas del pasado, se realiza nuevas entrevistas y se reúne con expertos para reconstruir con precisión y compartir las historias de las víctimas.
SEÑALES DE CRIMEN CON ILIA CALDERÓN estará disponible a la carta en Estados Unidos, México y Latinoamérica. Los primeros 3 de los 13 episodios estarán disponibles el jueves 13 de julio y cada jueves siguiente se emitirá un nuevo episodio.
Siga todas las últimas noticias sobre los programas de transmisión de TelevisaUnivision en ViX siguiendo en Twitter e Instagram. Para obtener más información sobre ViX y respuestas a las preguntas más frecuentes, visite vix.com.
Para obtener más información de prensa sobre TelevisaUnivision, visite nuestra Sala de Prensa Sala de Prensa o síganos en Twitter e Instagram.
Contacto: Melissa Agudelo magudelo@univision.net
###