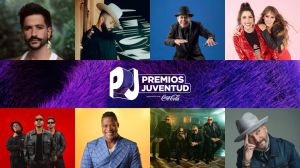 The hottest party of the summer will feature performances by Camilo, Carin León, Ha*Ash, Toño Rosario, Los Hermanos Rosario, Pavel Nuñez, Fernando Villalona, Ilegales, and Jandy Ventura
Click there to download promotional material 
MIAMI, FL. – JULY 5, 2023 – Univision announced that Colombian superstar Camilo, who made his first televised musical performance on NOCHE DE ESTRELLAS at PREMIOS JUVENTUD, will return to celebrate the 20th anniversary of the awards ceremony alongside one of the biggest names in Regional Mexican music, singer-songwriter Carin León. Camilo, who has 8 nominations, and Carin León, who has 7 nominations, will deliver the TV debut of their hit collaboration Ni Me Debes, Ni Te Debo. In addition, the sister duo Ha*Ash also join the list of artists who will perform that night singing their ballad Supongo Lo Que Sabes. 
The evening will also have audiences dive into the captivating world of merengue with a very special act by Los Hermanos Rosario, who will reunite with Toño Rosario after several decades. The brothers will take over the PREMIOS JUVENTUD stage to bring back the magic of the Rosario Dynasty by performing fan-favorites from their repertoire such as La Dueña del Swing, Rompecintura, and Dale Vieja Dale.
The celebration of one of the most important musical genres in Latin culture does not stop there. Emblematic merengue figures such as Fernando Villalona, better known as "El Mayimbe", will attend PREMIOS JUVENTUD for the first time to perform the hits Música Latina and Dominicano Soy along with Pavel Núñez, who will perform El Guardia del Arsenal. Jandy Ventura joins this list to sing the classic song written by his father Johnny Ventura,Merenguero Hasta La Tambora, and the group Ilegales will get the audience moving with El Taqui Taqui in a segment that will pay tribute to the Dominican Republic.
These artists join the previously announced roster of musical talent that includes Danna Paola, Eslabon Armado, Farruko, Sofia Reyes, and Denise Rosenthal. The event, which will be hosted by Ángela Aguilar and Alejandra Espinoza, will broadcast LIVE at 7p/6c on Univision from the historic José Miguel Agrelot Coliseum of Puerto Rico. Fans will also be able to stream the PREMIOS JUVENTUD pre-show NOCHE DE ESTRELLAS on ViX. 
Show tickets can be purchased at PremiosJuventud.com.
Join the conversation on social media by following the hashtag #PremiosJuventud on Instagram, Facebook, Twitter and TikTok. For more information visit PremiosJuventud.com.
Visit televisaunivision.com for more information about TelevisaUnivision and follow us on Twitter and Instagram.
CONTACTS:   
TelevisaUnivision
Laura Paez lpaez@televisaunivision.com
Bettina Humphreys bhumphreys@televisaunivision.com 
Media Room Agency 
Paola Marin Paola@mediaroomline.com
Linda Carta 22starsagency@gmail.com
###
PREMIOS JUVENTUD de Univision suma más estrellas a la vigésima edición y rinde tributo al merengue dominicano el 20 de julio
Camilo, Carin León, Ha*Ash, Toño Rosario, Los Hermanos Rosario, Pavel Nuñez, Fernando Villalona, Ilegales y Jandy Ventura se unen a la lista de artistas que se presentarán en la fiesta más HOT del verano
Haz clic para descargar material promocional
Miami, FL. – 5 de julio de 2023 – Univision anunció que la superestrella colombiana Camilo, quien realizó su primera presentación musical televisada en NOCHE DE ESTRELLAS de PREMIOS JUVENTUD, regresa para celebrar el vigésimo aniversario de la entrega de premios junto a uno de los mayores exponentes de la música Regional Mexicana, el cantautor Carin León. Camilo, quien cuenta con 8 nominaciones, y Carin León, que tiene 7 nominaciones, interpretarán por primera vez en televisión, su exitosa colaboración Ni Me Debes, Ni Te Debo. Además, el dúo musical Ha*Ashtambién se une al lineup cantando la balada Supongo Lo Que Sabes. 
Esa noche el merengue también brillará en PREMIOS JUVENTUD con la gran presentación de Los Hermanos Rosario, quienes han escogido este escenario para un reencuentro histórico con Toño Rosario después de varias décadas y así revivir la magia de la Dinastía Rosario, a través de clásicos de su repertorio como La Dueña del Swing, Rompecintura y Dale Vieja Dale.  
La celebración de uno de los géneros musicales más importante dentro de nuestra cultura latina no para ahí. Figuras emblemáticas del merengue como Fernando Villalona mejor conocido como "El Mayimbe", se presentará por primera vez en PREMIOS JUVENTUD para interpretar el éxito Música Latina y Dominicano Soy junto a Pavel Núñez, quien por su parte interpretará El Guardia del Arsenal. A esta lista se une Jandy Ventura para cantar el clásico tema de la autoría de su padre Johnny Ventura, Merenguero Hasta La Tambora, y el grupo Ilegales, quienes prometen poner al público a bailar con El Taqui Taqui en un segmento que le rendirá tributo a la República Dominicana.
Estos artistas se unen a la lista de talento musical previamente anunciado que incluye a Danna Paola, Eslabon Armado, Farruko, Sofía Reyes y Denise Rosenthal. El evento será conducido por Ángela Aguilar y Alejandra Espinoza  y se trasmitirá en vivo a las 7p/6c por Univision desde el histórico Coliseo de Puerto Rico José Miguel Agrelot. El programa de antesala NOCHE DE ESTRELLAS de PREMIOS JUVENTUD también estará disponible por ViX. 
Los boletos para el evento ya están a la venta a través de PremiosJuventud.com.
Únete a la conversación en las redes sociales siguiendo el hashtag #PremiosJuventud en Instagram, Facebook, Twitter y TikTok. Para obtener más información visita PremiosJuventud.com.
Visita televisaunivision.com para obtener más información sobre TelevisaUnivision y síguenos en Twitter e Instagram.
CONTACTOS:    
TelevisaUnivision
Laura Paez lpaez@televisaunivision.com
Bettina Humphreys bhumphreys@televisaunivision.com 
Media Room Agency 
Paola Marin Paola@mediaroomline.com
Linda Carta 22starsagency@gmail.com