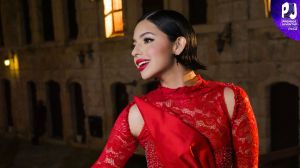 Click here to download promotional material 
MIAMI, FL. – JUNE 26, 2023 – Univision announced today that renowned singer Ángela Aguilar will make her hosting debut at the 20th anniversary of PREMIOS JUVENTUD that will air LIVE from the Coliseo de Puerto Rico José Miguel Agrelot on Thursday, July 20 at 7p/6c. Aguilar not only joins actress and TV presenter Alejandra Espinoza as host for the hottest party of the summer, but will also delight audiences with an unforgettable performance.
Singer songwriter Ángela Aguilar is currently one of the most important voices in Regional Mexican. Her first album titled, Primero Soy Mexicana earned her two LATIN GRAMMY ® nominations under the categories of "Best New Artist" and "Best Ranchera/Mariachi Album." This album also received a nomination for an American GRAMMY® under "Best Regional Mexican Music Album." Throughout her musical career Aguilar has collaborated with important figures such as Christian Nodal, Jesse & Joy, and most recently Fito Páez. Aguilar has previously won three PREMIOS JUVENTUD, and this year, apart from hosting the event, she also has four nods in the following categories: "Premios Juventud Female Artist," "Girl Power," and "Best Regional Mexican Collaboration" for Qué Agonía with Yuridia as well as "I Want More."
This year, the annual awards show is giving inclusion a front row seat under the theme "Exprésate a tu Manera." The main event will be preceded by the dynamic pre-show NOCHE DE ESTRELLAS that will be hosted by Borja Voces, Danilo Carrera, Ela Velden, Migbelis Castellanos, Roberto Hernández, José Figueroa, and Yayis Villareal.  
Tickets for PREMIOS JUVENTUD 2023 are available at PremiosJuventud.com. 
Join the conversation on social media using the hashtag #PremiosJuventud on Instagram, Facebook, Twitter and TikTok. Visit PremiosJuventud.com for more information.  
Visit televisaunivision.com for more information and follow the TelevisaUnivision PR Team on Twitter and Instagram.     
CONTACTS:     
TelevisaUnivision  
Laura Paez lpaez@televisaunivision.com 
Bettina Humphreys bhumphreys@televisaunivision.com    
Media Room Agency
Paola Marin Paola@mediaroomline.com 
Linda Carta 22starsagency@gmail.com 
###
La estrella del Regional Mexicano Ángela Aguilar hará su debut como conductora en PREMIOS JUVENTUD de Univision el 20 de julio  
Haz clic aquí para descargar material promocional  
Miami, FL. – 26 de junio de 2023 – Univision anunció hoy que la reconocida cantante Ángela Aguilar realizará su debut como conductora durante PREMIOS JUVENTUD que se llevará a cabo desde el Coliseo de Puerto Rico José Miguel Agrelot el jueves 20 de Julio a las 7p/6c y el cual está celebrando su 20 aniversario. Aguilar no solo se une a la ya anunciada actriz y presentadora Alejandra Espinoza para compartir la tarea de presentar la anticipada fiesta más hot del verano, si no también le brindará al público una presentación inolvidable con su inigualable voz. 
La cantante y compositora Ángela Aguilar es conocida actualmente como una de las voces más importantes dentro de la música regional mexicana. Su primer álbum titulado, Primero Soy Mexicana logro la nominación al LATIN GRAMMY ® bajo las categorías de "Mejor Nuevo Artista" y "Mejor Álbum Ranchera/Mariachi". El mismo álbum fue nominado para un GRAMMY® americano como "Mejor Álbum de Música Regional Mexicana". A través de su carrera musical ha realizado numerosas colaboraciones con importantes artistas como Christian Nodal, Jesse & Joy y recientemente Fito Páez entre otros. Ha sido ganadora previamente de tres PREMIOS JUVENTUD y este año aparte de ser una de las anfitrionas del evento también cuenta con 4 nominaciones en las categorías: "Artista Premios Juventud Femenina", "Girl Power", "Mejor Colaboración Regional Mexicana" por Qué Agonía junto a Yuridia y en la categoría digital "Quiero Más". 
La premiación que este año pone la inclusión en primera fila con la temática "Exprésate a tu Manera" será precedida por la dinámica alfombra y programa de antesala NOCHE DE ESTRELLAS que será conducido por Borja Voces, Danilo Carrera, Ela Velden, Migbelis Castellanos, Roberto Hernández, José Figueroa y Yayis Villareal. 
Los fans pueden obtener boletos en PremiosJuventud.com. 
Únete a la conversación en las redes sociales siguiendo el hashtag #PremiosJuventud en Instagram, Facebook, Twitter y TikTok. Para obtener más información visita PremiosJuventud.com. 
Visita televisaunivision.com para obtener más información sobre TelevisaUnivision y síguenos en Twitter e Instagram.     
CONTACTOS:     
TelevisaUnivision  
Laura Paez lpaez@televisaunivision.com 
Bettina Humphreys bhumphreys@televisaunivision.com    
Media Room Agency
Paola Marin Paola@mediaroomline.com 
Linda Carta 22starsagency@gmail.com