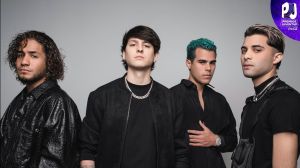 The renowned pop band returns to Univision for their last performance on PREMIOS JUVENTUD stage for the 20th anniversary celebration  
Click here to download press materials 
MIAMI, FL. – JUNE 22, 2023 – PREMIOS JUVENTUD (PJ) is one of the stops on CNCO's farewell tour La Última Cita. After announcing their separation last year on the PJ stage, the members of the popular music group have confirmed that they are returning to their home Univision to deliver one last act at summer's hottest party. With an unforgettable performance of their final single La Última Canción, CNCO will bid adieu to their fans in La Isla del Encanto on July 20th at 7p/6c in the Coliseo de Puerto Rico José Miguel Agrelot. 
"It's crazy for us to be saying goodbye at PJ because the first time we performed in an awards show was at PREMIOS JUVENTUD," said CNCO. "We recall that night we took home five awards. It was one of the most memorable nights of our career," the band added.  
"At Univision, we pride ourselves on providing Latin artists with impactful opportunities and powerful platforms to showcase their talents to the world," said Ignacio Meyer, President U.S. Networks at TelevisaUnivision. "After having been discovered in one of our most successful singing competitions, CNCO rose to fame and went on to become one of the most influential Latin pop bands of the last decade. We're honored to have been a part of their journey from the very beginning and are truly excited to see them take the PJ stage one last time for an epic farewell performance." 
CNCO came together in 2015 after winning the first season of Univision's singing competition LA BANDA. The renowned band has been a part of the Univision family and of PREMIOS JUVENTUD since their inception. Throughout the years, CNCO has been recognized with six PREMIOS JUVENTUD awards. They've delivered numerous musical performances, collaborations and even hosted the main event in 2019. This year, they have three nominations in the following categories: "Favorite Group or Duo of the Year," "Pop Track of the Year," and "Best Pop Album."  
Tickets for PREMIOS JUVENTUD 2023 are available at PremiosJuventud.com.  
Join the conversation on social media using the hashtag #PremiosJuventud on Instagram, Facebook, Twitter and TikTok. Visit PremiosJuventud.com for more information. 
Visit televisaunivision.com for more information and follow the TelevisaUnivision PR Team on Twitter and Instagram.     
CONTACTS:     
TelevisaUnivision  
Laura Paez lpaez@televisaunivision.com 
Bettina Humphreys bhumphreys@televisaunivision.com    
Media Room Agency
Paola Marin Paola@mediaroomline.com 
Linda Carta 22starsagency@gmail.com  
###
CNCO se despide del público puertorriqueño en  PREMIOS JUVENTUD de Univision el 20 de julio  
La reconocida banda regresa a Univision para ofrecer una última presentación durante la gran celebración del 20 aniversario de la premiación 
Haz clic aquí para descargar material promocional   
Miami, FL. – 22 de junio, 2023 – PREMIOS JUVENTUD será una de las paradas del grupo musical CNCO en su gran gira de despedida, La Última Cita. Tras anunciar su separación el año pasado sobre el escenario de la fiesta más hot del verano, los integrantes de la popular banda han confirmado que regresan a la casa que los vio nacer, Univision. CNCO dará una presentación final de su último sencillo La Última Canción, que no solo será dedicada a la audiencia a través de las pantallas, sino que también le brindará una velada inolvidable a todos sus fanáticos en la Isla del Encanto, quienes tendrán la oportunidad de verlos en vivo durante la transmisión del anticipado evento el jueves 20 de julio a las 7p/6c en el Coliseo de Puerto Rico José Miguel Agrelot. 
"Para nosotros es muy loco despedirnos en los premios PJ porque la primera vez que nos presentamos como banda en unos premios fue en Premios Juventud", dijo el grupo. "Recordamos que esa noche nos llevamos 5 premios y fue una de las noches más emotivas de nuestra carrera" agregaron. 
"En Univision, siempre nos hemos sentido muy orgullosos de abrirle la puerta a nuevos artistas latinos y ofrecerles plataformas prestigiosas para que sigan desarrollando su talento y alcancen el reconocimiento que se merecen" dijo Ignacio Meyer, President U.S. Networks, TelevisaUnivision. "Después de haber sido descubiertos en uno de nuestros concursos de canto más exitosos, CNCO saltó a la fama y se convirtió en una de las bandas de pop latino más influyentes de la última década. Nos sentimos honrados de haber sido parte de su historia desde el comienzo y estamos realmente emocionados de verlos subir al escenario de PJ por última vez para una inolvidable presentación de despedida". 
CNCO se creó en el 2015 y fue conformada con los ganadores de la primera temporada del concurso de canto de Univision, LA BANDA. Es por esto que la agrupación ha mantenido un fuerte lazo con la cadena y en especial con PREMIOS JUVENTUD, evento del que han hecho parte desde el comienzo de su carrera musical. A través de los años la agrupación ha sido nominada y ganadora de 6 premios además de haber realizado presentaciones musicales y participado como anfitriones. Este año, CNCO a pesar de que se despide, también hace parte de la lista de nominados en 3 categorías; "Grupo o Dúo Favorito del Año", "Pop Track Del Año" y "Mejor Álbum Pop". 
Los boletos para el evento están a la venta a través de PremiosJuventud.com.  
Únete a la conversación en las redes sociales siguiendo el hashtag #PremiosJuventud en Instagram, Facebook, Twitter y TikTok. Para obtener más información visita PremiosJuventud.com. 
Visita televisaunivision.com para obtener más información sobre TelevisaUnivision y síguenos en Twitter e Instagram.        
CONTACTOS:     
TelevisaUnivision  
Laura Paez lpaez@televisaunivision.com    
Bettina Humphreys bhumphreys@televisaunivision.com    
Media Room Agency
Paola Marin Paola@mediaroomline.com 
Linda Carta 22starsagency@gmail.com