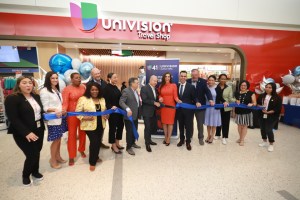 Click here to download event images 
Univision and Paradies Lagardère celebrated the opening of the eighth Univision-branded specialty store with a special ribbon-cutting ceremony at JFK International Airport, Terminal 5, on Wednesday, June 7, 2023. TelevisaUnivision executives Omar Fajer, SVP Non-Scripted Entertainment and Music, Roberto Yanez, President & Regional General Manager for New York, Philadelphia, and Washington D.C., were joined by executives and business partners of Paradies Lagardère, as well as Morning News Anchor for Noticias 41 Univision New York Damaris Diaz. Photo Credit: FRADOT USA 
MIAMI, FL. – JUNE 8, 2023 – Univision, the leading Spanish-language network in the U.S., and Paradies Lagardère, the travel retail and restaurateur leader in North America, yesterday hosted a ribbon-cutting ceremony for the opening of a Univision-branded store located in John F. Kennedy International Airport (JFK) – Terminal 5. This is the eighth Univision-branded store opened in partnership with Paradies Lagardère in airports across North America, including three at the George Bush Intercontinental Airport in Houston, two at the Dallas-Fort Worth International Airport, and one at the Los Angeles and Fort-Lauderdale Hollywood International Airports.  
With more than 10 million passengers passing through annually, JFK's Terminal 5 will serve as the new home for the very first Univision-branded store in the state of New York. Univision-branded stores feature various products, including snacks and beverages that represent Latin America, as well as basic travel essentials. Each location features Univision programming in Spanish throughout the day on large television screens, including Noticiero Univision, the most trusted newscast on Spanish-language television in the United States. 
Visit corporate.televisaunivision.com for more information on TelevisaUnivision and follow @UnivisionPRTeam on Twitter and Instagram. 
CONTACTS:    
Laura Paez lpaez@televisaunivision.com  
Bettina Humphreys bhumphreys@televisaunivision.com  
###
Univision y Paradies Lagardère celebraron la apertura de la primera tienda de Univision en el estado de Nueva York en el aeropuerto internacional John F. Kennedy – Terminal 5 
Haz clic aquí para descargar imágenes   
Univision y Paradies Lagardère celebran la apertura de la octava tienda de aeropuerto de Univision en una ceremonia de corte de cinta en la Terminal 5 en el Aeropuerto Internacional JFK el miércoles 7 de junio de 2023. Los ejecutivos de TelevisaUnivision Omar Fajer, SVP Non-Scripted Entertainment and Music, Roberto Yanez, President & Regional Manager for New York, Philadelphia, and Washington D.C., fueron acompañados por socios y ejecutivos de Paradies Lagardère, y también la presentadora de Noticias 41 de Univision Nueva York, Damaris Diaz.  
Crédito de fotografía: FRADOT USA 
Miami, FL. – 8 de junio de 2023 –  Univision, la cadena número uno en español de E.E.U.U, y Paradies Lagardère, el líder en tiendas turísticas y restaurantes de los aeropuertos en Norte América, celebraron ayer en una ceremonia de corte de cinta la inauguración de la tienda de Univision en la terminal 5 del aeropuerto internacional John F. Kennedy en Nueva York. Esta es la octava tienda de su tipo inaugurada en conjunto con Paradies Lagardère en los aeropuertos de Norte América, incluyendo tres en el Aeropuerto Intercontinental George Bush en Houston, dos en el Aeropuerto Internacional Dallas-Fort Worth y una en los aeropuertos Internacionales de Los Ángeles y Fort-Lauderdale Hollywood.  
La Terminal 5 del aeropuerto JFK que cuenta con más de 10 millones de pasajeros al año será el hogar de la primera tienda de Univision en el estado de Nueva York. Las tiendas turísticas de Univision cuentan con varios productos incluyendo alimentos y bebidas que representan los sabores de América Latina, tal como artículos esenciales de viaje. Cada tienda le brinda a su clientela programación de Univision en los televisores como Noticiero Univision, el noticiero en español más confiado de los Estados Unidos.  
Visita corporate.televisaunivision.com para obtener más información sobre TelevisaUnivision y sigue a @UnivisionPRTeam en Twitter e Instagram. 
CONTACTOS:   
Laura Paez lpaez@televisaunivision.com 
Bettina Humphreys bhumphreys@televisaunivision.com