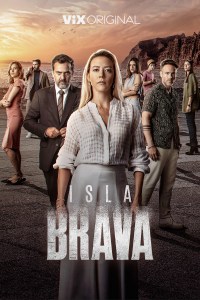 Click here to download the preview of episodes 7 & 8
MIAMI – June 8, 2023 – ISLA BRAVA, a ViX original thriller, drops its final two episodes today. The eight-episode series is now available in full on the service to binge watch or to catch up.
The story of the wealthy Suárez family made up of Alfredo (Flavio Medina), Lucía (Fernanda Castillo), Thiago (Juan Pablo Fuentes) and Mora (Karena Flores), has captured audiences worldwide with their journey of going from a relaxed and comfortable life, to experiencing endless situations that go from forbidden love to revenge.
In the last two episodes Bruno is freed from prison when the husband of a resort employee confesses to killing Alfredo, the rapist who abused her. His children, Thiago and Mora, reunite with Lucía at the house, where they uncover a horrifying secret thanks to Lucía's hidden microphones. As they try to expose the truth, Mora makes a drastic choice that puts them all in danger. A sudden kidnapping threatens the lives of Lucía and Mora, while the culprits face justice.
WHEN:  Thursday, June 8
WHERE:  ViX (on the Premium tier)
The ViX Original series is directed by Pitipol Ybarra and is an original story by Emmy Award nominated Esther Feldman and produced by Spanish production house Onza Américas.
ViX service offers more than 75,000 hours of on-demand content, and over 100 streaming channels all in Spanish. The app is available with two access tiers, one free with ads and one premium plan with a subscription, in the U.S., Mexico, and most of Spanish-speaking Latin America, across all major mobile platforms, connected TV devices and via web on vix.com.
Join the conversation using the hashtags #ViX and #IslaBrava and follow ViX on Instagram, Twitter, Facebook and TikTok.
Visit televisaunivision.com for more information about TelevisaUnivision and follow us on Twitter and Instagram.
CONTACTS:
United States and Latin America
Casandra Blanco, cmblanco@televisaunivision.com
Mexico
Sandra Oropeza, soropezagonzalez@televisaunivision.com
###
ISLA BRAVA, una cautivadora serie de suspenso en la que los secretos familiares y las pasiones prohibidas acechan a todos los personajes, revela en qué termina todo en los últimos dos episodios el 8 de junio en ViX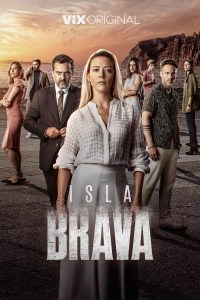 Haz clic aquí para descargar un avance de los episodios 7 y 8
MIAMI – 8 de junio de 2023– ISLA BRAVA, una serie original de suspenso de ViX, estrena sus dos últimos episodios hoy. La serie completa de ocho episodios ya está disponible en el servicio, para verla de comienzo a fin o ponerse al día.
La historia de la acaudalada familia Suárez, compuesta por Alfredo (Flavio Medina), Lucía (Fernanda Castillo), Thiago (Juan Pablo Fuentes) y Mora (Karena Flores), ha cautivado a audiencias en todo el mundo con sus experiencias, desde su vida relajada y cómoda hasta un sinfín de situaciones que van desde el amor prohibido hasta la venganza.
En los dos últimos episodios, liberan a Bruno de prisión cuando el esposo de una empleada del centro turístico confiesa que mató a Alfredo, el violador que abusó de ella. Sus hijos, Thiago y Mora, se reencuentran con Lucía en la casa, donde descubren un secreto horroroso gracias a los micrófonos escondidos de Lucía. Mientras tratan de revelar la verdad, Mora toma la drástica decisión que los pone a todos en peligro. Un secuestro súbito atenta contra la vida de Lucía y Mora, mientras los culpables enfrentan la justicia.
CUÁNDO:  Jueves, 8 de junio
DÓNDE:  ViX (en el nivel Prémium)
La serie original de ViX fue dirigida por Pitipol Ybarra. La historia es una creación original de Esther Feldman, nominada al premio Emmy, y una producción de Onza Américas de España.
ViX ofrece más de 75,000 horas de contenido on demand y más de 100 canales de streaming, todos en español. La aplicación ofrece dos niveles de acceso, uno gratuito con anuncios y otro premium con suscripción, en Estados Unidos, México y la mayoría de los países hispanohablantes de Latinoamérica, en todas las principales plataformas móviles, dispositivos de televisor conectado y en internet en vix.com.
Participa en la conversación usando los hashtags #ViX e #IslaBrava, sigue ViX en Instagram, Twitter,Facebook y TikTok.
Visita televisaunivision.com para más información sobre TelevisaUnivision y síguenos en Twitter e Instagram.
CONTACTOS: 
Estados Unidos y Latinoamérica
Casandra Blanco, cmblanco@televisaunivision.com
México
Sandra Oropeza, soropezagonzalez@televisaunivision.com
###