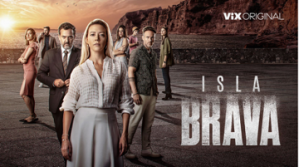 Click here to download the preview of episodes 5 and 6
MIAMI – June 1, 2023 – ISLA BRAVA, the new ViX Original thriller, drops two new episodes today. The series stars Fernanda Castillo as Lucía, Erik Hayser as Bruno and Flavio Medina as Alfredo, along with Bárbara López as Pilar, Karena Flores as Mora and Juan Pablo Fuentes as Thiago.
Lucía has a secret: she's in love with her husband's brother. But before she can confess, her husband disappears without a trace. Now she's the prime suspect in his disappearance and must find out the truth. What she uncovers is a twisted plot of love, betrayal and mystery that involves her husband, her lover, and the enigmatic island where they all reside.
Two new episodes today, Thursday, June 1.
In the fifth and sixth episodes, Bruno is accused of killing his brother Alfredo and sent to prison in Mexico City. His mother Lucía reveals to her children that she had an affair with Bruno, shocking them deeply. Lucía also finds the entrance to a secret club where Alfredo used to go. Two months earlier, Alfredo had plotted against the secretary of government, who opposed his political ambitions. Meanwhile, another suspect emerges: the secretary's son. Lucía teams up with Detective Pilar to investigate the club and bug the suspects. They uncover clues that point to a dark truth about Alfredo. A month before he vanished, Alfredo's daughter Mora had started a secret romance with Jesús, the security chief of the resort where they lived.
WHEN:  Thursday, June 1
WHERE:  ViX (Premium tier)
The ViX Original series is directed by Pitipol Ybarra and is an original story by Emmy Award nominated Esther Feldman and produced by Spanish production house Onza Américas.
ViX service offers more than 75,000 hours of on-demand content, and over 100 streaming channels all in Spanish. The app is available with two access tiers, one free with ads and one premium plan with a subscription, in the U.S., Mexico, and most of Spanish-speaking Latin America, across all major mobile platforms, connected TV devices and via web on vix.com.
Join the conversation using the hashtags #ViX and #IslaBrava and follow ViX on Instagram, Twitter, Facebook and TikTok.
Visit televisaunivision.com for more information about TelevisaUnivision and follow us on Twitter and Instagram.
CONTACTS:
United States and Latin America
Casandra Blanco, cmblanco@televisaunivision.com
Mexico
Sandra Oropeza, soropezagonzalez@televisaunivision.com
###
ISLA BRAVA: el amor, las mentiras y el misterio se desentrañan en dos nuevos episodios hoy en ViX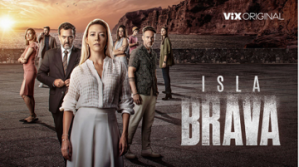 Haz clic aquí para descargar un avance de los episodios 5 y 6
MIAMI –1 de junio de 2023– ISLA BRAVA, la nueva serie original de suspenso de ViX, estrena dos nuevos episodios hoy. Los protagonistas de la serie son Fernanda Castillo como Lucía, Erik Hayser como Bruno y Flavio Medina como Alfredo, acompañados por Bárbara López como Pilar, Karena Flores como Mora y Juan Pablo Fuentes como Thiago.
Lucía tiene un secreto: está enamorada del hermano de su esposo. Pero antes de poder confesarlo, su esposo desaparece sin dejar rastro. Ahora es la principal sospechosa de su desaparición y debe averiguar la verdad. Lo que descubre es una enredada historia de amor, traición y misterio que involucra a su esposo, amante y la enigmática isla donde viven.
Dos episodios nuevos hoy jueves, 1 de junio.
En el quinto y sexto episodio, acusan a Bruno de matar a su hermano Alfredo y lo mandan a la cárcel en Cuidad de México. Su madre, Lucía, revela a sus hijos que tuvo un amorío con Bruno, lo que impacta mucho a los dos. Lucía también encuentra la entrada a un club secreto al que Alfredo solía ir. Dos meses antes, Alfredo había confabulado contra el secretario de gobierno, quien se opuso a sus ambiciones políticas. Mientras tanto, surge otro sospechoso: el hijo del secretario de gobierno. Lucía se asocia a la detective Pilar para investigar el club y grabar a los sospechosos en secreto. Descubren pistas que apuntan a la siniestra verdad sobre Alfredo. Un mes antes de desaparecer, la hija de Alfredo, Mora, tuvo un romance secreto con Jesús, el jefe de seguridad del resort donde vivía.
CÚANDO: jueves, 1 de junio
DÓNDE:  ViX (nivel Premium)
La serie original de ViX fue dirigida por Pitipol Ybarra. La historia es una creación original Esther Feldman, nominada al premio Emmy, y una producción de Onza Américas de España.
ViX ofrece más de 75,000 horas de contenido on demand y más de 100 canales de streaming, todos en español. La aplicación ofrece dos niveles de acceso, uno gratuito con anuncios y otro prémium con suscripción, en Estados Unidos, México y la mayoría de los países hispanohablantes de Latinoamérica, en todas las principales plataformas móviles, dispositivos de televisor conectado y en internet en vix.com.
Participa en la conversación usando los hashtags #ViX e #IslaBrava, y sigue a ViX en Instagram, Twitter,Facebook y TikTok.
Visita televisaunivision.com para más información sobre TelevisaUnivision y síguenos en Twitter e Instagram.
CONTACTOS: 
Estados Unidos y Latinoamérica
Casandra Blanco, cmblanco@televisaunivision.com
México
Sandra Oropeza, soropezagonzalez@televisaunivision.com
###