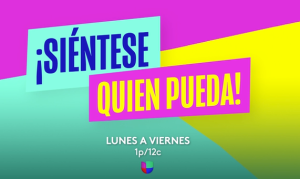 Click here to download promotional material 
MIAMI, FL. – MAY 23, 2023 – ¡SIÉNTESE QUIEN PUEDA! will now air Monday through Friday at 1p/12c on Univision. Hosted by Julián Gil, the popular entertainment show first aired on UNIMÁS in August 2022, bringing a new concept where a variety show and reality competition blend for a dynamic TV experience. ¡SIÉNTESE QUIEN PUEDA! features expert panelists Kerly Ruiz, Karla Gómez, Vanessa Arias, Álex Rodríguez, Lucho Borrego, Alejandra Jaramillo and Catalina Mora who come together to discuss the hottest news in pop culture and the world of entertainment. Audiences can enjoy the participation of daily special guests and vote on a weekly basis for their favorite panelist on SienteseQuienPueda.com.
Viewers can join the conversation on social media by following the hashtag #SQP on Facebook, Instagram and Twitter. For more information visit SienteseQuienPueda.com.
Visit televisaunivision.com for more information on TelevisaUnivision and follow us on Twitter and Instagram.
CONTACTS:    
Laura Paez lpaez@televisaunivision.com
Bettina Humphreys bhumphreys@televisaunivision.com 
###
¡SIÉNTESE QUIEN PUEDA! estrena nueva casa y nuevo horario por Univision a la 1p/12c
Haz clic aqui para descargar material promocional
Miami, FL. – 23 de mayo de 2023 – Esta semana ¡SIÉNTESE QUIEN PUEDA! estrena en su nueva casa Univision y con nuevo horario de lunes a viernes a la 1p/12c. Presentado por Julián Gil, el popular programa de entretenimiento se trasmitió por primera vez en agosto de 2022 por UNIMÁS, trayendo por primera vez una fusión de un programa de farandula y un reality de competencia a la cadena para brindarle al público una experiencia aún más dinámica. ¡SIÉNTESE QUIEN PUEDA! cuenta con la participación de un panel de expertos compuesto por Kerly Ruiz, Karla Gómez, Vanessa Arias, Álex Rodríguez, Lucho Borrego, Alejandra Jaramillo y Catalina Mora quienes discuten las ultimas noticias de cultura popular y el mundo del entretenimiento. La audiencia podra disfrutar de invitados sorpresa diarios y también pueden elegir a su panelista favorito cada semana en SienteseQuienPueda.com.
Únete a la conversación en las redes sociales siguiendo el hashtag #SQP en Facebook, Instagram y Twitter. Para más información visite SienteseQuienPueda.com.
Visita televisaunivision.com  para obtener más información sobre TelevisaUnivision y síguenos en Twitter e Instagram.
CONTACTOS: 
Laura Paez lpaez@televisaunivision.com
Bettina Humphreys bhumphreys@televisaunivision.com