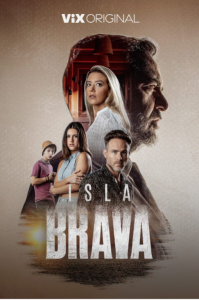 MIAMI – MAY 18, 2023 – ISLA BRAVA, the new ViX original thriller that will make you question everything and everyone until the explosive ending, premieres its first two episodes today, Thursday, May 18, with two new episodes debuting every Thursday. The series stars Fernanda Castillo (Lucía), Erik Hayser (Bruno) and Flavio Medina (Alfredo).
ISLA BRAVA is a passion-filled story of love, betrayal and murder that will keep audiences on the edge of their seats. Lucía, a woman who wants to tell her husband that she's having an affair with his brother but finds out that he is missing, and she has been accused of his disappearance. While trying to prove her innocence and uncover what really happened, she discovers a web of lies and secrets involving her husband, her lover, and the mysterious island where they all live.
In the first two episodes, an island in paradise is the setting for an unsolved mystery. Alfredo Suárez, the powerful owner of a luxury resort who wants to become a Governor, disappears without a trace. His wife Lucía and his children Mora and Thiago must deal with the painful uncertainty that follows. But Lucía has a secret that can change everything: she's in love with Bruno, Alfredo's brother and the resort's head chef. The tension builds when Alfredo's kidnappers demand a $1,000,000 ransom.  What happened to Alfredo? What is Lucía hiding? What does Bruno know? While Lucía and Bruno search for a way to pay the ransom, the past reveals the truth about Alfredo's secrets and his shady business.
WHEN:  Thursday, May 18
WHERE:  ViX
The ViX original series comes from Mexican director Pitipol Ybarra ("Oscuro deseo," "¡Que despadre!") and is an original story by Emmy Award nominated Esther Feldman ("Los que aman odian," "Lalola") and produced by Spanish production house Onza Américas.
The series also stars Bárbara López (Pilar), Karena Flores (Mora) and Juan Pablo Fuentes (Thiago).
Click here to download images.
ViX service offers more than 75,000 hours of on-demand content, and over 100 streaming channels all in Spanish. The app is available with two access tiers, one free with ads and one premium plan with a subscription, in the U.S., Mexico, and most of Spanish-speaking Latin America, across all major mobile platforms, connected TV devices and via web on vix.com.
Join the conversation using the hashtags #ViX #IslaBrava, and follow ViX on Instagram, Twitter, Facebook and TikTok.
Visit televisaunivision.com for more information about TelevisaUnivision and follow us on Twitter and Instagram.
CONTACTS: 
United States and Latin America
Casandra Blanco, cmblanco@televisaunivision.com
Mexico
Sandra Oropeza, soropezagonzalez@televisaunivision.com
###
 ISLA BRAVA estrena hoy en exclusiva en ViX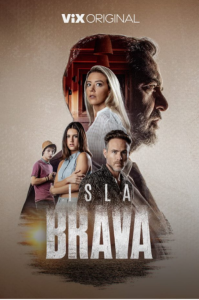 MIAMI – 18 DE MAYO DE 2023 – ISLA BRAVA, el nuevo thriller original de ViX que hará cuestionar todo y a todos hasta el impactante final, estrena los dos primeros episodios hoy jueves, 18 de mayo con dos episodios nuevos cada jueves. Fernanda Castillo (Lucía), Erik Hayser (Bruno) y Flavio Medina (Alfredo) protagonizan la serie.
ISLA BRAVA es una apasionante historia de amor, traición y asesinato que mantendrá a la audiencia al borde de su asiento. La serie sigue a Lucía, una mujer que le quiere confesar a su esposo que está teniendo una aventura con su hermano, solo para encontrarlo desaparecido y ella misma acusada de su mala fortuna. Mientras intenta demostrar su inocencia y averiguar qué le sucedió, descubre una red de mentiras y secretos que involucran a su esposo, su amante y la misteriosa isla donde viven.
En los dos primeros episodios, una isla paradisíaca es el escenario de un misterio sin resolver. Alfredo Suárez, el poderoso propietario de un resort de lujo que quiere convertirse en gobernador, desaparece sin dejar rastro. Su esposa Lucía y sus hijos Mora y Thiago deben lidiar con la dolorosa incertidumbre que sigue. Pero Lucía tiene un secreto que puede cambiarlo todo: está enamorada de Bruno, hermano de Alfredo y jefe de cocina del resort. La tensión aumenta cuando los secuestradores de Alfredo exigen un rescate de $ 1,000,000.  ¿Qué pasó con Alfredo? ¿Qué esconde Lucía? ¿Qué sabe Bruno? Mientras Lucía y Bruno buscan la manera de pagar el rescate, el pasado revela la verdad sobre los secretos de Alfredo y su turbio negocio.
CUÁNDO: jueves, 18 de mayo
DÓNDE: ViX
La serie original está a cargo del destacado director mexicano Pitipol Ybarra ("Oscuro deseo", "¡Qué despadre!"), es una historia original creada y escrita por Esther Feldman ("Los que aman odian", "Lalola"), argentina nominada al Emmy, y producida por la casa productora española Onza Américas.
La serie también cuenta con la actuación de Bárbara López (Pilar), Karena Flores (Mora) y Juan Pablo Fuentes (Thiago).
Haz clic aquí para descargar imágenes.
ViX ofrece más de 75,000 horas de contenidos on demand y más de 100 canales de streaming, todo en español. La aplicación cuenta con dos niveles de acceso, uno gratuito y otro prémium con subscripción, y está disponible en EE. UU., México y la mayoría de América Latina de habla hispana, a través de las principales plataformas móviles, dispositivos de televisión conectados y en la web desde vix.com.
Participa en la conversación usando los hashtags #ViX #IslaBrava y sigue a ViX en Instagram, Twitter,Facebook y  TikTok.
Visita televisaunivision.com para más información sobre TelevisaUnivision y síguenos en Twitter e Instagram.
CONTACTOS:
United States and Latin America
Casandra Blanco, cmblanco@televisaunivision.com
Mexico
Sandra Oropeza, soropezagonzalez@televisaunivision.com
###