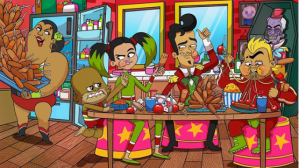 MIAMI – MAY 16, 2023 – ViX, the leading Spanish-language streaming service in the world, and 3Pas Studios, the entertainment company co-founded by global megastar Eugenio Derbez and his producing partner Ben Odell, announced today that CIRCO GÓMEZ voiced by Derbez is in development for the service as part of the previously announced first look deal between 3Pas Studios and TelevisaUnivision.
"I love exploring family dynamics, whether it's Familia P. Luche or De Viaje con los Derbez because all families are dysfunctional in their own way and we feel so much happier when we realize everyone is suffering from the same family issues!   Like everything we do at 3pas – Circo Gómez contains the three H's– humor, heart and humanity.  I'm so excited to be working with our animation partners at F3 to explore what is a new medium for me – adult animation, to push that dysfunction even further!" said Eugenio Derbez.
CIRCO GÓMEZ is an irreverent animated comedy about a dysfunctional family who run a shoddy traveling circus. The Gómezes are a family of performers, wacky and weird like any showbiz family. Led by a clueless, macho, not too bright, but still somehow lovable patriarch, Filiberto Gómez, voiced by Eugenio Derbez, they have created their own normal, and the outsiders are the freaks. The core conflicts of the show will be relatable to any family. Besides the typical family tropes, the show will take us behind the scenes of this unusual family business. The Gómezes must work together, hone their acts, manage a bizarre, motley crew of performers, and just try to keep their crumbling business from imploding.
"We are expanding our content offering into the genre of adult animation with Circo Gómez, which will capture our audience with the comedic genius Eugenio Derbez. We look forward to showcasing this project very soon on the service," said Augusto Rovegno, SVP of Content ViX at TelevisaUnivision.
This animated series will be brought to life by F3 Media, the animation studio founded by Arturo Navarro and Teco Lebrija and they also serve as writers for this upcoming comedy.  After initially founding F3 Media the dynamic duo created the 'Familia del Barrio' YouTube channel that eventually led them to the series being produced for MTV and Comedy Central. Lebrija also did 14 of the voices over the 94-episode run.
ViX service offers more than 75,000 hours of on-demand content, and over 100 streaming channels all in Spanish. The app is available with two access tiers, one free with ads and one premium plan with a subscription, in the U.S., Mexico, and most of Spanish-speaking Latin America, across all major mobile platforms, connected TV devices and via web on vix.com.
Click HERE to download an image of CIRCO GÓMEZ.
Join the conversation using the hashtag #ViX and follow ViX on Instagram, Twitter, Facebook and TikTok.
Visit televisaunivision.com for more information on TelevisaUnivision and follow us on Twitter and Instagram.
CONTACTS:
United States and Latin America
Casandra Blanco, cmblanco@univision.net
Mexico
Sandra Oropeza, soropezag@univision.net
###
ViX y 3Pas Studios anuncian la creación de CIRCO GÓMEZ, una irreverente y animada comedia con la voz de Eugenio Derbez
MIAMI – 16 DE MAYO DE 2023 – ViX, el principal servicio de streaming en español líder en el mundo, y 3Pas Studios, la compañía de entretenimiento fundada por la mega estrella internacional Eugenio Derbez y su socio de producción Ben Odell, anunciaron que CIRCO GÓMEZ, con la voz de Derbez, está en desarollo para el servicio como parte del previamente anunciado acuerdo de acceso preferencial (first look) entre 3Pas Studios y TelevisaUnivision.
"Me encanta explorar la dinámica familiar, ya sea con Familia P. Luche o De viaje con los Derbez, porque todas las familias son disfuncionales a su manera, y nos sentimos mucho más contentos cuando nos damos cuenta de que ¡todos padecen de los mismos problemas familiares! Como todo lo que hacemos en 3Pas, Circo Gómez contiene humor, alma y humanidad. Me entusiasma mucho trabajar con nuestros socios de animación en F3 para explorar lo que es un medio nuevo para mí, la animación para adultos, ¡a fin de llevar la disfunción incluso más allá!" dijo Eugenio Derbez.
CIRCO GÓMEZ es una irreverente comedia animada acerca de una familia disfuncional que opera un lamentable circo itinerante. Los Gómez son una familia de artistas, extravagantes y extraños, como cualquier otra familia de la farándula. Está encabezada por un patriarca incapaz, machista y poco inteligente pero adorable, Filiberto Gómez, con la voz de Eugenio Derbez. Han creado su versión de lo normal, y las personas ajenas son fenómenos. Todas las familias podrán identificarse con los conflictos del programa. Además de los típicos temas familiares, el show nos llevará detrás del escenario de este inusual negocio familiar. Los Gómez deben trabajar juntos para perfeccionar sus actos, dirigir un equipo estrambótico y diverso de artistas, y simplemente tratar de impedir que el desastroso negocio se venga abajo.
"Estamos expandiendo nuestro contenido al ofrecer el género de la animación para adultos con Circo Gómez, que cautivará a nuestra audiencia con el genio cómico de Eugenio Derbez. Estamos deseosos de presentar este proyecto muy pronto en el servicio", dijo Augusto Rovegno, vicepresidente sénior de Contenido de ViX en TelevisaUnivision.
F3 Media, el estudio de animación fundado por Arturo Navarro y Teco Lebrija, quienes también se desempeñarán como guionistas de la próxima comedia, hará que esta serie animada cobre vida. Tras fundar F3 Media, el dúo dinámico creó el canal de YouTube "Familia del barrio", lo que a fin de cuentas dio paso a la serie que se produce para MTV y Comedy Central. Lebrija también fue la voz detrás de 14 personajes durante los 94 episodios de la serie.
ViX ofrece más de 75,000 horas de contenidos on demand y más de 100 canales de streaming, todo en español. La aplicación cuenta con dos niveles de acceso, uno gratuito y otro prémium con subscripción, y está disponible en EE. UU., México y la mayoría de América Latina de habla hispana, a través de las principales plataformas móviles, dispositivos de televisión conectados y en la web desde vix.com.
Haz clic AQUÍ para descargar una imágen de CIRCO GÓMEZ.
Participa en la conversación usando el hashtag #ViX y sigue a ViX en Instagram, Twitter, Facebook y  TikTok.
Visita televisaunivision.com para más información sobre TelevisaUnivision y síguenos en Twitter e Instagram.
CONTACTOS:
Estados Unidos y Latinoamérica
Casandra Blanco, cmblanco@univision.net
México
Sandra Oropeza, soropezag@univision.net
 ###