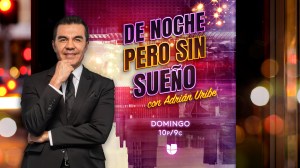 Click here to download promotional assets 
MIAMI, FL. – APRIL 27, 2023 – Univision's late-night show DE NOCHE PERO SIN SUEÑO will air an all-new episode this Sunday, April 30 at 10p/9c with one of the most prominent figures in ranchera music, Pepe Aguilar and Mexican actress and tv personality Ana Claudia Talancón as special guests. Hosted by actor and comedian Adrián Uribe, this unforgettable episode will be filled with comedy, games, and music.
Audiences should prepare to enjoy a comedic game of "this or that" between Uribe and Aguilar, as well as a special performance of hit song No Me Hablen De Amor by the Mexican icon. During the episode, Talancón will also share details about how she broke into acting and reveal more about her experience in an in-depth Q&A with Uribe.
Visit TelevisaUnivision.com for more information on TelevisaUnivision and follow us on Twitter and Instagram.
CONTACT:  
Laura Paez lpaez@televisaunivision.com 
Bettina Humphreys bhumphreys@televisaunivision.com
###
DE NOCHE PERO SIN SUEÑO tendrá a Pepe Aguilar y Ana Claudia Talancón como invitados especiales el 30 de abril por Univision
Haz clic aquí para descargar material promocional
Miami, FL. – 27 de abril de 2023 – El programa late-night de Univision DE NOCHE PERO SIN SUEÑO transmitirá un nuevo episodio este domingo 30 de abril a las 10p/9c con una de las figuras más destacadas de la música ranchera, Pepe Aguilar, y la actriz mexicana Ana Claudia Talancón como invitados especiales. Conducido por el actor y comediante Adrián Uribe, este inolvidable episodio estará lleno de comedia, juegos y música.
La audiencia podrá disfrutar de un juego de "esto o aquello" entre Uribe y Aguilar, así como una interpretación especial de la exitosa canción No me hablen de amor del ícono mexicano. Durante el episodio, Talancón también compartirá detalles sobre cómo fueron sus inicios en la actuación y revelará más sobre su experiencia en una detallada charla con Uribe.
Visita TelevisaUnivision.com para obtener más información sobre TelevisaUnivision y síguenos en Twitter e Instagram.
CONTACTOS:  
Laura Paez lpaez@televisaunivision.com 
Bettina Humphreys bhumphreys@televisaunivision.com