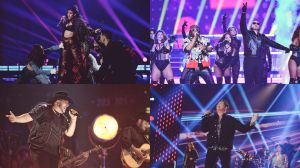 Top Performances of the Night Included Anuel AA, Bad Gyal, Carlos Vives, Grupo Frontera, Myke Towers, and Young Miko
For the full list of winners, click here
Click here to download press assets
MIAMI, FL. – APRIL 20, 2023 – Under the theme "Somos un Movimiento" (We Are a Movement), this year's LATIN AMERICAN MUSIC AWARDS (Latin AMAs) celebrated the best of Latin music with Karol G as the night's biggest winner earning eight awards, while Becky G, who came into the ceremony as the second most nominated of the night, followed with four awards. LIVE from the MGM Grand Garden Arena, the eighth edition of the annual award ceremony aired on Univision, UniMás, and Galavisión.
Karol G took home the most coveted award of the night, "Artist of the Year." She also prevailed as "Streaming Artist of the Year," and "Best Urban Artist." MAMIII, the Bichota's collaboration with Becky G won for "Song of the Year," "Collaboration of the Year, and "Best Pop/Urban Collaboration." Becky G also received an award for "Best Regional Mexican Collaboration" for Ya Acabó with Marca MP.
This year, global phenomenon Bad Bunny was awarded with "Best Album of the Year" for his blockbuster album Un Verano Sin Ti . Innovative Argentinian producer Bizarrap won "New Artist of the Year," and Spanish trailblazer Rosalía picked up "Collaboration Crossover of the Year" for La Fama with The Weekend who also won "Best Crossover Artist."
The 2023 LATIN AMAs were hosted by Clarissa Molina, Galilea Montijo, Julián Gil, and Natti Natasha. The ceremony kicked off with the world premiere of Jumpin, a new take on House of Pain's classic Jump Around by Pitbull and hip-hop icon Lil Jon. Next generation artists Omar Courtz and Vikina then joined Mr. Worldwide on stage for a performance of Pone Mal and Take a Shot. This was followed by a special medley by newlywed stars Lele Pons and Guyanaa of Abajito and De Party En Party from their recently launched album Capitulations.
Later in the evening, Grupo Frontera, who won "Best Regional Mexican Song," delivered a stellar show of Que Vuelvas with Carin León. Catalan star Bad Gyal made her first appearance on stage at the LATIN AMAs with her latest single Chulo. Puerto Rican star Chesca and Dalex gave the audience a steamy performance of their most recent collaboration Easy, while rapidlyemerging trap artist Young Miko hyped up the crowd with her smash hit Lisa. The night continued with the TV debut of Chanel, one of this year's hottest collaborations by Becky G and streaming sensation Peso Pluma.
Other highlights of the night were the recognitions given to the LATIN AMAs honorees. Legendary Pepe Aguilar received the Latin AMas – Legacy honor after an emotional speech by his daughter and 'princess of regional Mexican music' Ángela Aguilar. One of the most important figures in Latin music, Carlos Vives, was also recognized with a Latin AMAs – Legacy recognition for his impeccable musical career, while Prince Royce and David Bisbal were honored as Latin AMAs – Pioneers for their brilliant trajectory.
To wrap up the celebration, reggaeton titan Anuel AA and urbano hitmakers DJ Luian and Mambo Kingz gave a monumental closing with an upbeat performance of Más Rica Que Ayer. Other performers of the night included Chiquis, Danna Paola, Manuel Turizo, Myke Towers, Natti Natasha, Olga Tañón, Wisin, and more.
Viewers can join the conversation on social media by following the hashtag #LatinAMAs on Facebook, Instagram and Twitter. For more information visit Univision.com/LatinAMAs
Visit televisaunivision.com for more information on TelevisaUnivision and follow us on Twitter and Instagram.
CONTACTS: 
Laura Paez lpaez@televisaunivision.com
Bettina Humphreys bhumphreys@televisaunivision.com 
###
Las estrellas latinas Karol G y Becky G fuerón las grandes ganadoras de los LATIN AMERICAN MUSIC AWARDS 2023
Anuel AA, Bad Gyal, Carlos Vives, Grupo Frontera, Myke Towers y Young Miko entre los principales artistas que tomaron el escenario durante la gran celebración de la música latina
Para ver la lista completa de ganadores, haz clic aquí
Haz clic aquí para descargar material de prensa
Miami, FL. – 20 de abril de 2023 – Bajo el lema "Somos un Movimiento", los LATIN AMERICAN MUSIC AWARDS (Latin AMAs) de este año celebraron lo mejor de la música latina y Karol G fue la mayor ganadora de la noche con ocho premios, seguida por Becky G, quien se llevó cuatro galardones. La octava edición de los Latin AMA's  se transmitió EN VIVO por Univision, UniMás y Galavisión desde el MGM Grand Garden Arena en Las Vegas.
Karol G, quien se llevó el premio más codiciado de la noche de "Artista del Año", también se impuso como "Artista de Streaming del Año" y "Mejor Artista de Género Urbano". MAMIII, la colaboración de la Bichota con Becky G ganó el premio a "Canción del Año", "Colaboración del Año" y "Mejor Colaboración Pop/Urbana". Becky G además recibió el premio a la "Mejor Colaboración Regional Mexicana" por Ya Acabó con Marca MP.
Este año, la estrella mundial Bad Bunny fue premiado con el "Mejor Album del Año" por su exitoso disco Un Verano Sin Ti. El innovador productor argentino Bizarrap ganó el premio al "Artista Nuevo del Año" y la cantante española Rosalía se llevó el premio  "Colaboración Crossover del Año" por La Fama con The Weekend, que también ganó "Mejor Artista Crossover".
Los LATIN AMAs 2023 fueron presentados por Clarissa Molina, Galilea Montijo, Julián Gil y Natti Natasha. La ceremonia comenzó con el estreno mundial de Jumpin, una nueva versión del clásico Jump Around de House of Pain de Pitbull y el ícono del hip-hop Lil Jon. Las nuevas revelaciones musicales Omar Courtz y Vikina se unieron tambien a Mr. Worldwide para la presentacion de Pone Mal y Take a Shot. A esto le siguió una actuacion musical muy especial de Lele Pons y Guyanaa con Abajito y De Party en Party de su álbum mas reciente  Capitulations.
Durante la ceremonia, Grupo Frontera, quien ganó el premio a "Mejor Canción Regional Mexicana", ofreció la presentación estelar de Que Vuelvas con Carin León. La estrella catalana Bad Gyal hizo su primera aparición en el escenario de los LATIN AMAs con su último sencillo Chulo. La estrella puertorriqueña Chesca y Dalex prendieron la noche  con la impactante presentacion de su colaboración más reciente, Easy, mientras que la artista emergente de trap Young Miko entusiasmó a la multitud con su gran éxito Lisa. La noche continuó con el debut televisivo de Chanel, una de las colaboraciones más candentes de este año de Becky G y la sensación de streaming Peso Pluma.
Otros momentos destacados de la noche fueron los reconocimientos otorgados a los homenajeados de los LATIN AMAs. El legendario Pepe Aguilar recibió el honor Latin AMas – Legacy después de un emotivo discurso de su hija y 'princesa de la música regional mexicana' Ángela Aguilar. Una de las figuras más importantes de la música latina, Carlos Vives, también fue honrado con un reconocimiento Latin AMAs – Legacy por su impecable carrera musical, mientras que Prince Royce y David Bisbal fueron distinguidos como Latin AMAs – Pioneers por su brillante trayectoria.
Para concluir la celebración, el titán del reggaetón Anuel AA y los icónicos creadores de éxitos urbanos DJ Luian y Mambo Kingz cerraron con broche de oro la noche con la presentacion de Más Rica que Ayer. Otros artistas que se presentaron incluyeron a Carlos Vives, Chiquis, Danna Paola, Prince Royce, Natti Natasha, Manuel Turizo y Myke Towers, y más.
Únete a la conversacion en las redes sociales siguiendo el hashtag #LatinAMAs en Facebook, Instagram y Twitter. Para más información visita Univision.com/LatinAMAs
Visita televisaunivision.com  para obtener más información sobre TelevisaUnivision y síguenos en Twitter e Instagram.
CONTACTOS: 
Laura Paez lpaez@televisaunivision.com
Bettina Humphreys bhumphreys@televisaunivision.com