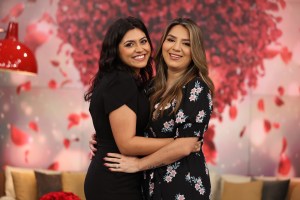 Cristal and Jatziry's union will go down in history as the first same-sex marriage of the UniMás reality and the 16th wedding of the show 
Click here to download press assets  
Miami, FL. – April 14, 2023 – ENAMORÁNDONOS, the fan-favorite dating show where people go to find their other half, will celebrate its first same-sex marriage during Lesbian Visibility Week on Thursday, April 27 at 8p/7c on UniMás. Since its premiere in September 2019, the reality show has had more than 4,000 participants from all over the world, more than 3,800 love doors opened, and 15 marriages. Now with the union of Cristal and Jatziry, ENAMORÁNDONOS will celebrate its 16th wedding, and a very special milestone.   
Two years ago, Cristal worked up the courage to participate in ENAMORÁNDONOS as an "amorosa" in hopes of finding her soulmate. At the time, she made history as the first female participant to join the show in search of someone of the same sex. During her time on the reality, the 33-year-old divorcee caught 29-year-old Jatziry's eye on TV. Jatziry who was also divorced and had lost faith in love decided to come on the show to win Cristal over. Cristal wasn't very surprised because Jatziry had previously made contact via social media. Once the love door opened, there was no going back for the two. Their chemistry has made them inseparable from that moment on.  
The couple officially began dating in November 2022, and then moved in together. Cristal and Jatziry bet on their love and ENAMORÁNDONOS witnessed their endearing proposal last December. Now they are heading to the altar and making history once again.    
Hosted by the beloved Rafael Araneda and Ana Patricia Gámez, ENAMORÁNDONOS is a daily reality show that celebrates love in all its forms and helps singles find their soulmate. To be part of the show, viewers can call 1(833) 266-7700 or visit EnamorandonosUSA.com/aplica and EnamorándonosUSA on Facebook and Instagram. Join the conversation using the hashtag #EnamorandonosUSA.   
Visit televisaunivision.com for more information on TelevisaUnivision and follow us on Twitter and Instagram.   
CONTACTS:    
Laura Paez lpaez@televisaunivision.com  
Bettina Humphreys bhumphreys@televisaunivision.com  
 ###
ENAMORÁNDONOS celebrará su primer matrimonio entre personas del mismo sexo el 27 de abril durante la Semana de la Visibilidad Lésbica   
la Visibilidad Lésbica   
La unión de Cristal y Jatziry pasará a la historia como el primer matrimonio entre personas del mismo sexo en el reality de UniMás y la boda número 16 del programa  
Haz clic aquí para descargar material de prensa   
Miami, Fl. – 14 de abril de 2023 – ENAMORÁNDONOS, el popular reality de citas donde los concursantes buscan el amor verdadero, celebrará su primer matrimonio entre personas del mismo sexo durante la Semana de la Visibilidad Lésbica el jueves 27 de abril a las 8p/7c por UniMás. Desde su estreno en septiembre de 2019, el reality show ha tenido más de 4.000 participantes de todo el mundo, más de 3.800 puertas de amor abiertas y 15 matrimonios. Ahora, con la unión de Cristal y Jatziry, ENAMORÁNDONOS celebrará su boda número 16 y un momento muy especial.    
Hace dos años, Cristal se animó a participar en ENAMORÁNDONOS como "amorosa" con la esperanza de encontrar a su alma gemela. En ese momento, hizo historia como la primera participante femenina en unirse al programa en busca de alguien del mismo sexo. Durante el tiempo que participó en el reality, la divorciada de 33 años llamó la atención de Jatziry, de 29 años, en la televisión. Jatziry, quien también estaba divorciada y había perdido la fe en el amor, decidió participar en el programa para conquistar a Cristal. Cristal no se sorprendió mucho porque Jatziry se había puesto en contacto previamente a través de las redes sociales. Una vez que se abrió la puerta del amor, no hubo vuelta atrás para las dos. Su química las ha hecho inseparables desde ese momento.     
La pareja empezó a salir de forma oficial en noviembre de 2022 y luego se mudaron juntas. Cristal y Jatziry apostaron al amor y ENAMORÁNDONOS fue testigo de su conmovedora propuesta de matrimonio el pasado diciembre. Ahora se dirigen al altar y volverán a hacer historia.   
Presentado por los queridos Rafael Araneda y Ana Patricia Gámez, ENAMORÁNDONOS es un reality show diario que celebra el amor en todas sus formas y ayuda a las personas solteras a encontrar a sus almas gemelas. Para participar en el programa, los espectadores pueden llamar al 1(833) 266-7700 o visitar EnamorandonosUSA.com/aplica y EnamorándonosUSA en Facebook e Instagram. Únete a la conversación usando el hashtag #EnamorandonosUSA. 
 Visita televisaunivision.com  para obtener más información sobre TelevisaUnivision y síguenos en Twitter e Instagram.  
CONTACTOS: 
Laura Paez lpaez@televisaunivision.com 
Bettina Humphreys bhumphreys@televisaunivision.com