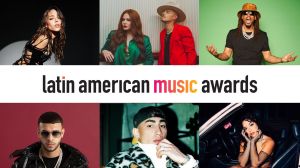 Presenting the 2023 LATIN AMAs are Ángela Aguilar, Banda Los Recoditos, Mar Solís, Mario Bautista, Roselyn Sánchez, Steve Aoki, and Zuleyka Rivera
Click here to download press assets
To purchase tickets to the 2023 LATIN AMAs, visit AXS.com
MIAMI, FL. – APRIL 12, 2023 – More performers have been added to the lineup of Univision's first-ever LATIN AMERICAN MUSIC AWARDS (LATIN AMAs). The evening will deliver many unforgettable firsts including a worldwide premiere by Lil Jon and Pitbull, a sneak peek of Mr. Worldwide's unreleased tracks with Vikina and Omar Courtz, and the TV debut of Lyanno's most recent collaboration Tu Recuerdo with Emilia and Wisin. The Latin pop sensation Danna Paola will also light up the LATIN AMAs stage with an energizing act that will hype up the crowd. LIVE from the MGM Grand Garden Arena in Las Vegas, this year's edition of the award show will simulcast on Univision, UniMás, and Galavisión on Thursday, April 20 at 7p/6c.
Newly confirmed acts include:
The multifaceted Mexican actress and singer songwriter Danna Paola will deliver a thrilling performance of her viral hit XT4S1S.

Beloved brother-sister duo Jesse & Joy will join 2023 Latin AMAs – Legacy honoree Carlos Vives in a performance of La Tierra Del Olvido. This year, the ballad hitmakers are up for "Best Pop Duo/Group."

Internationally recognized rapper and producer Lil Jon will kick off the celebration at the LATIN AMAs alongside Pitbull with the worldwide premiere of Jumpin their one-of-a-kind rendition of House of Pain's Jump Around. Lil Jon is nominated for "Best Crossover Artist."

Multi-platinum reggaeton powerhouse Lyanno will take the stage with pop sensation Emilia and urbano legend Wisin for the TV debut of Tu Recuerdo.

Rapidly emerging Puerto Rican star Omar Courtz and Miami-born singer Vikina will deliver the sneak peak of their unreleased tracks Pone Mal and Take a Shot with Pitbull.

Ultra talented Dominican-Italian melodist Yendry and bachata icon Zacarías Ferreíra will be part of one of the most memorable moments of the night.
Set to present at the 2023 LATIN AMAs are Ángela Aguilar, Banda Los Recoditos, Mar Solís, Mario Bautista, Roselyn Sánchez, Steve Aoki, and Zuleyka Rivera. More presenters will soon be announced.
Viewers can join the conversation on social media by following the hashtag #LatinAMAs on Facebook, Instagram and Twitter. For more information visit LatinAMAs.com.
CONTACTS:
Laura Paez lpaez@televisaunivision.com
Bettina Humphreys bhumphreys@televisaunivision.com 
###
Danna Paola y Lil Jon entre los artistas que tomarán el escenario de los LATIN AMERICAN MUSIC AWARDS de Univision el 20 de abril
Ángela Aguilar, Banda Los Recoditos, Mar Solís, Mario Bautista, Roselyn Sánchez, Steve Aoki y Zuleyka Rivera se unen como presentadores de los LATIN AMAs 2023
Haz clic aquí para descargar material de prensa
Ya están a la venta los boletos a la premiación en AXS.com
Miami, FL. – 12 de abril de 2023 – Se suman más artistas al conjunto de estrellas de los primeros LATIN AMERICAN MUSIC AWARDS (LATIN AMAs)de Univision. La velada ofrecerá un estreno mundial de Lil Jon y Pitbull, un adelanto de las canciones inéditas de Mr. Worldwide con Vikina y Omar Courtz, y el debut televisivo de la colaboración más reciente de Lyanno, Tu recuerdo, con Emilia y Wisin. La sensación del pop latino Danna Paolatambién iluminará el escenario de los LATIN AMAs con una presentación impresionante. EN VIVO desde el MGM Grand Garden Arena en Las Vegas, la premiación se transmitirá simultáneamente por Univision, UniMás y Galavisión el jueves 20 de abril a las 7p/6c.
Los artistas recién confirmados son:
La multifacética actriz, cantante y compositora mexicana Danna Paolabrindará una presentación emocionante de su exitoso tema XT4S1S.

El querido dúo de hermano y hermana Jesse & Joy se unirá al homenajeado de los Latin AMAs 2023 – Legacy Carlos Vives en una presentación de La Tierra del Olvido. Este año, los creadores de baladas compiten por "Mejor dúo/grupo pop".

El rapero y productor internacionalmente reconocido Lil Jon dará inicio a la celebración en los LATIN AMAs junto a Pitbull con el estreno mundial de Jumpin su singular interpretación del clásico Jump Around de House of Pain. Lil Jon está nominado a "Mejor artista crossover".

Lyanno, la potencia del reggaetón ganador de múltiples discos platino, subirá al escenario con la sensación del pop Emilia y la leyenda del género urbano Wisin para el debut televisivo de Tu Recuerdo.

La estrella puertorriqueña Omar Courtz y la cantante de Miami Vikina ofrecerán un adelanto de sus temas inéditos Pone Mal y Take a Shot con Pitbull.

La talentosísima cantante dominicana-italiana Yendry y el ícono de la bachata Zacarías Ferreíra serán parte de uno de los momentos más memorables de la noche.
Ángela Aguilar, Banda Los Recoditos, Mar Solís, Mario Bautista, Roselyn Sánchez, Steve Aoki y Zuleyka Rivera se unen a los LATIN AMAs como presentadores. Pronto se anunciarán más estrellas con participación especial.
Únete a la conversación en las redes sociales siguiendo el hashtag #LatinAMAs en Facebook, Instagram y Twitter. Para obtener más información visita LatinAMAs.com.
CONTACTOS:   
Laura Paez lpaez@televisaunivision.com
Bettina Humphreys bhumphreys@televisaunivision.com