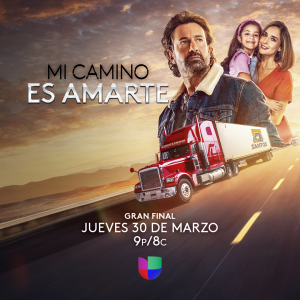 Click here to download promotional materials
MIAMI, FL. – MARCH 29, 2023 – Univision's MI CAMINO ES AMARTE (My Path to Loving You) comes full circle with its anticipated finale on Thursday, March 30 at 9p/8c. Starring Susana González and Gabriel Soto, the popular adaptation of the Chilean telenovela El Camionero will deliver an unbelievable ending to a story that has captivated audiences from the very beginning with its romantic and family-driven plot. The final episode will feature heartbreak, obstacles, and a possibility for forgiveness and new beginnings.
Produced by Nicandro Díaz, MI CAMINO ES AMARTE sheds light on an honest and humble truck driver whose family values are put to the test once he finds out he has a daughter from a previous relationship. The telenovela tells the story of Memo's (Gabriel Soto) journey through deception, unexpected romance, and hardships to find his daughter Isabella (Camille Mina,) and build a relationship with her.
Viewers can join the conversation on social media by following the hashtag #MiCaminoEsAmarte on Facebook, Instagram and Twitter. For more information visit Univision.com.
Visit televisaunivision.com for more information on TelevisaUnivision and follow us on Twitter and Instagram.
CONTACTS:    
Laura Paez lpaez@televisaunivision.com
Bettina Humphreys bhumphreys@televisaunivision.com 
###
MI CAMINO ES AMARTE llega a su gran final el 30 de marzo por Univision 
Haz clic aquí para descargar material promocional
Miami, FL. – 29 de marzo de 2023 – La audiencia de Univision podrá disfrutar del anticipado final de MI CAMINO ES AMARTE este jueves 30 de marzo a las 9p/8c. Protagonizada por Susana González y Gabriel Soto, la popular adaptación de la telenovela chilena El Camionero ofrecerá un final increíble a una historia que ha cautivado al público desde el principio con su trama romántica y familiar. El episodio final contará con nuevos obstáculos, la posibilidad de perdón y nuevos comienzos para los protagonistas.
Producida por Nicandro Díaz, MI CAMINO ES AMARTE cuenta la historia de un camionero humilde y honesto cuyos valores familiares se ponen a prueba una vez que descubre que tiene una hija de una relación anterior. La telenovela explora el engaño, el romance inesperado y las dificultades que vive Memo (Gabriel Soto) para encontrar a su hija Isabella (Camille Mina) y establecer una relación con ella.
Únete a la conversación en las redes sociales siguiendo el hashtag #MiCaminoEsAmarte en Facebook, Instagram y Twitter. Para más información visita Univision.com
Visita televisaunivision.com para obtener más información sobre TelevisaUnivision y síguenos en Twitter e Instagram.
CONTACTOS:   
Laura Paez lpaez@televisaunivision.com
Bettina Humphreys bhumphreys@televisaunivision.com