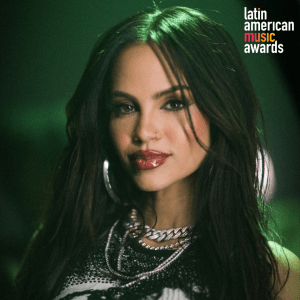 Photo credit: @bykanvas/Pina Records
Click here to download promotional material 
MIAMI, FL. – MARCH 27, 2023 – Global Latin recording artist Natti Natasha will make her hosting debut alongside Julian Gil and Galilea Montijo at the 8th edition of the LATIN AMERICAN MUSIC AWARDS (LATIN AMAs). The Dominican powerhouse has previously been nominated four times for the LATIN AMAs in the category of "Favorite Female Artist." This year, she has 3 nods in the categories of "Best Artist – Urban," "Best Collaboration – Pop/Urban," and "Collaboration of the Year" for Mayor Que Usted, her history making collaboration with Daddy Yankee and Wisin & Yandel.
"I'm so excited to host and be a part of this year's Latin AMAs. I look forward to celebrating our culture and music on a world stage, because "somos un movimiento," expressed Natti Natasha.
Under the theme "Somos un Movimiento," (We Are a Movement), the 2023 LATIN AMAs will celebrate Latin music's finest, as well as play tribute to today's most influential and iconic Latin artists, as voted by the fans in the tradition of the American Music Awards, the world's largest fan-voted award show. The highly anticipated show is set to broadcast LIVE on Univision, UniMás, and Galavisión from the MGM Grand Garden Arena in Las Vegas on April 20 at 7/6c.
Viewers can join the conversation on social media by following the hashtag #LatinAMAs on Facebook, Instagram and Twitter. For more information visit Univision.com/LatinAMAs
Visit televisaunivision.com for more information on TelevisaUnivision and follow us on Twitter and Instagram.
CONTACTS: 
Laura Paez lpaez@televisaunivision.com
Bettina Humphreys bhumphreys@televisaunivision.com
###
La artista femenina globalmente reconocida Natti Natasha hará su debut como conductora en los LATIN AMERICAN MUSIC AWARDS 2023
Photo credit: @bykanvas/Pina Records
Haz clic aquí para descargar material promocional
Miami, FL. – 27 de marzo de 2023 – La artista latina globalmente reconocida Natti Natasha hará su debut como conductora junto a Julián Gil y Galilea Montijo en la 8va edición de los LATIN AMERICAN MUSIC AWARDS (LATIN AMAs). La potencia dominicana ha sido previamente nominada a los LATIN AMAs cuatro veces en la categoría de "Artista Favorita – Femenina". Este año, obtuvo tres nominaciones en las categorías de "Mejor Artista – Urbano", "Mejor Colaboración – Pop/Urbano" y "Colaboración Del Año" por su colaboración histórica con Daddy Yankee y Wisin & Yandel, Mayor Que Usted.
"Estoy muy emocionada de ser conductora y ser parte de los LATIN AMAs de este año. Espero celebrar nuestra cultura y música en un escenario mundial, porque "somos un movimiento", dijo Natti Natasha.
Bajo el lema "Somos un movimiento", los LATIN AMAs 2023 celebrarán lo mejor de la música latina y rendirán homenaje a los artistas latinos más influyentes e icónicos de la actualidad, según lo votado por los fans en la tradición de los American Music Awards, la entrega de premios más importante del mundo donde votan los fanáticos. La muy esperada premiación se transmitirá EN VIVO por Univision, UniMás, y Galavisión desde el MGM Grand Garden Arena en Las Vegas el 20 de abril a las 7p/6c.
Únete a la conversación en las redes sociales siguiendo el hashtag #LatinAMAs en Facebook, Instagram y Twitter. Para más información visita Univision.com/LatinAMAs
Visita televisaunivision.com  para obtener más información sobre TelevisaUnivision y síguenos en Twitter e Instagram.
CONTACTOS: 
Laura Paez lpaez@televisaunivision.com
Bettina Humphreys bhumphreys@televisaunivision.com
###