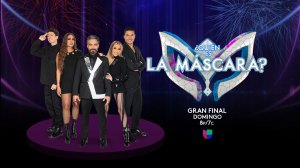 Click here to download promotional assets 
WHAT: This season of TV's most mysterious reality show ¿QUIÉN ES LA MÁSCARA? (The Masked Singer) comes to an end this Sunday, March 12 on Univision's DOMINGOS EN FAMILIA (Family Sundays). Audiences will finally discover the identity of the final winner and enjoy stunning musical performances by renowned artists Camila and Jessy y Joy who will be joined by the show finalists for one 'last hurrah.'
¿QUIÉN ES LA MÁSCARA? is hosted by actor, singer, and presenter Omar Chaparro and features a panel of all-star judges comprised of singers Yuri and Carlos Rivera, influencer JuanPa Zurita, and actress Galilea Montijo.
WHEN: Sunday, March 12 at 8p/7c
WHERE: Univision
Viewers can join the conversation on social media by following the hashtag #QuienEsLaMascaraUS on Facebook, Instagram and Twitter. For more information visit Univision.com
Visit televisaunivision.com for more information on TelevisaUnivision and follow us on Twitter and Instagram.
CONTACTS:    
Laura Paez lpaez@televisaunivision.com
Bettina Humphreys bhumphreys@televisaunivision.com
###
Camila y Jessy y Joy se presentarán en la gran final de ¿QUIÉN ES LA MÁSCARA? el 12 de marzo
Haz clic aquí para descargar materiales promocionales
QUÉ: Esta temporada del reality más misterioso de la televisión ¿QUIÉN ES LA MÁSCARA? llega a su fin este domingo 12 de marzo en DOMINGOS EN FAMILIA de Univision. El público finalmente descubrirá la identidad del ganador final y disfrutará de impresionantes presentaciones musicales de los reconocidos artistas Camila y Jessy y Joy junto a los finalistas del show para un cierre de temporada inolvidable.
¿QUIÉN ES LA MÁSCARA? es presentado por el actor, cantante y conductor Omar Chaparro y cuenta con un panel de jueces estelares compuesto por los cantantes Yuri y Carlos Rivera, el influencer JuanPa Zurita y la actriz Galilea Montijo.
CUÁNDO: Domingo 12 de marzo a las 8p/7c
DÓNDE: Univision
Únete a la conversación en las redes sociales siguiendo el hashtag #QuienEsLaMascaraUS en Facebook, Instagram y Twitter. Para más información visita Univision.com
Visita televisaunivision.com para más información sobre TelevisaUnivision y síguenos en Twitter e Instagram.
CONTACTOS: 
Laura Paez lpaez@televisaunivision.com
Bettina Humphreys bhumphreys@televisaunivision.com