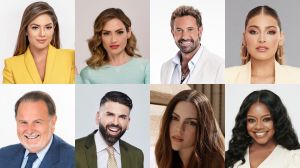 NOCHE DE ESTRELLAS will be hosted by Pamela Silva, Michelle Galván, Gabriel Soto, Migbelis Castellanos, Raúl De Molina, Jomari Goyso, Arana Lemus, and Yayis Villareal 
This year's "magenta carpet" features a brand-new look and fans return to welcome their favorite artists 
Fans have until February 5 to vote for their favorite artists 
Click here to download promotional material 
MIAMI, FL. – FEBRUARY 2, 2023 – Today, Univision announced details for PREMIO LO NUESTRO's one hour pre-show NOCHE DE ESTRELLAS that will air LIVE from Miami-Dade Arena on February 23 at 7/6c. Hosted by the powerful PRIMER IMPACTO duo Pamela Silva and Michelle Galván, TelevisaUnivision heartthrob actor Gabriel Soto, ENAMORÁNDONOS personality Migbelis Castellanos, and Univision carpet veteran Raúl De Molina, NOCHE DE ESTRELLAS will feature a redesigned "magenta carpet," exclusive interviews with special award recipients, nominees and performers, as well as a mani-cam where stars will showcase their trendy manicures and nail art. Fans will also return to the carpet for the first time since 2020 to welcome their favorite artists.  
As the first Latin music award show of the year, PREMIO LO NUESTRO will set the stage for what's to come in music and fashion for the rest of 2023 starting with the pre-show. NOCHE DE ESTRELLAS will highlight fashion like never before on the carpet, audiences will enjoy commentary from Jomari Goyso who returns as fashion and beauty expert joined by influencer Yayis Villareal who will share her insight on the latest trends spotted on the "magenta carpet." While UNIMÁS talent Arana Lemus will give fans a first look at who's departing from the host hotel.  
For the first time ever, fans will enjoy a behind-the-scenes experience of the carpet on a livestream hosted by Roberto Hernández, Lindsay Casinelli, and Jessi Rodríguez that will simulcast on Univision and PREMIO LO NUESTRO social media platforms: YouTube, TikTok, Instagram, Facebook, and PremioLoNuestro.com.   
To vote for your favorite artists, and purchase tickets for PREMIO LO NUESTRO 2023 visit PremioLoNuestro.com. Voting closes on February 5.  
Visit televisaunivision.com for more information on TelevisaUnivision and follow us on Twitter and Instagram.  
CONTACTS:   
Laura Paez lpaez@televisaunivision.com 
Bettina Humphreys bhumphreys@televisaunivision.com 
###
NOCHE DE ESTRELLAS

de

PREMIO LO NUESTRO lleva la música,

la moda

y

las estrellas

a

otro

nivel

para el 2023

 
NOCHE DE ESTRELLAS será conducido por Pamela Silva, Michelle Galván, Gabriel Soto, Migbelis Castellanos, Raúl De Molina, Jomari Goyso, Arana Lemus y Yayis Villareal 
Este año, la "alfombra magenta" tendrá un nuevo look y los fans regresarán para darle la bienvenida a sus artistas favoritos 
Los fans tienes hasta el 5 de febrero para votar por sus artistas favoritos  
Haz clic aquí para descargar material promocional   
MIAMI, FL. – 2 DE FEBRERO DE 2023 – PREMIO LO NUESTRO de Univision anunció hoy detalles de NOCHE DE ESTRELLAS, la antesala más dinámica y entretenida de la televisión. El show se emitirá EN VIVO desde Miami-Dade Arena el jueves 23 de febrero a las 7 p.m. hora del este y 6 p.m. hora del centro. Presentado por el poderoso dúo de PRIMER IMPACTO, Pamela Silva y Michelle Galván; el actor de TelevisaUnivision Gabriel Soto; la presentadora backstage de ENAMORÁNDONOS, Migbelis Castellanos y el veterano de las alfombras de Univision Raúl De Molina. NOCHE DE ESTRELLAS contará con un look rediseñado, entrevistas exclusivas con los talentos que participarán en el show, así como una "mani-cam" donde las estrellas mostrarán sus glamurosos diseños de uñas. Los fans también regresarán a la alfombra por primera vez desde 2020 para recibir a los artistas.  
Al ser la primera entrega de premios del año que celebra la música latina, PREMIO LO NUESTRO le brinda al público una primicia de lo que vendrá en la música y la moda durante el resto de 2023, comenzando con la "alfombra magenta". Este año, NOCHE DE ESTRELLAS se enfocará en la moda como nunca antes. En la alfombra, el público disfrutará de los comentarios de Jomari Goyso, quien regresa como experto en moda y belleza, acompañado por la influencer Yayis Villareal, quien compartirá su visión sobre las últimas tendencias observadas. También, Arana Lemus de UNIMÁS estará presente desde el hotel anfitrión reportando cuales artistas se dirigen hacia la "alfombra magenta".    
Por primera vez en la historia de PREMIO LO NUESTRO, los fans podrán disfrutar de una experiencia única de la alfombra, en una transmisión en vivo que será presentada por Roberto Hernández, Lindsay Casinelli, y Jessi Rodríguez y se emitirá de modo simultáneo en las plataformas de redes sociales de Univision y PREMIO LO NUESTRO: YouTube, TikTok, Instagram, Facebook y PremioLoNuestro.com.   
Para votar por tus artistas favoritos y comprar boletos para PREMIO LO NUESTRO 2023 visita PremioLoNuestro.com. La votación cierra el 5 de febrero.  
Visita televisaunivision.com para obtener más información sobre TelevisaUnivision y síguenos en Twitter e Instagram.  
CONTACTOS:   
Laura Paez lpaez@televisaunivision.com 
Bettina Humphreys bhumphreys@televisaunivision.com