The new episode premieres Sunday, February 5 th at 10 p.m. ET exclusively on ViX
The international Spanish language television host shares how his belief in superstitions lead him to become Don Francisco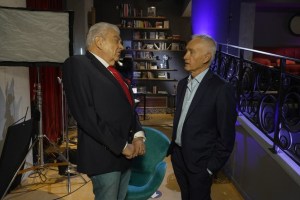 MIAMI, FL. – JANUARY 5, 2023 – ALGO PERSONAL CON JORGE RAMOS (Something Personal with Jorge Ramos), the celebrity interview program hosted by Emmy® award-winning journalist and bestselling author Jorge Ramos, features an interview with Spanish-Language television icon, Mario Kreutzberger, better known as: Don Francisco. The incomparable Chilean television host sat down to reflect on his life at the historic "O Cinema," to discuss a career worthy of a movie itself. The new episode premieres Sunday, February 5 th, at 10 p.m. ET, exclusively on ViX's "Noticias Univision 24/7" news channel.
After 54 years on air without interruption, Don Francisco holds the Guinness World Record of longest running variety TV host. Multiple generations of fans know Don Francisco as the legendry presenter of Sábado Gigante, but behind the cameras, lights and makeup is his reality as Mario Kreutzberger to his wife and family. "There are two personalities; that is one, but my respect for the public has always been great. So, I try to deliver – still today, at almost 82 years old – the best of me", shares Don Francisco. During ALGO PERSONAL CON JORGE RAMOS, Don Francisco delves into the duality of his existence, reveals his belief in superstition, and shares the legendary entertainment host's next dream.
ALGO PERSONAL CON JORGE RAMOS is also available on-demand in the U.S. and most Spanish-speaking Latin America, excluding Mexico. The upcoming interview will present an in-depth conversation with Chef José Andres.
Viewers can watch the trailer HERE and follow all the latest news on TelevisaUnivision's streaming shows on ViX by following on Twitter and Instagram.
For more press information on TelevisaUnivision please visit our Newsroom or follow us on Twitter and Instagram.
Contact: Melissa Agudelo magudelo@univision.net
###
Don Francisco se Sienta para un Entrevista Reveladora en "Algo Personal con Jorge Ramos"
Se estrena el nuevo episodio exclusivamente en ViX el domingo 5 de febrero a las 10 p.m. ET
El presentador internacional de televisión en español comparte cómo su creencia en las supersticiones lo llevó a convertirse en Don Francisco
MIAMI, FLORIDA. – 5 DE ENERO DE 2023 – ALGO PERSONAL CON JORGE RAMOS (Algo personal con Jorge Ramos), el programa de entrevistas a celebridades presentado por el periodista ganador del premio Emmy® y autor de bestsellers Jorge Ramos, presenta una entrevista con el ícono de la televisión en español, Mario Kreutzberger, mejor conocido como: Don Francisco. El incomparable conductor chileno de la televisión se sentó a reflexionar sobre su vida en el histórico "O Cinema", para hablar de una carrera digna de película. El nuevo episodio se estrena el domingo 5 de febrero a las 10 p.m. ET, exclusivamente en el canal de noticias "Noticias Univision 24/7" de ViX.
Como conductor, Don Francisco es considerado como el más longevo de la televisión con récord de Guinness Mundial de 54 años al aire sin interrupción. Múltiples generaciones de fanáticos lo conocen como el legendario presentador de Sábado Gigante, pero detrás de las cámaras, las luces y el maquillaje esta su vida real como Mario Kreutzberger para su esposa y familia. "Hay dos personalidades; que es una sola, pero mi respeto hacia el público ha sido siempre grande. Entonces, yo trato de entregar – hoy día todavía, a mis casi 82 años – lo mejor de mí", dice Don Francisco. En ALGO PERSONAL CON JORGE RAMOS Don Francisco profundiza sobre la dualidad de su existencia, revela su creencia en la superstición, y comparte cual es el próximo sueño del animador legendario.
ALGO PERSONAL CON JORGE RAMOS también está disponible a pedido en los EE. UU. y la mayor parte de América Latina de habla hispana, excepto México. En la próxima entrevista presentarán una conversación en profundidad con el Chef José Andrés.
Los televidentes pueden ver el tráiler AQUÍ y seguir las últimas noticias sobre los programas de streaming de TelevisaUnivision en ViX siguiéndolos en Twitter y Instagram.
Para obtener más información de prensa sobre TelevisaUnivision, visite nuestra Sala De Prensa o síganos en Twitter and Instagram.
Contacto: Melissa Agudelo magudelo@univision.net