The Longest Running Spanish News Magazine Show in the United States Kicks off 2023 with a Fresh and Modern State-of-the-Art Set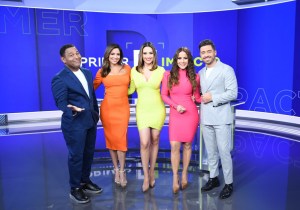 MIAMI, FL – January 3, 2023 – 2023 is a New Year and with it comes a brand-new set for the NOTICIAS UNIVISION's flagship news magazine show, PRIMER IMPACTO (PI). The set ushers in a new era for the show and its audience by offering cutting-edge video tools, more technology and interactivity; all on a dynamic 360-degree stage built to showcase PI's unique story telling. Hosts, Pamela Silva, and Michelle Galvan will present live from the newly designed ultra-modern studio today, Tuesday, January 3 at 5 p.m. ET.
Flexibility is a requirement in today's modern world and became a critical component for PRIMER IMPACTO's 360 set design that provides unique spaces for each segment of the show, taking the viewer from top stories in news, entertainment, weather, and sports, onto in-depth interviews and the unmissable eccentric images of the day. The set brings stories alive by incorporating the latest screen technology that allows it to move from one side of the studio to the other, in addition to having a 200-degree rotation that can be shot from different angles.
Inspired by midcentury modernism, PRIMER IMPACTO's set was designed to highlight the shows' trademark use of impactful images in their stories. The production incorporates one of the largest interactive touchscreens on the air today in the United States that allows for on-air talent to walk the audience through visuals, creating an interactive experience for the viewer to better understand news pieces. The new set also incorporates an Augmented Reality (AR) System that can generate immersive images onto the set. A total of 495 LED modules used to create 6 different displays on the set will also help provide an emphasis on the powerful visuals used in PI's trademark storytelling.
The revamp is the 6th time PRIMER IMPACTO, the longest running Spanish magazine news show, steps up to offer its dedicated viewers a fresh new look that reflects the world's current environment while maintaining the show's familiarity through color palette and textures. PI also presents a refreshed logo, with a look-and-feel that offers a modern, fresh, and clean take on its current one; and its emblematic theme song is remixed with a trap music rhythm that adds a level of cinematography to the original.  PRIMER IMPACTO's first telecast was on February 19th, 1996, and twenty-nine years later it remains a pilar of the NOTICIAS UNIVISION news family.
ADDITIONAL INFORMATION:
Visit televisaunivision.com for more information on TelevisaUnivision and follow @UnivisionPRTeam on Twitter and Instagram.
CONTACT: Melissa Agudelo magudelo@univision.net
###
PRIMER IMPACTO Estrena Nueva Casa Hoy
El programa de revistas de noticias en español de mayor duración en los Estados Unidos comienza el 2023 con un nuevo y moderno set de última generación
MIAMI, FL – 3 de enero de 2023 – 2023 es un Año Nuevo y con él llega un nuevo set para PRIMER IMPACTO (PI), el programa de noticias insignia de NOTICIAS UNIVISION. El set marca el comienzo de una nueva era para el programa y su audiencia al ofrecer herramientas de video de vanguardia, más tecnología e interactividad; todo en un escenario dinámico de 360 ​​grados creado para mostrar la narración única de PI. Las conductoras principales, Pamela Silva y Michelle Galván presentarán en vivo desde el nuevo ultramoderno estudio hoy, martes 3 de enero a las 5 p.m. ET.
La flexibilidad es un requisito del mundo moderno en el cual vivimos y se convirtió en un componente crítico para el diseño del escenario 360 de PRIMER IMPACTO que brinda espacios únicos para cada segmento del programa, llevando al televidente desde las historias top de noticias, entretenimiento, clima y deportes, ha entrevistas profundas y las excéntricas imágenes imperdibles de la jornada. El set da vida a las historias al incorporar la última tecnología en una de las pantallas que le permite moverse de un lado al otro del estudio, además de tener una rotación de 200 grados que se puede filmar desde diferentes ángulos.
Inspirado en el modernismo de mediados de siglo, el set de PRIMER IMPACTO fue diseñado para resaltar el uso característico de imágenes impactantes en sus historias. La producción incorpora una de las pantallas táctiles interactivas más grandes al aire actualmente en los Estados Unidos que permite que el talento guíe a la audiencia a través de visuales creando una experiencia interactiva para que el espectador comprenda mejor las noticias. El nuevo set también incorpora un Sistema de Realidad Aumentada (AR) que puede generar imágenes inmersivas en el set. Un total de 495 módulos LED están utilizados para crear 6 pantallas diferentes en el set que también ayudarán a enfatizar las poderosas imágenes utilizadas en la narrativa característica de PI.
La renovación es la sexta vez que PRIMER IMPACTO, el programa de noticias de revistas en español de más larga duración, da un paso al frente para ofrecer a sus espectadores dedicados una nueva imagen fresca que refleja el entorno actual del mundo mientras mantiene la familiaridad del programa a través de la paleta de colores y las texturas. PI también presenta un logotipo renovado, que ofrece una versión moderna, fresca y limpia del actual; y su tema principal emblemático se remezcla con un ritmo de música trap que agrega un nivel de cinematografía al original. La primera transmisión de PRIMER IMPACTO fue el 19 de febrero de 1996 y veintinueve años después sigue siendo un pilar de la familia de noticias NOTICIAS UNIVISION.
INFORMACIÓN ADICIONAL:
Visita televisaunivision.com para obtener más información sobreTelevisaUnivision y sigue a @UnivisionPRTeam en Twitter e Instagram.
CONTACTO: Melissa Agudelo magudelo@univision.net
###