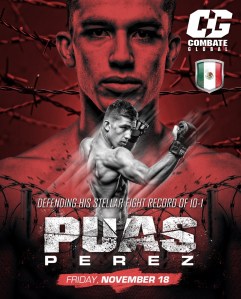 COMBATE GLOBAL ANNOUNCES FIVE-FIGHT LINEUP FOR FINAL 2022 EVENT ON FRIDAY, NOVEMBER 18, LIVE ON UNIVISION AND TUDN
LIGHTWEIGHT SENSATION CRISTIAN "PUAS" PEREZ OF MEXICO HEADLINES AGAINST COLOMBIA'S GILBER ORDOÑEZ HUILA
PLUS:  WOMEN'S FLYWEIGHT MARITZA SANCHEZ RETURNS TO LA JAULA TO FACE IRELAND'S DEE BEGLEY IN CO-MAIN EVENT ACTION
NEW YORK – November 14, 2022 – Combate Global today announced a five-bout Mixed Martial Arts (MMA) lineup for its final event of the year, live on television in the U.S. on Univision (12 a.m. ET/PT) and TUDN (12 a.m. ET/9 p.m. PT) from Miami, Fla. on Friday, Nov. 18.
In the lightweight (155 pounds) main event, 23-year-old Mexican sensation Cristian "Puas" Perez (10-1) will enter La Jaula, the Combate Global competition cage, for the third time this year and face off with scrappy veteran and Combate Global newcomer, Gilber Orodoñez Huila (10-5).
Hailing from Ensenada, B.C. and fighting out of Miami, Perez is a Combate Global homegrown talent, who has been competing for the organization since his professional debut in 2019.  In 2021, the upstart caught the attention of the greater MMA world for the first time when he submitted Geraldo Almonte with a heel hook in just 29 seconds in Combate Global action.
Perez is a ground fighting specialist, who has earned 7 of his 10 professional career victories by way of (T)KO or submission.  His only loss came by way of unanimous decision at the hands of American Enrique Gonzalez in the championship stage of a one-night, eight-man tournament in which Perez had already defeated two previous opponents that same night.
The 31 year-old Orodoñez Huila of San Juan de Pasto, Colombia is a former competitive boxer who transitioned to MMA in 2013 and ran to seven straight wins as well as a regional championship in his first seven professional MMA starts.
Last year, Orodoñez Huila left Colombia for Warsaw, Poland where he had the opportunity to compete for three different promoters.  He is looking to rebound from a June 18 unanimous decision loss at the hands of Norbert Daszkiewicz in Orodoñez Huila's sole start this year.
Returning to La Jaula in the women's flyweight (125 pounds) co-main event will be another Combate Global homegrown talent in Maritza Sanchez (3-1), who will take on fellow streaking upstart Dee Begley (3-1).
Fighting out of Placerville, Calif., the 24-year-old Sanchez will look for her fourth consecutive Combate Global victory following a unanimous decision win over Aitana Alvarez of Spain on April 15.
Begley is a 27-year-old native of Dublin, Ireland and protégé of famed trainer John Kavanagh.  Like Sanchez, Begley will seek out her fourth straight win following back-to-back conquests in Combate Global this year.
At welterweight (170 pounds), Ovidio Bojorquez (3-1) of Hermosillo, Son., Mexico will make his way back to La Jaula less than two months after he turned in a highlight reel performance with a flying knee strike knockout of Matthew Colquhoun in the first round (2:53) of their meeting on September 24.  Bojorquez will do battle with Eddie Perez Bruno (2-1) of Orlando, Fla.
A lightweight preliminary bout card attraction will pit Alejandro "Bam Bam" Velasco (8-5) of Ensenada against Richie Palomino (5-4) or Irvine, Calif.
Also in action on the undercard will be Natalie Schlesinger (1-1) of Tinton Falls, N.J.  Schlesinger will face Jharely Reyes (0-1) of Ensenada at atomweight (105 pounds).
Additional information about Combate Global and its athletes can be found on www.CombateGlobal.com as well as on Facebook, Instagram, Twitter and YouTube.
Visit televisaunivision.com for more information on TelevisaUnivision and follow us on Twitter and Instagram.
CONTACT: 
Mike Afromowitz
Combate Global
mikea@combateglobal.com
917-566-8754
Estefania Diaz-Balart
TelevisaUnivision
ediazbalart@univision.net
305-510-7334
###
COMBATE GLOBAL ANUNCIA LISTA DE CINCO PELEAS PARA EL EVENTO FINAL DE 2022 EL VIERNES 18 DE NOVIEMBRE EN VIVO POR UNIVISION Y TUDN
LA SENSACIÓN EN EL PESO LIGERO CRISTIAN "PUAS" PEREZ DE MÉXICO ENFRETA AL COLOMBIANO GILBER ORDOÑEZ HUILA
ADEMÁS: REGRESA MARITZA SANCHEZ A LA JAULA PARA ENFRENTARSE A DEE BEGLEY DE IRLANDA EN UNA PELEA EN EL PESO MOSCA FEMENINO EN ACCIÓN EN LA PELEA CO-ESTELAR
NUEVA YORK
– 14 de noviembre de 2022 –
 Combate Global anunció hoy una alineación de artes marciales mixtas (MMA) de cinco combates para su último evento del año, en vivo por televisión en los EE. UU. por Univision (12 a. m. ET/PT) y TUDN (12 a. m. ET/9 p. m. PT) desde Miami, Florida, el viernes 18 de noviembre.
En pelea estelar, sera un duelo en el peso ligero (155 libras), cuando la sensación de mexico de 23 años Cristian "Puas" Pérez (10-1) regresa a La Jaula, la jaula de competencia de Combate Global, por tercera vez este año y se enfrentará a un peleador veterano, Gilber Orodoñez Huila (10-5).
De Ensenada, B.C. pero representando a Miami, Pérez es un talento que comenzo su carera en Combate Global en el 2019. En 2021, el advenedizo llamó la atención del gran mundo de MMA por primera vez cuando sometió a Geraldo Almonte con una sumision en tan solo 29 segundos en la acción de Combate Global.
Pérez es un especialista en el jiu jitsu y ha obtenido 7 de las 10 victorias en su carrera profesional por medio de (T)KO o sumisión. Su única derrota se produjo por decisión unánime a manos del estadounidense Enrique González en la etapa de campeonato de un torneo de ocho hombres en el que Pérez ya había derrotado a dos oponentes anteriores esa misma noche.
Orodoñez Huila, de 31 años, de San Juan de Pasto, Colombia, es un ex boxeador competitivo que hizo la transición a MMA en 2013 y logró siete victorias consecutivas, así como un campeonato regional en sus primeras siete aperturas profesionales de MMA.
El año pasado, Orodoñez Huila salió de Colombia rumbo a Varsovia, Polonia donde tuvo la oportunidad de competir por tres promotoras diferentes. Está buscando recuperarse de una derrota por decisión unánime el 18 de junio a manos de Norbert Daszkiewicz en la única pelea de Orodoñez Huila este año.
Regresando a La Jaula en el evento coestelar en el peso mosca femenino (125 libras) estará otra cara familiar de Combate Global cuando Maritza Sánchez (3-1) se enfrente a Dee Begley (3-1).
Representando a Placerville, California, Sánchez, de 24 años, buscará su cuarta victoria consecutiva en Combate Global luego de una victoria por decisión unánime sobre Aitana Álvarez de España el 15 de abril.
Begley de Dublín, Irlanda de 27 años quien su entrenador es el famoso John Kavanagh. Al igual que Sánchez, Begley buscará su cuarta victoria consecutiva luego de conquistas consecutivas en Combate Global este año.
En el peso welter (170 libras), Ovidio Bojorquez (3-1) de Hermosillo, Son., México, regresará a La Jaula menos de dos meses después de haber tenido una actuación destacada por una rodilla voladora que noqueó a Matthew Colquhoun. en el primer asalto (2:53) de su encuentro el 24 de septiembre. Bojorquez peleará con Eddie Perez Bruno (2-1) de Orlando, Fla.
En las peleas preliminaria, Alejandro "Bam Bam" Velasco (8-5) de Ensenada se enfrenta contra Richie Palomino (5-4) o Irvine, California.
También en acción, Natalie Schlesinger (1-1) de Tinton Falls, N.J. Schlesinger se enfrentará a Jharely Reyes (0-1) de Ensenada en un duelo en el peso átomo (105 libras).
Se puede encontrar información adicional sobre Combate Global y sus atletas en www.CombateGlobal.com así como en Facebook, Instagram, Twitter y YouTube.
Visita televisaunivision.com para más información sobre TelevisaUnivision y síguenos en Twitter e Instagram.
CONTACTO:
Mike Afromowitz
Combate Global
mikea@combateglobal.com
917-566-8754
Estefania Diaz-Balart
TelevisaUnivision
ediazbalart@univision.net
305-510-7334
###