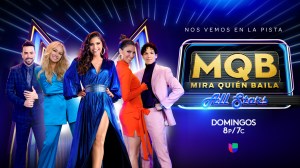 The Celebrity Participants Will Dance to Music from Legendary Icons Celia Cruz, Vicente Fernández, Enrique Gúzman, Juan Gabriel, and more 
Click here to download promotional assets 
WHAT'S NEW:  
Audiences of Univision's "Domingos en Familia" will enjoy the return of fan-favorite themed nights on MIRA QUIÉN BAILA ALL STARS this Sunday, October 16 at 8pm/7pm CT. The second gala will feature the theme "Tributes Night" and will kick off with an opening performance by Dominican singer Manny Cruz paying tribute to Johnny Ventura, as well as include a special performance by Mexican singer-songwriter Majo Aguilar in tribute to her grandmother, Flor Silvestre. Participants will also showcase their incredible moves and take the stage to dance to the rhythm of legendary icons such as Celia Cruz, Vicente Fernández, Enrique Gúzman, Juan Gabriel, Jenni Rivera, Joan Sebastian, Donna Summer and many more. This week, the stars will perform the following dances:
Ana Isabelle will groove to a disco beat.

Brenda Kellerman will flow to the movement of contemporary.

María León and Ferdinando Valencia will dance regional Mexican.

Michelle González will perform to a lively salsa.

Gabriel Coronel will move to a fun jive.

Jorge Anzaldo will dance to the rhythm of tango.

Miguel Martínez will perform an eloquent waltz.
The question of the night remains: Will participant Gabriel Coronel be able to dance after his previous accident in rehearsals?
In addition to being thrilled by the show every week on Univision, ViX users will also be able to stream  DETRÁS DE CAMARAS: MIRA QUIÉN BAILA ALL STARS  where Sherlyn González brings you exclusive moments not seen on the dance floor. These episodes air for free on Mondays starting at 8am ET/PT.
IN THE MOST RECENT EPISODE OF MIRA QUIÉN BAILA ALL STARS: 
The premiere of the dance competition kicked off with only 7 of the 8 contestants able to take the stage, after the fall Gabriel Coronel suffered during rehearsals.

Following the judges' evaluations, singer María León was among the top four dancers of the night, despite having danced with severe body pain.

The competing couple, Brenda Kellerman and Ferdinando Valencia, each had a different outcome. While Ferdinando was a shining star on stage, that was not the case with his partner.

Despite a stumble in her first dance, actress Michelle González was crowned best of the night.
MIRA QUIÉN BAILA ALL STARS is a co-production of TelevisaUnivision and EndemolShine Boomdog.
ADDITIONAL INFORMATION:    
Fans can get the latest updates on MiraQuienBaila.com. Viewers can join the conversation on social media by following the hashtag #MiraQuienBaila on Facebook, Instagram and Twitter.
Visit televisaunivision.com for more information on TelevisaUnivision and follow us on Twitter and Instagram.
CONTACT: Laura Paez lpaez@univision.net
###
MIRA

QUIÉN BAILA ALL STARS rinde tributo a artistas emblemáticos en la anticipada segunda gala
 Los participantes famosos bailarán al ritmo de la música de los legendarios íconos Celia Cruz, Vicente Fernández, Enrique Guzmán y Juan Gabriel, entre otros   
Haz clic aquí para descargar material promocional  
QUÉ HAY DE NUEVO:   
El público de "Domingos en Familia" de Univision disfrutará el regreso de las noches temáticas en MIRA QUIÉN BAILA ALL STARS este domingo 16 de octubre a las 8pm y 7pm hora del centro. El tema de la segunda gala será "Noche de tributos" y dará inicio con un homenaje de parte del cantante dominicano Manny Cruz a su compatriota Johnny Ventura. También habrá una presentación especial de la cantante y compositora mexicana Majo Aguilar en homenaje a su abuela, Flor Silvestre. Por su parte, los participantes subirán al escenario y mostrarán sus increíbles pasos de baile al ritmo de íconos legendarios como Celia Cruz, Vicente Fernández, Enrique Guzmán, Juan Gabriel, Jenni Rivera, Joan Sebastián, Donna Summer y muchos más.
Esta semana, las estrellas interpretarán los siguientes ritmos:
Ana Isabelle bailará al ritmo de la música disco.

Brenda Kellerman fluirá con pasos de baile contemporáneo.

María León y Ferdinando Valencia bailarán música regional mexicana.

 Michelle González bailará una enérgica salsa.

Gabriel Coronel se moverá con un divertido jive.

Jorge Anzaldo bailará al ritmo del tango.

Miguel Martínez interpretará un elocuente vals.
La pregunta de la noche sigue siendo: ¿Podrá bailar el participante Gabriel Coronel después de la lesión que sufrió en los ensayos?
Además de poder disfrutar del programa todas las semanas en Univision, los usuarios de ViX también podrán ver el DETRÁS DE CAMARAS: MIRA QUIÉN BAILA ALL STARS con Sherlyn González y vivir momentos exclusivos que no se ven al aire de manera gratuita los lunes después del show a partir de las 8 a.m. hora del Este y Pacífico.
Para más información sobre como suscribirse a ViX, el servicio streaming de TelevisaUnivision, visite ViX.com.
EN EL EPISODIO MÁS RECIENTE DE MIRA QUIÉN BAILA ALL STARS:  
En el estreno del concurso de baile solo 7 de los 8 concursantes pudieron subir al escenario, luego de la caída que sufrió Gabriel Coronel durante los ensayos.

Tras las evaluaciones de los jueces, la cantante María León quedó entre los cuatro mejores bailarines de la noche, a pesar de haber bailado con fuertes dolores corporales.

Cada integrante de la pareja competidora compuesta por Brenda Kellerman y Ferdinando Valencia tuvo un resultado diferente. Si bien Ferdinando logró brillar en el escenario, ese no fue el caso de su compañera.

A pesar de tener un tropiezo en su primer baile, la actriz Michelle González se coronó como la mejor de la noche.
MIRA QUIÉN BAILA ALL STARS es una coproducción de TelevisaUnivision y EndemolShine Boomdog.
INFORMACIÓN ADICIONAL:     
Los fanáticos pueden obtener los ultimos detalles en MiraQuienBaila.com. Los espectadores pueden unirse a la conversación en las redes sociales siguiendo el hashtag #MiraQuienBaila en Facebook, Instagram y Twitter.
Visita televisaunivision.com para obtener más información sobre TelevisaUnivision y síguenos en Twittere Instagram.
CONTACTO: Laura Paez lpaez@univision.net