The premiere episode will feature Omar Chaparro and J Balvin as special guests on October 9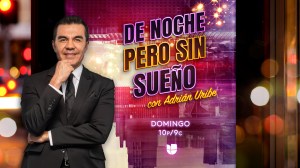 Click here to download promotional material  
Miami, FL. – October 5, 2022 – Univision's "Domingos en Familia" announces the premiere of DE NOCHE PERO SIN SUEÑO, hosted by one of the most internationally renowned Hispanic comedians Adrián Uribe, on October 9 at 10 p.m. ET/PT (9 p.m. CT). The late-night talk show will air simultaneously on Galavisión every Sunday. Uribe will be joined by Venezuelan singer and model Patricia Zavala who will play the role of sidekick, reporter on the road, and leader of the show's live band.
Sunday nights will now be packed with unmissable comedy, music, and gimmicks. Showcasing the biggest names in contemporary Latin culture, Uribe will amuse viewers on DE NOCHE PERO SIN SUEÑO chatting with the most relevant figures of our time in entertainment and music during the hour-long program.
In the premiere episode, Uribe will take on the Big Apple where he will join reggaeton sensation J Balvin on the High-Line, the two will chat and the Colombian singer will present the late-night host with a gift. Then, comedian, singer, and tv host Omar Chaparro will share anecdotes with Uribe, go down memory lane and play games, giving audiences the most dynamic and entertaining Spanish language late-night experience.
CONTACT: Laura Paez lpaez@univision.net
###
Univision estrenará el programa nocturno DE NOCHE PERO SIN SUEÑO conducido por Adrián Uribe 
El episodio de estreno contará con Omar Chaparro y J Balvin como invitados especiales el 9 de octubre  
Miami, Florida – 5 de octubre de 2022 – "Domingos en Familia" de Univision anuncia el estreno de DE NOCHE PERO SIN SUEÑO, conducido por Adrián Uribe, uno de los comediantes hispanos más reconocido a nivel internacional, el 9 de octubre a las 10 p.m. hora del Este/ Pacífico (9 p.m. Centro). El programa nocturno se transmitirá de manera simultánea por Galavisión todos los domingos. Uribe estará acompañado por la cantante y modelo venezolana Patricia Zavala, quien desempeñará el papel de compañera, reportera y líder de la banda en vivo del programa.  
Los domingos por la noche ahora estarán llenos de comedia, música y momentos imperdibles. Junto a los nombres más importantes de la cultura latina contemporánea, Uribe entretendrá a los televidentes de DE NOCHE PERO SIN SUEÑO, y conversará con las figuras más relevantes del entretenimiento y la música de nuestros tiempos durante el programa de una hora.  
En el episodio de estreno, Uribe llegará a la Gran Manzana y se unirá a la sensación de reggaetón J Balvin en el High-Line, donde los dos conversarán y el cantante colombiano le entregará un regalo al presentador. Luego, el comediante, cantante y presentador de televisión Omar Chaparro compartirá anécdotas y recuerdos con Uribe, además de participar en juegos que brindarán al público la experiencia nocturna en español más dinámica de la televisión.