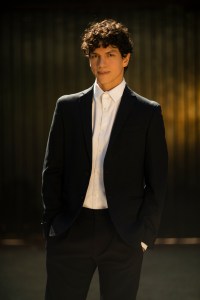 Click here to download promotional assets 
Miami, FL. – September 21, 2022 – Univision's "Domingos en Familia" will be taking over the dance floor on Sunday nights with the upcoming premiere of MIRA QUIÉN BAILA ALL STARS on October 9 in the most intense and exciting season yet. Acclaimed Mexican ballet dancer Isaac Hernández will join the star-studded judging panel alongside pop sensation Paulina Rubio and a third and final internationally recognized judge who will soon be announced. 
Isaac is currently a Principal Dancer at San Francisco Ballet and was the first Mexican appointed to dance as principal with the English National Ballet. He has proudly represented his country in all continents and on the most prestigious stages in the world and has earned many recognitions throughout his career including "Best Male Ballet Dancer" in the Prix Benois de la Danse. Apart from his dancing career, Hernández has a strong social commitment to Mexico and has become an icon for the arts and culture, promoting them as a force for social cohesion and progress through free cultural events, workshops, and multiple dance schools that help empower younger generations. Additionally, he founded Somus, a platform for social causes and launched the cultural initiative Despertares Impulsa. The acclaimed dancer also made his acting debut in the Netflix miniseries ALGUIEN TIENE QUE MORIR (Someone Has to Die) in 2020 and he will now bring his expertise and passion to Univision's megahit competition.  
The new edition of MIRA QUIÉN BAILA ALL STARS will be hosted by Chiquinquirá Delgado and Mane de la Parra, while Sherlyn González takes on the role of backstage host, offering viewers a look at what happens behind-the-scenes. Family Sundays will be taken to a whole new level with the return of fan-favorite themed nights, high caliber performances, and a cast of celebrity contestants who will be announced at a later date.  
MIRA QUIÉN BAILA ALL STARS is a co-production of TelevisaUnivision and EndemolShine Boomdog.   
ADDITIONAL INFORMATION:  
Fans can get the latest updates on MiraQuienBaila.com. Viewers can join the conversation on social media by following the hashtag #MiraQuienBaila on Facebook, Instagram and Twitter. For more information visit Univision.com.  
Visit televisaunivision.com for more information on TelevisaUnivision and follow us on Twitter and Instagram.  
CONTACT: Laura Paez lpaez@univision.net  
###
MIRA QUIÉN BAILA ALL STARS anuncia al bailarín de ballet mexicano Isaac Hernández como integrante del nuevo jurado célebre  
Haz clic aquí para descargar material promocional 
Miami, Florida – 21 de septiembre de 2022 – "Domingos en Familia" de Univision se apoderará de la pista de baile los domingos por la noche con el próximo estreno de MIRA QUIÉN BAILA ALL STARS el 9 de octubre en la temporada más intensa y emocionante hasta el momento. El aclamado bailarín de ballet mexicano Isaac Hernández se unirá al panel de jueces junto con la sensación del Pop Paulina Rubio y un tercer y último juez pronto será anunciado.  
Isaac Hernández, que fue nombrado recientemente bailarín principal del San Francisco Ballet y fue el primer mexicano que ocupó un lugar principal en el English National Ballet, ha representado con orgullo a su país en todos los continentes y en los escenarios más prestigiosos del mundo. Ha ganado muchos reconocimientos a lo largo de su carrera, incluido el de "Mejor bailarín de ballet masculino" en el Prix Benois de la Danse. Además de su carrera como bailarín, Hernández tiene un fuerte compromiso social con su México natal y se ha convertido en un ícono de las artes y la cultura, promoviéndolas como una fuerza de cohesión y progreso social mediante eventos culturales gratuitos, talleres y múltiples escuelas de baile que ayudan a potenciar a las generaciones más jóvenes. Además, fundó Somus, una plataforma de causas sociales, y lanzó la iniciativa cultural Despertares Impulsa. El aclamado bailarín también hizo su debut en Netflix en 2020 en la miniserie ALGUIÉN TIENE QUE MORIR y ahora aportará su experiencia y pasión a la exitosa competencia de baile de Univision. 
La nueva edición de MIRA QUIÉN BAILA ALL STARS será conducida por Chiquinquirá Delgado y Mane de la Parra, mientras que Sherlyn González asumirá el rol de presentadora backstage, ofreciendo a los televidentes una mirada de lo que sucede detrás de cámara de la popular competencia. Los domingos familiares serán inolvidables con el regreso de las noches temáticas, actuaciones de alto calibre y un elenco de concursantes famosos que se anunciarán en una fecha posterior. 
MIRA QUIÉN BAILA ALL STARS es una coproducción de TelevisaUnivision y EndemolShine Boomdog.    
INFORMACIÓN ADICIONAL:  
Los fans pueden obtener las últimas novedades en MiraQuienBaila.com. Los espectadores pueden unirse a la conversación en las redes sociales siguiendo el hashtag #MiraQuienBaila en Facebook, Instagram y Twitter. Para obtener más información visita Univision.com.   
Visita televisaunivision.com para más información sobre TelevisaUnivision y síguenos en Twitter e Instagram.   
CONTACTO: Laura Paez lpaez@univision.net