Below: Mexican internet sensation Lucero "La Loba" Acosta (left) will make her return to Combate Global MMA action in a 125-pound showdown with Venezuelan rival Mariel Celimen (right) on Saturday, Sept. 24. Photo credit: Scott Hirano/Combate Global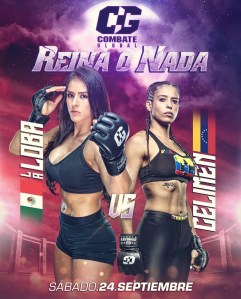 COMBATE GLOBAL ANNOUNCES WOMEN'S MMA SHOWDOWN 'REINA O NADA' ON UNIVISION AND TUDN ON SATURDAY, SEPTEMBER 24
EVENT SLATED TO BE THE MOST WATCHED WOMEN'S MMA FIGHT IN HISTORY
WOMEN'S FLYWEIGHT MAIN EVENT: LUCERO "LA LOBA" ACOSTA (MEXICO) VS. MARIEL CELIMEN (VENEZUELA)
NEW YORK – September 19, 2022 – Combate Global has announced a women's flyweight (125 pounds) main event contest between two fierce rivals – Lucero "La Loba" Acosta (2-2) and Mariel Celimen (2-1) – for Saturday, Sept. 24, on television in the U.S. on Univision (11 p.m. ET/8 p.m. PT) and TUDN (11 p.m. ET/8 p.m. PT), from Miami, Fla.
"This fight between 'La Loba' and Mariel Celimen will be the most watched women's MMA fight in history," said Combate Global CEO Campbell McLaren.  "and it will be a good indicator as far as which of these reinas (queens) will eventually rule the women's flyweight division in Combate Global."
The showdown between the 28-year-old Acosta of Tijuana, B.C., Mexico via San Diego, Calif.  and the 26-year-old Celimen of Maracaibo, Venezuela via Miami will take place approximately six months after the two faced off as training partners at the Miami-based Goat Shed Academy, which Celimen calls home.
What was going to be a routine sparring session that day quickly turned into a full-on battle in the cage at Goat Shed after Acosta, who was visiting the gym, landed a straight right hand that prompted Celimen to take down and attempt an armbar submission on Acosta.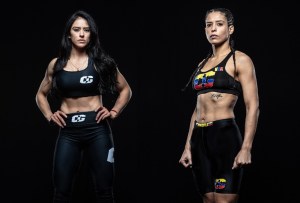 Above: Archrivals Lucero "La Loba" Acosta (left) and Mariel Celimen (right)
Acosta is an internet sensation whose fight videos and lifestyle content have garnered millions of views across YouTube, Instagram and Snap.
Acosta will enter La Jaula, the Combate Global competition cage, for the first time in 2022, after a broken ankle sustained in training last November set her back.  Her last victory came on April 16, 2021, when she scored a first round (2:28) TKO (punches) on Xtreme Couture team member Allysen Breeden.
Like Acosta, Celimen has notched a pair of wins under the promotion of Combate Global, with her latest conquest coming in the form of a third round (4:09) submission (rear-naked choke) of Tyler Schaefer on April 29.
Celimen's lone defeat came as a result of being disqualified in the third round (2:59) of action against Chile's Jazmin Navarrete after illegally headbutting Navarrete multiple times while a noticeably frustrated Celimen was in Navarrete's guard.
The bout between Acosta and Celimen marks the fifth time in 2022 that a women's fight will headline a Combate Global event.Combate Global is producing 30 live events annually, and has expanded its women's fighter roster considerably since 2021.  The women's division comprises one-third of Combate Global's total roster of over 170 athletes.
In Saturday's co-main event, Javier "Blair" Reyes (14-3) of Bogota, Colombia will collide with Jose "Froggy" Estrada (7-3) of Oxnard, Calif. at featherweight (145 pounds).
The 28-year-old Reyes is the top featherweight from Colombia, and will look to extend his win streak to five consecutive bouts, while Estrada, in his first start this year, will try to rebound from a first round (1:14) submission (armbar) defeat at the hands of Martin "El Toro" Bravo last December 3.
In a featured bantamweight (135 pounds) contest, undefeated Erik Mendez (2-0) of Spokane, Wash. will take on Anas Azizoun (1-0 MMA; 28-1 kickboxing) of Saint Etienne, France.
Former kickboxing star Jade Jorand (1-2) of Bordeaux, France will return to Combate Global action in a 113-pound catchweight affair with Guilia Ghinello (3-6) of Brugine, Padova, Italy on the preliminary bout card.
Leading off the undercard will be a flyweight matchup between Edwin Sarria (5-4) of Miami and Pablo Caballero (8-9) of Miami.
Additional information about Combate Global and its athletes can be found on www.CombateGlobal.com as well as on Facebook, Instagram, Twitter and YouTube.
###
Abajo: La sensación mexicana de Internet Lucero "La Loba" Acosta (izquierda) hará su regreso a la acción de Combate Global MMA en un enfrentamiento de 125 libras con su rival venezolana Mariel Celimen (derecha) el sábado 24 de septiembre.  Crédito de la foto: Scott Hirano/Combate Global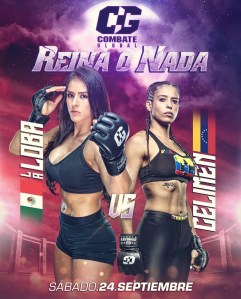 COMBATE GLOBAL ANUNCIA EL ENFRENTAMIENTO FEMENINO DE MMA 'REINA O NADA' EN UNIVISION Y TUDN EL SÁBADO 24 DE SEPTIEMBRE
EVENTO PROGRAMADO PARA SER LA PELEA DE MMA FEMENINA MÁS VISTA DE LA HISTORIA
PELEA ESTELAR DE PESO MOSCA FEMENINO: LUCERO "LA LOBA" ACOSTA (MÉXICO) VS. MARIEL CELIMEN (VENEZUELA)
NUEVA YORK – 19 de septiembre de 2022 – Combate Global ha anunciado una pelea en el peso mosca femenino (125 libras) entre dos rivales, Lucero "La Loba" Acosta (2-2) y Mariel Celimen (2-1), en la pelea estelar del sábado 24 de septiembre, en televisión en los Estados Unidos por Univision (11 p.m. ET /PT) y TUDN (11 p.m. ET/8 p.m. PT), desde Miami, Florida.
"Esta pelea entre 'La Loba' y Mariel Celimen será la pelea de MMA femenina más vista de la historia," dijo el CEO de Combate Global, Campbell McLaren.  "Y será un buen indicador en cuanto a cuál de estas reinas eventualmente gobernará la división de peso mosca femenino en Combate Global."
El enfrentamiento entre Acosta, de 28 años, de Tijuana, B.C., México a través de San Diego, California y Celimen, de 26 años, de Maracaibo, Venezuela, representando a Miami, se llevarán a cabo aproximadamente seis meses después de que las dos se enfrentaron como compañeras de entrenamiento en la Academia Goat Shed con en Miami, que Celimen llama hogar.
Lo que iba a ser una sesión de sparring de rutina ese día se convirtió rápidamente en una batalla completa en la jaula en la Academia Goat Shed después de que Acosta, que estaba visitando el gimnasio, aterrizó una mano derecha recta que llevó a Celimen a derribar e intentar una sumisión de brazo sobre Acosta.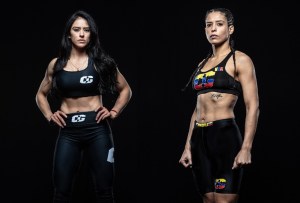 Arriba: Archirrivales Lucero "La Loba" Acosta (izquierda) y Mariel Celimen (derecha)
Acosta es una sensación de Internet cuyos videos de lucha y contenido de estilo de vida han obtenido millones de visitas en YouTube, Instagram y Snap.
Acosta ingresará a La Jaula, la jaula de competencia de Combate Global, por primera vez en 2022, después de sufrir de una fractura del tobillo sufrido en un entrenamiento en noviembre del año pasado.  Su última victoria llegó el 16 de abril de 2021, cuando anotó un TKO (golpes) en el primer asalto a los 2:28 sobre la miembro del equipo Xtreme Couture Allysen Breeden.
Al igual que Acosta, Celimen ha logrado un par de victorias bajo la promoción de Combate Global, con su última victoria en forma de una sumisión en el tercer asalto a los 4:09 (mata leon sumisión) de Tyler Schaefer el 29 de abril.
La única derrota de Celimen se produjo como resultado de ser descalificado en el tercer asalto a los 2:59 de acción contra la chilena Jazmín Navarrete después de golpear ilegalmente a Navarrete en múltiples ocasiones, mientras que un Celimen notablemente frustrada estaba en la guardia de Navarrete.
La pelea entre Acosta y Celimen marca la quinta vez en 2022 que una pelea femenina encabezará un evento de Combate Global. Combate Global está produciendo 30 eventos en vivo anualmente, y ha ampliado considerablemente su lista de luchadoras femeninas desde 2021.  La división femenina comprende un tercio de la lista total de Combate Global de más de 170 atletas.
En la pelea co-estelar del sábado, Javier "Blair" Reyes (14-3) de Bogotá, Colombia chocará con José "Froggy" Estrada (7-3) de Oxnard, California, en peso pluma (145 libras).
Reyes, de 28 años, es el mejor peso pluma de Colombia, y buscará extender su racha de victorias a cinco combates consecutivos, mientras que Estrada, en su primera apertura este año, intentará recuperarse de una derrota en el primer asalto a los 1:14 por sumisión (llave de brazo) a manos de Martín "El Toro" Bravo el pasado 3 de diciembre.
En un concurso destacado en el peso gallo (135 libras), el invicto Erik Méndez (2-0) de Spokane, Washington, se enfrentará a Anas Azizoun (1-0 MMA; 28-1 kickboxing) de Saint Etienne, Francia.
La ex estrella de kickboxing Jade Jorand (1-2) de Burdeos, Francia, regresará a la acción de Combate Global en una pelea pactado a los 113 libras con Guilia Ghinello (3-6) de Brugine, Padua, Italia en un duelo preliminar.
Liderando la cartelera estará un duelo en el peso mosca entre Edwin Sarria (5-4) de Miami y Pablo Caballero (8-9) de Miami.
Se puede encontrar información adicional sobre Combate Global y sus atletas en www.CombateGlobal.com así como en Facebook, Instagram, Twitter y YouTube.
###