All The Champions Lives On ViX+
---
WHAT: Coverage of 2022-2023 UEFA Champions League group phase kicks off on September 6 with all the action available for viewers on ViX+. Selected games are scheduled to also broadcast across Univison, UNIMAS, TUDN and TUDN Radio platforms. The highly anticipated matchday 1 features exciting match-ups between the best European teams including GNK Dinamo vs. Chelsea FC, Paris Saint-German vs. Juventus and Real Madrid CF vs. Celtic FV.
In addition to a full UEFA portfolio on ViX+, ViX will deliver "Jornada ViX" with select games for free on the ViX.
ViX and ViX+ will broadcast all UEFA games in the Deportes section of the service, and will be the home for the latest news, interviews, analysis and lineup breakdowns of the matches in its 24/7 sports channel, Zona TUDN.
WHEN/WHERE: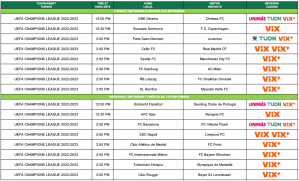 Matchday 2 continues with the action on September 13 & 14.
ADDITIONAL INFORMATION:
Visit corporate.televisaunivision.com for more information on TUDN and follow @UnivisionPRTeam on Twitter and Instagram.
CONTACTO:
Estefania Diaz-Balart ediazbalart@univision.net
###
La Champions donde quieras por ViX+!
---
QUÉ: La cobertura de la fase de grupos de la UEFA Champions League 2022-2023 comienza el 6 de septiembre con toda la acción disponible para los espectadores en ViX+. Juegos seleccionados también se transmitirán a través de las plataformas Univision, UNIMAS, TUDN y TUDN Radio. La muy esperada jornada 1 presenta emocionantes enfrentamientos entre los mejores equipos europeos, incluidos GNK Dinamo vs. Chelsea FC, Paris Saint-German vs. Juventus y Real Madrid CF vs. Celtic FV.
Además de una cartera completa de la UEFA en ViX+, ViX ofrecerá "Jornada ViX" con juegos seleccionados de forma gratuita en ViX.
ViX y ViX+ transmitirán todos los partidos de la UEFA en la sección Deportes del servicio, y serán la casa de las últimas noticias, entrevistas, análisis y desgloses de la alineación de los partidos en su canal de deportes 24/7, Zona TUDN.
CUANDO / DONDE: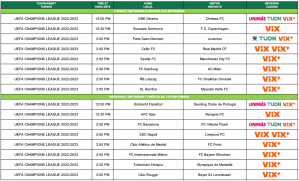 La jornada 2 continúa con la acción los días 13 y 14 de septiembre.
INFORMACIÓN ADICIONAL:
Visite corporate.televisaunivision.com para obtener más información sobre TUDN y siga a @UnivisionPRTeam en Twitter e Instagram.
CONTACTO: Estefanía Díaz-Balart ediazbalart@univision.net
###