TelevisaUnivision Announces Partnership with Meta to Join its Global Fact-Checking Program
Univision Noticias' fact-checking program, elDetector, is the first fact-checking platform in Spanish in the United States. It will join Meta's third-party fact-checking program.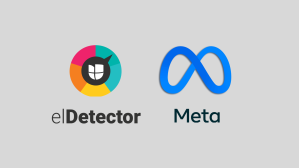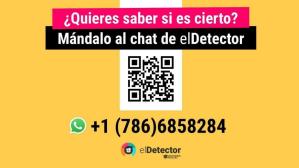 MIAMI – AUGUST 25 – Today, TelevisaUnivision announced that Univision Noticias' fact-checking program, elDetector, will partner with Meta and join their Third-Party Fact-Checking Program, becoming one of six fact-checking organizations that cover Spanish-language content in the U.S. within the program.
Users can access elDetector's services via the Univision Noticias website, to find checked information about politics, health, and general affairs, from Covid-19 and vaccines to U.S. elections and the war in Ukraine. It also clarifies fake news and conspiracy theories, which will help users clear through the clutter of disinformation and misinformation. Spanish speakers can also ask questions directly to the news-checking team by sending text messages via WhatsApp to the number +1(786)685-8284. elDetector aims to fulfill Univision Noticias' journalistic mission of seeking truth and challenging public discourse in the United States and Latin America.
"With elDetector being the first-fact checking platform available in Spanish for the United States, our partnership with Meta will expand our reach in ensuring that Hispanic audiences receive accurate and reliable information," said Carlos Chirinos, Director of elDetector.
"This partnership emphasizes Univision Noticias' core value of ensuring that Hispanic audiences are accurately informed and can rely on a news division to enforce their equitable access to correct and trustworthy information," added José Gonzalo, Senior Director and Editor in Chief of Univision Noticias Digital.
"We're thrilled to welcome TelevisaUnivision into our global fact-checking program," said Kaitlin McCulley, News Integrity Program Manager at Meta. "We partner with more than 90 fact-checking organizations around the world who review and rate viral misinformation on our platform, and we're excited to build on our previous partnerships with TelevisaUnivision to help connect Spanish-speaking audiences in the U.S. with reliable information."
Journalists operate elDetector from the newsroom of Univision Noticias with additional support from external collaborators: fact checkers who have no affiliation with any political party and are governed by journalistic ethical principles and IFCN's code of regulations. The fact-checking platform offers an analysis of public discourse and what public-facing figures say, as well as information relevant to decision-making in the Hispanic community, including images from photos and videos relevant to understanding these events.
As part of Univision Noticias, elDetector was launched in 2016 as the first fact-checking platform in Spanish in the United States. It was later relaunched, during the 2020 presidential campaign, with support from WhatsApp and coordination by the IFCN, from the Poynter Institute, as part of the FactChat project, which brought together 12 fact-checking platforms in the United States.
In addition to this partnership, elDetector has sponsorships in coordination with the International Fact-Checking Network to do climate change checks and from WhatsApp to operate the chatbot.
For more information about elDetector and to access fact-checking resources, click here.
Visit televisaunivision.com for more information on TelevisaUnivision, and follow us on Twitter and Instagram.
Contact: Daniela Perez daperez@univision.net
About Univision News
TelevisaUnivision's award-winning News division is committed to informing one of the country's fastest-growing population segments across all media platforms, including TV, Radio, and Digital. Hispanics count on the latest and most relevant content that impacts the community through: "Noticiero Univision," the Network's noon, evening, late evening, and weekend national newscast; Sunday public affairs program "Al Punto" (To The Point); newsmagazine shows "Aquí y Ahora" (Here and Now) and "Primer Impacto" (First Impact); as well as morning news segments on "Despierta América" (Wake Up America), and its newly launched streaming news channel "Noticias Univision 24/7" on ViX. Univision has strengthened its news team and expanded its news operations by adding Investigative, fact-checking, and Infographics Units.
About TelevisaUnivision
As the leading Spanish-language media and content company in the world, TelevisaUnivision features the largest library of owned content and industry-leading production capabilities that power its streaming, digital and linear television offerings, as well as its radio platforms. The Company's media portfolio includes the top-rated broadcast networks Univision and UniMás in the U.S. and Las Estrellas and Canal 5 in Mexico. TelevisaUnivision is home to 36 Spanish-language cable networks, including Galavisión and TUDN, the No. 1 Spanish-language sports network in the U.S. and Mexico. With the most compelling portfolio of Spanish-language sports rights in the world, TelevisaUnivision has solidified its position as the Home of Soccer. TelevisaUnivision also owns and manages 59 television stations across the U.S. and four broadcast channels in Mexico affiliated with 222 television stations, Videocine studio, and Uforia, the Home of Latin Music, which encompasses 57 owned or operated U.S. radio stations, a live event series and a robust digital audio footprint. TelevisaUnivision is home to the global streaming services ViX and Blim TV, which altogether host over 50,000 hours of high-quality, original Spanish-language programming from distinguished producers and top talent. The company's prominent digital assets include Univision.com, Univision NOW, and several top-rated digital apps. For more information, visit televisaunivision.com.
About Meta 
Meta builds technologies that help people connect, find communities, and grow businesses. When Facebook launched in 2004, it changed the way people connect. Apps like Messenger, Instagram, and WhatsApp further empowered billions around the world. Now, Meta is moving beyond 2D screens toward immersive experiences like augmented and virtual reality to help build the next evolution in social technology.
###
TelevisaUnivision anuncia alianza con Meta para plataforma de verificación de datos accesible para todos los hispanohablantes
El programa de verificación de datos de Univision Noticias, elDetector, es el primer plataforma en español en los Estados Unidos.
La plataforma se unirá a la Red Internacional de Verificación de Datos de Meta.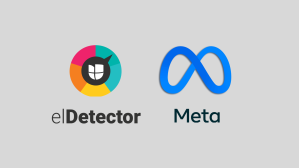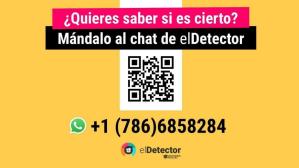 MIAMI – 25 DE AGOSTO – Hoy, TelevisaUnivision anunció que el programa de verificación de hechos de Univision Noticias, elDetector, se asociará con Meta y se unirá a su International Fact-Checking Network (IFCN) (Verificación de Datos), convirtiéndose en una de las seis organizaciones de verificación de hechos que cubren contenido en español dentro del programa.
Los usuarios pueden acceder a los servicios de elDetector a través del sitio web de Univision Noticias, para encontrar información consultada sobre política, salud y asuntos generales, desde el COVID-19 y las vacunas hasta las elecciones estadounidenses y la guerra en Ucrania. También ofrece aclaraciones sobre noticias falsas y teorías de conspiración, lo que ayudará a los usuarios a despejar el desorden de desinformación e información errónea. Los hispanohablantes también pueden hacer preguntas directamente al equipo de verificación de noticias, enviando mensajes de texto a través de WhatsApp al número +1 (786) 685-8284. elDetector tiene como objetivo cumplir con la misión periodística de Univision Noticias de buscar la verdad y desafiar el discurso público en los Estados Unidos y América Latina.
"Siendo elDetector la primera plataforma de verificación de hechos disponible en español para los Estados Unidos, nuestra asociación con Meta ampliará nuestro alcance para garantizar que las audiencias hispanas reciban información precisa y confiable", dijo Carlos Chirinos, director de elDetector.
"Esta asociación enfatiza el valor central de Univision Noticias de garantizar que las audiencias hispanas estén informadas con precisión y puedan confiar en una división de noticias para hacer cumplir su acceso equitativo a información correcta y confiable", agregó José Gonzalo, director sénior y editor en jefe de Univision Noticias Digital.
"Estamos encantados de dar la bienvenida a TelevisaUnivision a nuestro programa global de verificación de hechos", dijo Kaitlin McCulley, Gerente del Programa de Integridad de Noticias en Meta. "Nos asociamos con más de 90 organizaciones de verificación de hechos en todo el mundo que revisan y califican la información errónea viral en nuestra plataforma y estamos entusiasmados de aprovechar nuestras asociaciones anteriores con TelevisaUnivision para ayudar a conectar a las audiencias de habla hispana en los EE. UU. con información confiable. "
Los periodistas operan elDetector desde la sala de redacción de Univision Noticias con el apoyo adicional de colaboradores externos: verificadores de hechos que no tienen afiliación con ningún partido político y se rigen por los principios éticos periodísticos y el código de normas de la IFCN. La plataforma de verificación de hechos ofrece un análisis del discurso público y lo que dicen las figuras públicas, así como información relevante para la toma de decisiones en la comunidad hispana, incluidas imágenes de fotos y videos que son relevantes para comprender estos eventos.
Como parte de Univision Noticias, en 2016 se lanzó elDetector, como la primera plataforma de verificación de hechos en español en Estados Unidos. Posteriormente fue relanzado, durante la campaña presidencial de 2020, con el apoyo de WhatsApp y la coordinación de la IFCN, del Instituto Poynter, como parte del proyecto FactChat, que reunió a 12 plataformas de verificación de hechos en Estados Unidos.
Además de esta alianza, elDetector cuenta con patrocinios de Meta a través de la Red Internacional de Verificación de Datos para hacer chequeos de cambio climático y de WhatsApp para operar el chatbot.
Para leer más información sobre elDetector y acceder a los recursos de verificación de datos, haga clic aquí.
Visiten televisaunivision.com para más información sobre TelevisaUnivision y pueden seguirnos en Twitter e Instagram.
Contacto: Daniela Perez daperez@univision.net
Acerca de Noticias Univision
La galardonada división de Noticias de TelevisaUnivision se compromete a informar a uno de los segmentos de la población de más rápido crecimiento del país en todas las plataformas de medios, incluidas TV, Radio y Digital. Los hispanos cuentan con el contenido más reciente y relevante que impacta a la comunidad a través de: "Noticiero Univision", el noticiero nacional del mediodía, la tarde, la noche y los fines de semana de la Cadena; programa dominical de asuntos públicos "Al Punto"; los noticieros "Aquí y Ahora" y "Primer Impacto"; así como segmentos de noticias matutinas en "Despierta América" (Wake Up America), y su nuevo canal de transmisión de noticias "Noticias Univision 24/7" en ViX. Univision ha fortalecido su equipo de noticias y ha ampliado sus operaciones de noticias al agregar unidades de investigación, verificación de datos e infografía.
Sobre TelevisaUnivision
Como la compañía líder de contenidos y medios en español en el mundo, TelevisaUnivision cuenta con la biblioteca de contenido propio más grande y capacidad de producción líder en la industria, mismas que impulsan sus ofertas de transmisión digital y lineal, así como sus plataformas de radio. La cartera de medios de la Compañía incluye las cadenas de transmisión líderes Univision y UniMás en Estados Unidos, y Las Estrellas y Canal 5 en México. TelevisaUnivision es el hogar de 36 canales de televisión de paga en español, incluidos Galavisión y TUDN, el canal de deportes en español número 1 en Estados Unidos y en México. Con la cartera de derechos deportivos en español más atractiva del mundo, TelevisaUnivision ha consolidado su posición como la Casa del Fútbol. TelevisaUnivision también posee y administra 59 estaciones de televisión en Estados Unidos y cuatro canales de transmisión en México con 222 estaciones de televisión asociadas, los estudios de Videocine y Uforia, the Home of Latin Music, que abarca 57 estaciones de radio propias u operadas en Estados Unidos, una serie de eventos en vivo y una sólida huella de audio digital. TelevisaUnivision es el hogar de los servicios de transmisión digital premium ViX y Blim TV, que en conjunto presentan más de 50,000 horas de programación original en español de alta calidad de productores distinguidos y talento destacado. Los activos digitales más relevantes de la empresa incluyen Univision.com, Univision NOW y varias aplicaciones digitales de primera categoría. Para obtener más información, visite www.televisaunivision.com.
Acerca de Meta
Meta crea tecnologías que ayudan a las personas a conectarse, encontrar comunidades y hacer crecer los negocios. Cuando se lanzó Facebook en 2004, cambió la forma en que las personas se conectan. Aplicaciones como Messenger, Instagram y WhatsApp empoderaron aún más a miles de millones en todo el mundo. Ahora, Meta se está moviendo más allá de las pantallas 2D hacia experiencias inmersivas como la realidad virtual y aumentada para ayudar a construir la próxima evolución en tecnología social.