Global Superstar J Balvin Returns to the "Premios Juventud" Stage and is Recognized as "Agent Of Change" in This Year's Edition 
The Award-Winning Icon Will Receive the Prestigious Recognition for His Mental Health Advocacy 
Summer's Most Awaited Celebration Will Air on Thursday, July 21 at 7 p.m. ET/6 CT on Univision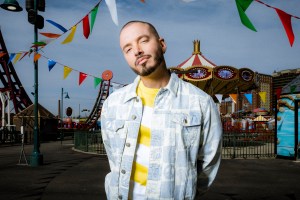 ---
MIAMI – JULY 18, 2022 –  Renowned for recognizing artists who are using their star power to drive change in the world, Univision's "Premios Juventud" (PJ / Youth Awards) announced it will honor worldwide star and entrepreneur J Balvin as "Agent of Change" for his mental health advocacy and creative innovation. During this year's celebration, he will announce a $1 million commitment to producing content with Latin wellness creators via his app OYE. The 19th edition of summer's hottest bash will air LIVE from Coliseo de Puerto Rico José Miguel Agrelot on Thursday, July 21 at 7 p.m. ET on Univision.
Returning to the stage of "Premios Juventud" where his stardom catapulted a decade ago, the chart-topping artist is back as the most nominated of the night (11 nods), and will deliver a jaw-dropping performance medley of his greatest hits including "6 AM," "Reggaeton," "Ay Vamos," and "In Da Getto." In addition, the "Agent Of Change" honoree will receive the coveted distinction for his efforts in destigmatizing mental health, as well as for his active role in raising funds for victims of mass shootings, and supporting farmworkers during the pandemic.
Inspired by his own journey, J Balvin is in the frontline of the emotional and mental health conversation using his personal experience as a driving force to open the dialogue and break the stigma around this topic, especially in the Latin community. He is now taking mental health awareness to the next level with the creation of OYE, a next-generation wellness platform that empowers members to heal, embody their creativity, and shape the future.
Joining the list of "Agent Of Change" recipients this year are two young Hispanics leaving their mark in the community and the world:
Omar Negrón Ocasio (Puerto Rico): Is an entrepreneur committed to his community, passionate about water conservation and the environment. Founder of "Remora," a water filtration system that provides the community with clean water. To date, the project has recovered over 100 million gallons of river water by converting it into drinking water.
Carlitos Swaggy Way (Venezuela): Is an artist and activist who has worked all over the United States giving survivors of gun violence a voice. Founder of Stories Untold U.S., a project dedicated to amplifying the voices of people affected by the injustices of society with the purpose of driving change, inspiration, and healing for millions of people.
As previously announced, the prestigious recognition will also be given to the Jenni Rivera Love Foundation, the Puerto Rican singer-songwriter Kany García, the iconic reggaeton duo Wisin y Yandel, and the famous influencer Juanpa Zurita.
The audience at "Premios Juventud" will have access to a free 1-year trial to the OYE app to develop better habits for their mental and emotional health. Visit www.oye.co.
Fans can start voting for their favorite artists today by visiting PremiosJuventud.com. The voting period ends on June 27.
Visit televisaunivision.com for more information on TelevisaUnivision and follow us on Twitter and Instagram.
CONTACT:
Laura Paez lpaez@televisaunivision.com
Team Balvin TeamBalvin@jonesworks.com
###
La superestrella mundial J Balvin regresa al escenario de "Premios Juventud" y es reconocido como "Agente de Cambio" durante la edición de este año
El laureado artista recibirá el prestigioso reconocimiento por su apoyo a la salud mental
La celebración más esperada del verano se transmitirá el jueves 21 de julio a las 7 pm. ET/6 CT en Univisión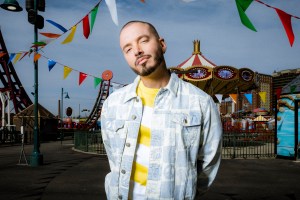 ---
Haga clic aquí para descargar imágenes
MIAMI – 18 DE JULIO DE 2022 – Conocido por celebrar a artistas que usan su influencia como estrellas para impulsar cambios en el mundo, "Premios Juventud" (PJ) de Univision anunció hoy que reconocerá a la superestrella internacional J Balvin con el prestigioso premio "Agente de Cambio" por su trabajo a favor de la salud mental y su innovación creativa. Durante la celebración de este año, el icono de la música anunciará un compromiso de $1 millón para producir contenido con creadores latinos sobre el bienestar mental a través de su aplicación OYE. La 19.ª edición de la fiesta más popular del verano se transmitirá EN VIVO desde el Coliseo de Puerto Rico José Miguel Agrelot el jueves 21 de julio a las 7 p.m. ET por Univision.
Volviendo al escenario de "Premios Juventud", donde su estrellato se catapultó hace una década, el artista que ha liderado las listas de éxitos musicales regresa como el más nominado de la noche (11 nominaciones), y ofrecerá una asombrosa presentación de sus éxitos más reconocidos a nivel mundial incluyendo "6 AM", "Reggaeton", "Ay Vamos" e "In Da Getto". Además, Balvin quien recibirá la codiciada distinción de "Agente de Cambio" será homenajeado por sus esfuerzos para desestigmatizar la salud mental, así como por su rol activo en la recaudación de fondos para las víctimas de tiroteos masivos y el apoyo a los trabajadores agrícolas durante la pandemia.
Inspirado e impulsado por su propia experiencia, J Balvin está a la vanguardia de la conversación sobre salud emocional y mental abriendo el diálogo y rompiendo el estigma en torno a este tema, especialmente en la comunidad latina. Ahora está llevando la conciencia sobre la salud mental al siguiente nivel con la creación de OYE, una plataforma de bienestar que empodera a sus miembros a sanar, encarnar su creatividad y dar forma al futuro.
Uniéndose a la lista de ganadores de "Agentes de Cambio" este año hay dos jóvenes hispanos que han dejado su huella en la comunidad y el mundo:
Omar Negrón Ocasio (Puerto Rico): Es un empresario comprometido con su comunidad, apasionado por la conservación del agua y el medio ambiente. Fundador de "Remora," a  un sistema de filtración de agua que proporciona agua limpia a la comunidad. Hasta la fecha, el proyecto ha recuperado más de 100 millones de galones de agua de río al convertirla en agua potable.
Carlitos Swaggy Way (Venezuela): es un artista y activista que ha trabajado alrededor de los Estados Unidos dando voz a los sobrevivientes de la violencia armada. Fundador de Stories Untold U.S., un proyecto dedicado a amplificar las voces de las personas afectadas por las injusticias de la sociedad con el propósito de impulsar el cambio, la inspiración y la recuperación de millones de personas.
Como se anunció anteriormente, el prestigioso reconocimiento también será entregado a la fundación Jenni Rivera Love Foundation, la popular cantautora puertorriqueña Kany García, el icónico dúo de reguetón Wisin y Yandel y el famoso influencer Juanpa Zurita.
La audiencia de "Premios Juventud" tendrá acceso a una prueba gratuita de 1 año de la aplicación OYE para desarrollar mejores hábitos para su salud mental y emocional. Visite www.oye.co.
Los fanáticos pueden comenzar a votar por sus artistas favoritos a partir de hoy visitando PremiosJuventud.com. El período de votación finaliza el 27 de junio.
Visiten televisaunivision.com para más información sobre TelevisaUnivision y pueden seguirnos en Twitter e Instagram.
CONTACTO:
Laura Paez lpaez@televisaunivision.com
Equipo Balvin TeamBalvin@jonesworks.com
###