Uforia Radio Station K-LOVE 107.5 FM Outperforms the Los Angeles Market the Latest Three Months AQH P18-49 and 25-54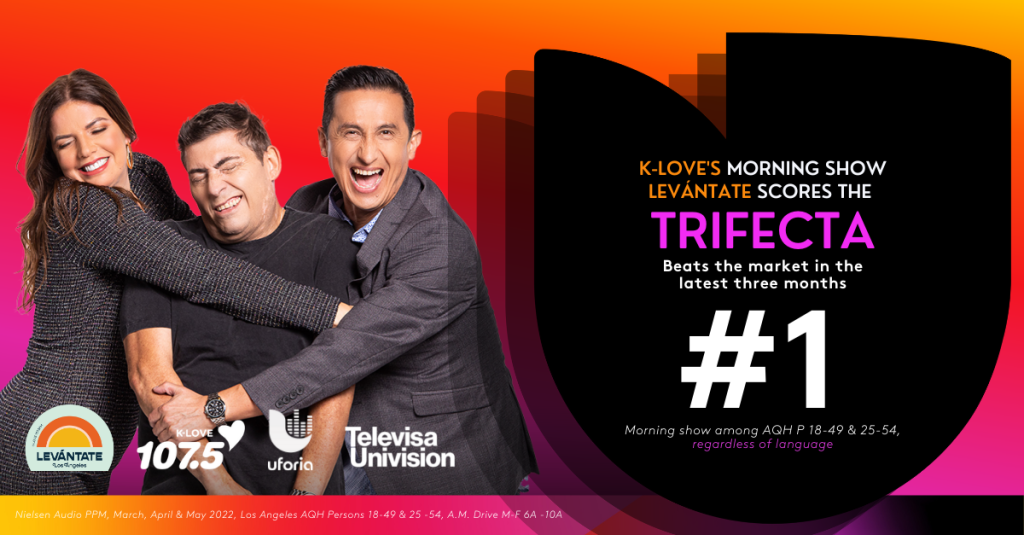 LOS ANGELES – JUNE 14, 2022 – Uforia, the home of Latin music, announced the most recent three months consisting of March, April and May, ranked K-LOVE 107.5 FM as the No. 1 radio broadcast station in Los Angeles beating the total market. Its newest morning show on the roster "Levántate Con Ysaac Alvarez" (Wake Up with Ysaac Alvarez) that launched on October 11 of last year drove these record-breaking results.
"The all-star team of Ysaac Alvarez, Fernanda Kelly and Jorge Velasquez bring their unique life experiences to the show that has helped them connect deeply with our audience, and the numbers are reflective of that," said Robert Isaac, Content Director for K-LOVE 107.5FM. "We are thrilled Los Angeles has embraced them as they have."
"Levántate" starts each morning with its wake up, get up song to start audiences' mornings with a good attitude. It's this strategy of their wit, humor, human interest stories and audience interaction that has made it such a great success in engaging with its audiences in its eight months on air. "Levántate," featuring Ysaac Alvarez, is no stranger to radio or listeners, Fernanda Kelly, Emmy Award-winning host and actress, and Jorge Velasquez, producer, has made its way into L.A. listeners homes and hearts. "Levántate Con Ysaac Alvarez" airs Monday through Friday on K-LOVE 107.5 FM from 5 a.m. to 10 a.m.
KLVE beats the total market in the latest three months in A.M. Drive among AQH P 18-49 and 25-54.
It's the third consecutive month where KLVE's Levántate leads the market in AQH P 18-49 and A25-54.
Versus comparable year-ago performance, KLVE's A.M Drive grew its rankings to #1 and AQH P 18-49 and 25-54 by double-digits.
Source: Nielsen Audio PPM, March, April & May 2022, Los Angeles AQH Persons 18-49 & 25-54, A.M. Drive M-F 6A-10A. Growth and rankings based on AQH P 18-49 & 25-54: March, April & May 2022 versus March, April & May 2021.
​Visit televisaunivision.com for more information on TelevisaUnivision and follow us on Twitter and Instagram.
###