The historical win recognizes Outstanding On-Air Personality in Spanish language television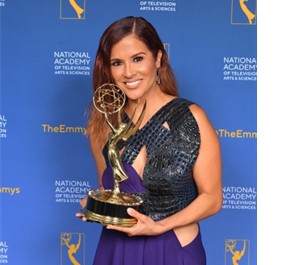 MIAMI, FL – May 26, 2022 – TUDN's outstanding on-air talent, Adriana Monsalve, has been recognized with a first-ever Sports Emmy® Award from The National Academy of Television Arts & Sciences (NATAS).
The 2022 Sports Emmy® Awards, which celebrate outstanding sports broadcast journalism and documentary filmmaking achievements, were announced live from the Jazz at Lincoln Center's Frederick P. Rose Hall. Monsalve, one of the leading TUDN talents, won the prestigious category of Outstanding On-Air Personality in Spanish Language, recognizing her work and decades long trajectory as one of the network's main hosts on Contacto Deportivo, La Jugada, and Fútbol Central, shows where Monsalve's sports acumen is on display daily.
Additional nominations for TUDN included for talent Lindsay Casinelli under the same winning category as well as the network's longest running sports show, "República Deportiva," and the two-time Emmy Award award-winning show, "Fútbol Central," in category of Outstanding Studio Show.
CONTACT: Estefania Diaz-Balart – ediazbalart@univision.net
###
Talento de TUDN Adriana Monsalve Gana Primer Premio Sports Emmy® a la Mejor Figura en el Aire
Este reconocimiento histórico fue como figura destacada en el aire en idioma español.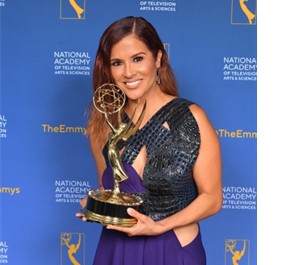 MIAMI, FLORIDA – 26 de mayo de 2022 – El destacado talento al aire de TUDN, Adriana Monsalve, ​​fue reconocida con su primer premio Sports Emmy® entregado por la Academia Nacional de Artes y Ciencias de la Televisión (NATAS, por sus siglas en inglés).
Los premios Sports Emmy® 2022, que celebran los logros destacados en el periodismo deportivo y la realización de documentales, fueron anunciados en vivo desde el Frederick P. Rose Hall de Jazz at Lincoln Center. Monsalve, una de las presentadoras principales de TUDN, ganó el prestigioso premio de personalidad destacada en el aire en idioma español, que reconoce su trabajo y décadas de trayectoria como una de las principales presentadoras de la cadena en Contacto Deportivo, La Jugada y Fútbol Central, programas en los que la experiencia sobre deportes de Monsalve se exhibe todos los días.
Otras de las nominaciones que recibió TUDN fueron para la anfitriona Lindsay Casinelli en la misma categoría ganadora, así como para el programa deportivo de más larga duración de la cadena, "República Deportiva", y el programa ganador de dos premios Emmy, "Fútbol Central", en la categoría de mejor programa de estudio.
CONTACTO: Estefanía Díaz-Balart – ediazbalart@univision.net
###