Borraez Joins Andrea Gonzalez as Weekday 6PM News Anchor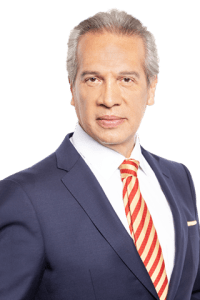 LOS ANGELES – MAY 16, 2022 – Univision Los Angeles today announced the appointment of renowned journalist Oswaldo Borraez as anchor of Univision Los Angeles' early evening newscast Noticias 34 a las 6 p.m. Borraez has been anchoring alongside Andrea Gonzalez since January of this year and has been pivotal in maintaining its position in the market. Univision 34 Los Angeles is the No. 1 station in the market for local news, regardless of language, according to Nielsen.
"Borraez has an extensive expertise and knowledge of the market which makes him an undeniable asset to Univision. Beyond that, he is committed to empower and serve the Los Angeles community through our news brand," said Marco Flores, News Director and Vice President of News. "Our industry is everchanging and evolving and his adaptability to flow is instrumental to staying relevant and top of mind in this competitive market."
He is best known for his special coverage of major breaking news in Los Angeles. He has covered high-profile stories including police shootings, the California fires, and earthquakes. He has also broken scandals like the L.A County Coroner's Office's rat infestation and reported on the high-profile O.J. Simpson murder trial, and the recent 2021 civil unrests in Los Angeles. Borraez also did investigative reports on the Department of Children and Family Services regarding their role in the deaths of two children.
​Borraez serves as a board member for the Radio and Television News Association. He is also a Journalism, Broadcasting and Investigative Reporting instructor at UCLA, and teaches media training for Los Angeles City and County authorities.
He's received a Peabody Award, a Gabriel Award, an Edward R. Murrow Award, and several Emmy Awards, Golden Mic Awards and Telly Awards for his journalistic work.​ He was also awarded News Reporter of Year by the Society of Professional Journalists. In 2019, he was nominated for an Emmy for "Al Margen de la Ley," a weekly segment that showcases the role a law enforcement has in solving cold cases, traffic fatalities and crime prevention.
Visit televisaunivision.com for more information on TelevisaUnivision and follow us on Twitter and Instagram.
Click here to download images.
CONTACT:  Mayola Delgado, (310) 348-3417, MayDelgado@univision.net
###
UNIVISION LOS ANGELES NOMBRA A OSWALDO BORRAEZ PRESENTADOR DE NOTICIAS 34 A LAS 6PM
Borraez se une a Andrea González como presentador del programa de noticias de lunes a viernes a las 6PM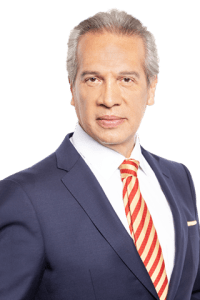 LOS ÁNGELES – 16 DE MAYO DE 2022 – Univision Los Ángeles anunció hoy que nombró al reconocido periodista Oswaldo Borraez como presentador del noticiero vespertino de Univision Los Ángeles Noticias 34 a las 6 p.m. Borraez ha participado del programa como presentador junto a Andrea González desde enero de este año y ha sido fundamental para mantener la posición del programa en el mercado. Univision 34 Los Ángeles es la estación número 1 en el mercado para noticias locales, independientemente del idioma, según Nielsen.
"Borraez tiene amplia experiencia y conocimiento del mercado, lo que lo convierte en un activo innegable para Univision. Más allá de eso, a través de nuestra marca de noticias, está comprometido a potenciar y servir a la comunidad de Los Ángeles", comentó Marco Flores, director de noticias y vicepresidente de noticias. "Nuestra industria está en constante modificación y evolución y la capacidad de Borraez de adaptarse a los cambios es fundamental para mantenerse relevante y en la cima en este mercado competitivo".
Es mejor conocido por su cobertura especial de las principales noticias de última hora en Los Ángeles. Ha cubierto historias de alto perfil que incluyen tiroteos policiales, incendios en California y terremotos. También ha revelado escándalos como la plaga de ratas en la oficina del forense del condado de Los Ángeles, fue reportero durante el juicio de alto perfil a O.J. Simpson por asesinato y los recientes disturbios civiles de 2021 en Los Ángeles. Borraez también hizo informes de investigación sobre el Departamento de Servicios para Niños y Familias con respecto a su papel en la muerte de dos niños.
​Borraez se desempeña como miembro de la junta de la Asociación de Noticias de Radio y Televisión. También es instructor de periodismo, radiodifusión y periodismo de investigación en la UCLA y enseña capacitación en medios para las autoridades de la ciudad y el condado de Los Ángeles.
Ha recibido un premio Peabody, un premio Gabriel, un premio Edward R. Murrow y varios premios Emmy, Golden Mic y Telly por su trabajo periodístico. También fue galardonado como Reportero de Noticias del Año por la Sociedad de Periodistas Profesionales. En 2019, fue nominado a un Emmy por "Al Margen de la Ley", un segmento semanal que muestra el papel que tiene la policía en la resolución de casos archivados, muertes de tránsito y prevención del crimen.
Visita televisaunivision.com para más información sobre TelevisaUnivision y síguenos en Twitter e Instagram.
Haga clic aquí para descargar imágenes.
CONTACTO: Mayola Delgado, (310) 348-3417, MayDelgado@univision.net