Below: Max "Steel" Gonzalez (right), the winner of the 2021 "Comeback of the Year" award, will face off with fellow Mexican rising star Axel Osuna in a Combate Global bantamweight main event on Friday, May 13. Photo credit: Scott Hirano/Combate Global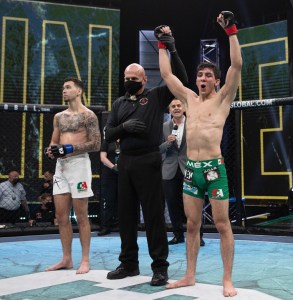 COMBATE GLOBAL ANNOUNCES FIVE-FIGHT BOUT CARD FOR FRIDAY, MAY 13
ON UNIVISION AND TUDN USA FROM MIAMI, FLA.
BANTAMWEIGHT MAIN EVENT: MAX GONZALEZ (MEXICO) VS. AXEL OSUNA (MEXICO)
NEW YORK – May 10, 2022 – Combate Global today announced a five-bout Mixed Martial Arts (MMA) fight card headlined by an all-Mexican bantamweight (135 pounds) matchup between rival rising stars Max "Steel" Gonzalez (3-1) and Axel Osuna (3-1) on Friday, May 13, on Univision (12 a.m. ET/PT) and TUDN USA (12 a.m. ET/9 p.m. PT) from Miami, Fla.
The live action will be pre-recorded in the afternoon, and air in Combate Global's usual, Friday late-night time slot.
The 25-year-old Gonzalez of Mexico City was honored with the 2021 "Comeback of the Year" award last December after absorbing punishment on his feet from American upstart Bryce Gamboa's in October in what was Gonzalez's Combate Global debut.  Seemingly out on his feet, Gonzalez dug deep and, in the second round (3:54) of battle, turned the tides and submitted Gamboa with a rear-naked choke.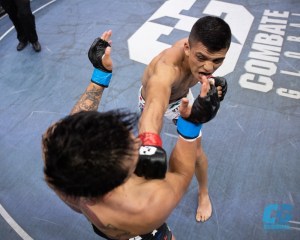 Above:  Axel Osuna (far), one of Mexico's brightest young talents, will return to Combate Global main event action on May 13.
Standing opposite Gonzalez will be Osuna, also 25 years of age and a Guadalajara, Jal. native who will return from a hand injury that he sustained following his first career defeat, a unanimous decision loss to Junior Cortez on June 18, 2021.A slick grappler, Osuna has earned all three of his career victories to date by way of armbar submission.
In the women's strawweight (115 pounds) co-main event, hard-hitting fan favorite Caroline "Taz" Gallardo (6-4) of Chicago, Ill. via Santiago Chile will square off with Combate Global newcomer Stephanie Page (6-3) of Brest, France.
In featured featherweight (145 pounds) action, 2021 "Debut of the Year" award winner Patrick "The Leech" Lehane (4-1) of Cork, Ireland will battle Gabriel Morales (3-2) of Deerfield Beach, Fla.
The preliminary bout card will be highlighted by the return of Jordan "Bull" Beltran (12-7) of Colima, CL, Mexico.  Beltran will meet Samuel "The Alley Cat" Alvarez (6-5) of Manteca, Cali. at lightweight (155 pounds).
Leading off the card, Naomi Sibel Tataroglu (2-3) of Oranjestad, Aruba will face Deisy Alejandra Orozco Guzman (2-5) of Tlatenango, ZA, Mexico at strawweight.
Additional information about Combate Global and its athletes can be found on www.CombateGlobal.com as well as on Facebook, Instagram, Twitter and YouTube.
CONTACTS:
Mike Afromowitz
Combate Global
917-566-8754
###
COMBATE GLOBAL ANUNCIA CARTELERA DE CINCO COMBATES PARA EL VIERNES 13 DE MAYO
EN UNIVISION Y TUDN USA DESDE MIAMI, FLA.
EVENTO PRINCIPAL DE PESO GALLO: MAX GONZÁLEZ (MÉXICO) VS. AXEL OSUNA (MÉXICO)
NEW YORK – 10 de mayo del 2022 – Combate Global anunció hoy una cartelera de pelea de Artes Marciales Mixtas (MMA) de cinco combates encabezada por un combate en el peso gallo (135 libras) en un duelo totalmente mexicano entre las estrellas jóvenes y rivales Max "Steel" González (3-1) y Axel Osuna (3-1) el viernes 13 de mayo por Univision (12 a.m. ET / PT) y TUDN USA (12 a.m. ET / 9 p.m. PT) de Miami, Florida.
La acción en vivo será pregrabada por la tarde y se emitirá en el horario habitual de Combate Global los viernes por la noche.
González, de 25 años, de la Ciudad de México, fue honrado con el premio "Remontada del Año" 2021 el diciembre pasado después de absorber el castigo en sus pies del estadounidense Bryce Gamboa en octubre en lo que fue el debut de González en Combate Global. González cavó profundo y, en el segundo asalto (3:54) de batalla, cambió el ritmo de la pelea y sometió a Gamboa con una mata león sumisión.
Enfrentándose a Gonzálzez estará Osuna, también de 25 años de edad de Guadalajara, Jal. que regresará de una lesión en la mano sufrida después de su primera derrota en su carrera por decisión unánime ante Junior Cortez el 18 de junio de 2021.
Un luchador, Osuna ha ganado las tres victorias de su carrera hasta la fecha a través de la sumisión del barra de brazo sumisión.
En el evento co-principal en el peso paja femenino (115 libras), la favorita de los fanáticos Caroline "Taz" Gallardo (6-4) de Chicago, Illinois vía Santiago chile se enfrentará a la nueva atleta de Combate Global Stephanie Page (6-3) de Brest, Francia.
En la acción del peso pluma (145 libras), el ganador del premio "Debut del Año" 2021 Patrick "The Leech" Lehane (4-1) de Cork, Irlanda, se enfrenta a Gabriel Morales (3-2) de Deerfield Beach, Florida.
La cartelera preliminar se destacará por el regreso de Jordan "Bull" Beltrán (12-7) de Colima, CL, México.  Beltrán se enfrentará a Samuel "The Alleycat" Álvarez (6-5) de Manteca, Cali. en peso ligero (155 libras).
Liderando la cartelera, Naomi Sibel Tataroglu (2-3) de Oranjestad, Aruba se enfrentará a Deisy Alejandra Orozco Guzmán (2-5) de Tlatenango, ZA, México en peso paja.
Puede encontrar información adicional de Combate Global y sus atletas visitando http://www.combateglobal.com así como seguirnos a través de la redes sociales Facebook, Instagram, Twitter y YouTube.
CONTACTO:
Mike Afromowitz
Combate Global
917-566-8754