Gabriel Coronel Returns to the Show Transformed into Latin Icon Luis Miguel on Sunday Night
Viewers Get a Front Row Seat to the Action Backstage in "Detrás de Cámaras" on ViX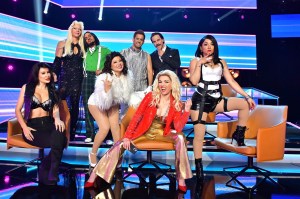 Click here to download images of the third gala.
WHAT'S NEW:
The fourth gala will feature the first duet performance in #TuCaraMeSuenaMXUS history when Manny Cruz and Michael Stuart take the stage as members of the beloved pop rock band, Camila. The popular singer and actor Gabriel Coronel, who became a fan-favorite during the show's first season, will return to the stage as Latin music icon Luis Miguel. The fourth gala of "Tu Cara Me Suena" will air on Sunday night at 8 p.m. ET on Univision.
The stars and their transformations include:
Helen Ochoa as the Mexican music legend Joan Sebastian.
Christian Daniel as global star Justin Bieber.
Kika Edgar as the Spanish idol Raphael.
Sherlyn as the beloved Xuxa.
Ninel Conde as regional Mexican star Ana Barbara.
Yahir as the popular rapper Gerardo.
Manny Cruz (Mario Dom) and Michael Stuart (Samo) as the popular pop band Camila. While Manny and Michael will perform together, they will be evaluated individually.
The renowned panel of judges includes Charytín, Eden Muñoz, Victor Manuelle, and Angélica Vale, who is also the stars' mentor. "Tu Cara Me Suena" is hosted by Rafael Araneda and Ana Brenda Contreras.
Following the gala, "Detrás de Cámaras," hosted by Rafael Araneda, will bring users all the backstage action and never-before-seen footage from "Tu Cara Me Suena" for free on ViX.
ON LAST WEEK'S SHOW:
The stars continued to impress the judges with incredible renditions that showcased their talent.
Helen Ochoa became the night's winner after the contestants voted. She received $5,000 for the League of United Latin American Citizens (LULAC).
Michael Stuart became the show's leader in the cumulative table with 23 points, followed by Christian Daniel (22), and Kika (20) and Helen (20).
Viewers can relive the performances by visiting YouTube.com/Univision and Univision.com/TuCaraMeSuena. To join the conversation use #TuCaraMeSuenaMXUSon Instagram and Facebook.
Visit corporate.televisaunivision.com for more information on TelevisaUnivision and follow UnivisionPRTeam on Twitter and Instagram.
CONTACT: Laura Paez lpaez@univision.net
###
"Tu Cara Me Suena" Presenta su Primer Dúo y Actuaciones Asombrosas durante la Memorable Cuarta Gala
Gabriel Coronel vuelve al programa trasformado en el ídolo latino Luis Miguel la noche del domingo
Los televidentes tendrán asiento de primera fila para la acción tras bambalinas con "Detrás de cámaras" en ViX 
Clic aquí para descargar fotos de la tercera gala.
NOVEDADES:
La cuarta gala incluirá al primer dúo en la historia de #TuCaraMeSuenaMXUS, en el que Manny Cruz y Michael Stuart se presentarán como miembros del adorado grupo de pop rock, Camila. El popular cantante y actor Gabriel Coronel, quien fue el favorito de los fans durante la primera temporada del show, regresará al escenario como el ídolo de la música latina Luis Miguel. La cuarta gala de "Tu cara me suena" se trasmitirá la noche del domingo a las 8 p.m. Este por Univision.
Entre las estrellas y sus trasformaciones:
Helen Ochoacomo el legendario artista mexicano Joan Sebastian.
Christian Danielcomo la estrella internacional Justin Bieber.
Kika Edgarcomo el ídolo español
Sherlyncomo la adorada
Ninel Condecomo la estrella de música regional mexicana Ana Bárbara.
Yahircomo el popular rapero Gerardo.
Manny Cruz(Mario Dom) y Michael Stuart (Samo) como el popular grupo de pop Camila. Cuando Manny y Michael se presenten juntos, se les evaluará de manera individual.
Conforman el renombrado jurado Charytín, Edén Muñoz, Víctor Manuelle, y Angélica Vale, quien también asesora a las estrellas. Conducen "Tu cara me suena" Rafael Araneda y Ana Brenda Contreras.
Después de la gala, "Detrás de cámaras", presentado por Rafael Araneda, ofrecerá a los usuarios todo lo que sucede tras  bastidores de "Tu cara me suena" y contenido nunca antes visto gratis en ViX.
EN EL PROGRAMA DE LA SEMANA PASADA:
Las estrellas siguieron impresionando al jurado con fabulosas actuaciones en las que desplegaron su talento.
Helen Ochoa fue la ganadora de la noche después del voto de los concursantes. Recibió $5,000 para la League of United Latin American Citizens (LULAC).
Michael Stuart fue el líder del show en el cuadro acumulativo, con 23 puntos, seguido por Christian Daniel (22), Kika (20) y Helen (20).
Los televidentes pueden volver a ver las actuaciones en YouTube.com/Univision y Univision.com/TuCaraMeSuena. Para participar en la conversación, usen #TuCaraMeSuenaMXUS en Instagram y Facebook.
Visiten corporate.televisaunivision.com para más información sobre TelevisaUnivision y pueden seguir a UnivisionPRTeam en Instagram y Twitter.
CONTACTO: Laura Paez lpaez@univision.net
###