Below: Jair "El Lupe" Perez (left) will represent his home country of Mexico and look to extend his three-fight win streak when he faces off with undefeated American Landry "The Lone Star Kid" Ward in Combate Global's 145-pound main event, live from Miami, Fla. on Friday, April 15.  Photo credit: Scott Hirano/Combate Global
COMBATE GLOBAL ANNOUNCES STACKED, FIVE-FIGHT BOUT CARD ON FRIDAY, APRIL 15
LIVE UNIVISION AND TUDN IN THE U.S. AND ON TUDN IN MEXICO
FEATHERWEIGHT MAIN EVENT: JAIR PEREZ (MEXICO) VS. LANDRY WARD (USA)
FLYWEIGHT CO-MAIN EVENT: MARITZA SANCHEZ (USA) VS. AITANA ALVAREZ (SPAIN)
NEW YORK – April 13, 2022 – Combate Global today announced its third Mixed Martial Arts (MMA) fight card of the year, headlined by a stellar Mexico vs. USA featherweight (145 pounds) matchup between Jair "El Lupe" Perez (6-2) and undefeated Landry "The Lone Star Kid" Ward (5-0) on Friday, April 15, live on Univision (12 a.m. ET/PT) and TUDN USA (12 a.m. ET/9 p.m. PT) in the U.S. and on TUDN in Mexico (11 p.m. local time).
The 24-year-old Perez of Monterrey, N.L., Mexico will make his seventh-career star in La Jaula, the Combate Global competition cage, where he made his professional debut and where he has posted a nearly unblemished, overall 5-1 record.  He will look to extend his win streak to four consecutive bouts.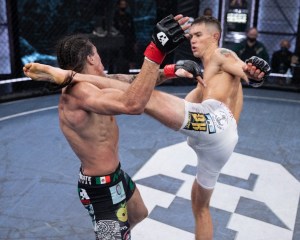 Above:  Undefeated Landry "The Lone Star Kid" Ward (right) will put his perfect, 5-0 record on the line against Jair "El Lupe" Perez in Combate Global main event action on Friday, April 15.
The 25-year-old Ward has proven himself to be a formidable prospect with a dangerous striking base, thus far, earning victories in both of his Combate Global bouts in 2021.
A former high school football star, Ward relocated last year from his hometown of Forth Worth, Texas to Miami in order to bolster his MMA training regimen.
In the women's flyweight (125 pounds) co-main event, 24-year-old Maritza Sanchez of El Dorado, Calif. will seek her third straight victory against Combate Global newcomer, 22-year-old Aitana Alvarez (1-2) of San Sebastian, Spain.
A featured flyweight contest and another Mexico vs. USA matchup will pit Rodrigo Garcia (3-1) of Monterrey against "Malicious" Mikey Reyes (6-5) of Oxnard, Calif.
Topping the undercard bill will be an atomweight (105 pounds) matchup between unbeaten Andrea Meneses (2-0) of Gava, Spain and Estefania Irurzo Fernandez (0-3-1) of San Luis Potosi, SLP, Mexico.
Undefeated, rising star Ivan "Titan" Tena (3-0) will collide with Geraldo Almonte (3-3) of Miami in a featherweight affair.
Additional information about Combate Global and its athletes can be found on www.CombateGlobal.com as well as on Facebook, Instagram, Twitter and YouTube.
CONTACTS:
Mike Afromowitz
Combate Global
mikea@combateglobal.com
917-566-8754
Univision
Estefania Diaz-Balart
ediazbalart@univision.net
###
COMBATE GLOBAL ANUNCIA UNA CARTELERA DE CINCO COMBATES EL VIERNES 15 DE ABRIL
EN VIVO POR UNIVISION Y TUDN EN LOS EE.UU. Y EN TUDN EN MÉXICO
PELEA PRINCIPAL EN EL PESO PLUMA: JAIR PÉREZ (MÉXICO) VS. LANDRY WARD (ESTADOS UNIDOS)
PELEA CO-ESTELAR EN EL PESO MOSCA: MARITZA SANCHEZ (USA) VS. AITANA ALVAREZ (ESPAÑA)
NUEVA YORK – 13 de abril de 2022 – Combate Global anunció hoy su tercera cartelera de pelea de Artes Marciales Mixtas (MMA) del año, encabezada por un estelar enfrentamiento en el peso pluma (145 libras) entre México y Estados Unidos cuando Jair "El Lupe" Pérez (6-2) y el invicto Landry "The Lone Star Kid" Ward (5-0) se enfrenten el viernes 15 de abril, en vivo por Univision (12 a.m. ET / PT) y TUDN USA (12 a.m. ET / 9 p.m. PT) en los Estados Unidos y en TUDN en México (11 p.m. hora local).
Pérez, de 24 años, de Monterrey, N.L., México, entrara la jaula de Combate Global por séptima vez donde hizo su debut profesional y ha registrado un récord de 5-1.  Buscará extender su racha de victorias a cuatro combates consecutivos.
Ward, de 25 años, ha demostrado ser un prospecto formidable con una base de ataque peligrosa obteniendo victorias en sus dos combates de Combate Global en 2021.
Una ex estrella de fútbol americano en la escuela secundaria, Ward se mudó el año pasado de su ciudad natal de Forth Worth, Texas, a Miami para reforzar su régimen de entrenamiento de MMA.
En la pelea coestelar en un duelo femenino en el peso mosca (125 libras), Maritza Sánchez, de 24 años, de El Dorado, California, buscará su tercera victoria consecutiva contra la nueva atleta a Combate Global, Aitana Álvarez (1-2), de 22 años, de San Sebastián, España.
En una batalla en el peso mosca veremos otro enfrentamiento entre México y Estados Unidos cuando Rodrigo García (3-1) de Monterrey encontrara el "Malicioso" Mikey Reyes (6-5) de Oxnard, California en la jaula.
Encabezando la cartelera estará un duelo de peso átomo (105 libras) entre la invicta Andrea Meneses (2-0) de Gava, España y Estefanía Irurzo Fernández (0-3-1) de San Luis Potosí, SLP, México.
La estrella invicta y en ascenso Iván "Titán" Tena (3-0) chocará con Geraldo Almonte (3-3) de Miami en un duelo en el peso pluma.
Puede encontrar información adicional de Combate Global y sus atletas visitando www.CombateGlobal.com así como seguirnos a través de la redes sociales Facebook, Instagram, Twitter y YouTube.
CONTACTOS:
Mike Afromowitz
Combate Global
mikea@combateglobal.com
917-566-8754
Univision
Estefania Diaz-Balart
ediazbalart@univision.net
###