TelevisaUnivision and Roku Announce ViX will be Available on the Roku Platform in the U.S., Mexico and Latin America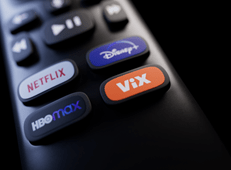 Roku remote controls in Latin America will feature
a ViX shortcut button
MIAMI – MARCH 28, 2022 – TelevisaUnivision Inc., the world's leading Spanish-language media and content company, today announced that its new global streaming service ViX, which launches on March 31st, will be available on the Roku platform in the U.S. and Latin America. And as part of the agreement, Roku remote controls will feature a dedicated ViX shortcut button in Latin America. Throughout the continent, ViX's free AVOD channel will launch on the Roku platform with more than 100 channels, in an electronic programming guide, and vast-content VOD experience.
"Roku has been a great partner of our streaming products, and we are pleased to expand our relationship to the new ViX, the world's largest Spanish-language streaming service, bringing 40,000 hours of a broad range of entertainment, sports and news content in one streaming destination for Spanish speakers," says Adam Waltuch, Senior Vice President of Streaming Partnerships at TelevisaUnivision. "With this new distribution agreement, we are bringing ViX to a massive audience and working with a market leader across the entire region."
With the launch of ViX, on March 31st, the previous streaming offerings from TelevisaUnivision will be consolidated into the new service: current Roku users in the U.S. who have the PrendeTV channel, and in Latin America who have the former Vix channel, will be redirected to the new AVOD ViX channel, to be able to enjoy the more than 40,000 hours of great content already available at launch.
"We are excited to welcome the new ViX channel to the Roku platform in the U.S. and Latin America and bring this unmatched Spanish-speaking library of content into the homes of millions of Roku users," said Adriana Naves, Head of Content Distribution for Latin America at Roku. "By adding the ViX shortcut button on our Roku remote controls in Latin America, we will make it even easier for Roku users to access all the great Spanish-speaking programming offered on ViX."
The ViX AVOD channel will be available on the Roku Channel Store in the U.S., Mexico Argentina, Chile, Colombia, Costa Rica, El Salvador, Honduras, Guatemala, Nicaragua, Panama, and Peru, starting on March 31st. The ViX shortcut button will be featured in the Roku remote controls and Roku TV models only in Latin America beginning next month, allowing users to enjoy the ViX content easily and quickly on their Roku devices.
Click here to download images
CONTACTS:
TelevisaUnivision
United States and Latin America
Tatiana Oviedo, toviedo@univision.net
Roku
###
TelevisaUnivision y Roku anuncian que ViX estará disponible en la plataforma Roku en Estados Unidos, México y América Latina
MIAMI – 28 DE MARZO DE 2022 – TelevisaUnivision Inc., la compañía líder de medios y contenido en idioma español en el mundo, anunció hoy que su nuevo servicio de streaming global ViX, el cual será lanzado el 31 de marzo, estará disponible en la plataforma Roku en Estados Unidos y Latinoamérica. Como parte de este acuerdo, los controles remotos de Roku tendrán un botón dedicado a ViX en Latinoamérica. A través del continente, el canal AVOD gratuito de ViX será lanzado en la plataforma Roku con más de 100 canales, una guía electrónica de programación y una amplia experiencia de contenido VOD.
"Roku ha sido un gran socio de nuestros productos de streaming, y nos complace expandir nuestra relación con el nuevo ViX, el servicio de streaming en español más grande del mundo, que brinda 40,000 horas de una amplia variedad de contenidos de entretenimiento, deportes y noticias en un solo destino de streaming para los hispanohablantes", dijo Adam Waltuch, vicepresidente sénior de Alianzas para Streaming de TelevisaUnivision. "Con este nuevo acuerdo de distribución, estamos llevando ViX a una audiencia masiva y trabajando con un líder del mercado en toda la región".
Con el lanzamiento de ViX el 31 de marzo la oferta anterior de streaming de TelevisaUnivision se consolidará en el nuevo servicio: los usuarios actuales de Roku en los Estados Unidos que tienen el canal PrendeTV, y en América Latina que tienen el antiguo canal Vix, serán redirigidos al nuevo canal AVOD ViX, para poder disfrutar de las más de 40,000 horas de gran contenido disponibles en el momento del lanzamiento.
"Estamos emocionados de dar la bienvenida al nuevo canal ViX a la plataforma Roku en los Estados Unidos y América Latina y llevar esta biblioteca de contenido de habla hispana inigualable a los hogares de millones de usuarios de Roku," comentó Adriana Naves, Directora de Distribución de Contenido para América Latina en Roku. "Al agregar el botón de acceso directo de ViX a nuestros controles remotos de Roku en América Latina, haremos que sea aún más fácil para los usuarios de Roku acceder a toda la excelente programación en español que se ofrece en ViX."
Se espera que el canal AVOD de ViX esté disponible en Roku Channel Store en Estados Unidos, México, Argentina, Chile, Colombia, Costa Rica, El Salvador, Honduras, Guatemala, Nicaragua, Panamá y Perú a partir del 31 de marzo. El botón de acceso directo de ViX se presentará en los controles remotos de Roku y en los modelos de Roku TV sólo en Latinoamérica en las próximas semanas, lo que permitirá a los usuarios disfrutar el contenido de ViX de manera fácil y rápida en sus dispositivos Roku.
Haz clic aquí para descargar imágenes.
CONTACTOS:
TelevisaUnivision
Estados Unidos y América Latina
Tatiana Oviedo, toviedo@univision.net
Roku