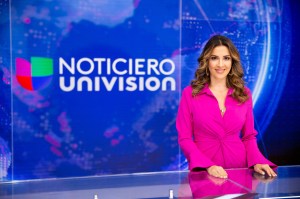 Univision Continues to Reinforce News Division, Names Maity Interiano Co-Anchor in Weekend Edition of "Noticiero Univision"
The award-winning journalist joins Felix de Bedout as co-anchor of Univision News' national evening newscast airing Saturdays and Sundays on the Univision Network
MIAMI, FL – JANUARY 20, 2022 – Univision News, the award-winning news division of Univision Communications, Inc., the leading Spanish-language media and content company in the U.S., and the most trusted source of news for U.S. Hispanics, has announced it has appointed Maity Interiano as co-anchor of the weekend evening edition of its national newscast, "Noticiero Univision," which airs coast to coast on the Univision Network. Interiano will join Felix De Bedout every Saturday and Sunday at 6:30 p.m. and 11:30 p.m. ET/PT beginning on Saturday, January 22, 2022.
"We are pleased to welcome Maity Interiano to the weekend evening edition of our national newscast, "Noticiero Univision," said Leopoldo Gomez, president of Univision News. "She is a highly talented, driven, skilled, award-winning journalist with a deep passion for the community we serve. She will help us advance our mission of informing and empowering Hispanic America."
Previously, Interiano served as a reporter, correspondent, and host of Univision's flagship Daytime Emmy Award-winning show "Despierta América," "UNews," and "Noticiero Univision Edición Digital." In addition, Interiano has also frequently been a Univision correspondent for a variety of events, including "Premios Juventud," "Premio lo Nuestro," the "Latin GRAMMY®" awards, "Nuestra Belleza Latina," The Golden Globe Awards, The Oscars, and the Rose Parade among many others.
Interiano's appointment is a testament to Univision's continued commitment to serving its audience with the best-in-class anchors and journalism. The new role is part of Univision's ongoing investments in its news division, which include the addition of over 150 new newsroom positions, the expansion of its weekend news programming, and most recently the launch of "Noticias Univision 24/7," the premier news streaming channel featuring breaking news, original lifestyle content, opinion, and information curated for Spanish-speaking audiences.
Interiano's has been one of Univision's lead correspondents covering the migrant caravans reaching the U.S.-Mexico border and the humanitarian crisis.  Her versatility has allowed her to cover a wide range of stories that include international celebrities, the 2014 FIFA World Cup in Brazil, the Royal Wedding of Prince William and Catherine Middleton, the Wedding of Prince Harry and Megan Markle from London, and the  canonization of Saint Mother Teresa in Rome.
The Emmy award-winning Maity Interiano studied broadcast communications and graduated from Elon University in North Carolina in 2007. She was asked to address the commencement speech in 2017, and she received the Distinguished Alumni Award in 2021. Beyond her work in journalism, Interiano also serves the Hispanic community by working with the Amor y Vida Foundation, which offers comprehensive care to young children and teenagers affected by HIV/AIDS in her native Honduras. She also participates in the annual Teletón México and Teletón U.S.A. fundraising events and serves as Co-Chair for Elon LEADS Campaign.
CONTACT: Sandra Ramos, 305.894.8563, sandraramos@univision.net.
###
Univision Continúa Reforzando Su División de Noticia Nombra a Maity Interiano Copresentadora en Edición de Fin de Semana de "Noticiero Univision"
La galardonada periodista se une a Félix de Bedout como copresentadora del noticiero vespertino nacional de Univision Noticias que se transmite los sábados y domingos por la Cadena Univision
MIAMI, FL – 20 DE ENERO DE 2022 – Univision Noticias, la galardonada división de noticias de Univision Communications, Inc., la principal empresa de contenido y medios en español en Estados Unidos, y la fuente de noticias en la que los hispanos más confían en el país, anunció que designó a Maity Interiano como copresentadora de la edición vespertina de fin de semana de su noticiero nacional, "Noticiero Univision", que se transmite de costa a costa por la cadena Univision. Interiano se unirá a Félix De Bedout todos los sábados y domingos a las 18:30 horas. y 23:30 ET/PT a partir del sábado 22 de enero de 2022.
"Nos complace darle la bienvenida a Maity Interiano a la edición vespertina del fin de semana de nuestro noticiero nacional, "Noticiero Univision", dijo Leopoldo Gómez, presidente de Univision Noticias. "Es una periodista galardonada con gran talento, motivada, hábil y con una profunda pasión por la comunidad a la que servimos. Ella nos ayudará a avanzar en nuestra misión de informar y empoderar a la comunidad Hispana".
Anteriormente, Interiano se desempeñó como reportera, corresponsal y presentadora del programa insignia de Univision, ganador del premio Daytime Emmy, "Despierta América", y de "UNews" y "Noticiero Univision Edición Digital". Además, Interiano también ha sido corresponsal de Univision para una variedad de eventos, incluyendo "Premios Juventud", "Premio lo Nuestro" para la música latina, los premios "Latin GRAMMY®", "Nuestra Belleza Latina", los Premios Globo de Oro, Los Oscar y el Desfile de las Rosas, entre muchos otros.
El nombramiento de Interiano es un testimonio del compromiso continuo de Univision de servir a su audiencia con los mejores presentadores y con el mejor periodismo. El nuevo cargo es parte de las inversiones continuas de Univision en su división de noticias, que incluyen la adición de más de 150 nuevos puestos en la sala de redacción, la expansión de su programación de noticias de fin de semana y, más recientemente, el lanzamiento de "Noticias Univision 24/7", su nuevo canal por streaming con noticias de última hora, contenido original de estilo de vida, opinión e información seleccionada para las audiencias de habla hispana.
Interiano ha sido una de las principales corresponsales de Univision cubriendo las caravanas migrantes que llegan a la frontera entre EE.UU. y México y la crisis humanitaria en esa frontera. Su versatilidad le ha permitido cubrir una amplia gama de historias, que incluyen celebridades internacionales, la Copa Mundial de la FIFA 2014 en Brasil, la Boda Real del Príncipe William y Catherine Middleton, la Boda del Príncipe Harry y Megan Markle en Londres, y la canonización de la Madre Teresa de Calcuta en Roma.
La periodista ganadora de premios Emmy, Maity Interiano, estudió comunicaciones y se graduó de la Universidad de Elon en Carolina del Norte en 2007, donde se le pidió que pronunciara el discurso de graduación en 2017, y donde recibió el premio de alumna distinguida en 2021. Más allá de su trabajo en periodismo, Interiano también sirve a la comunidad hispana al trabajar con la Fundación Amor y Vida, que ofrece atención integral a niños pequeños y adolescentes afectados por el VIH/SIDA en su natal Honduras. También participa en los eventos anuales de recaudación de fondos de Teletón México y Teletón U.S.A. y se desempeña como copresidenta de la campaña LEADS de Elon.
CONTACTO: Sandra Ramos, 305.894.8563, sandraramos@univision.net.
###