Univision's First Live After-Show to be Hosted by Lourdes Stephen and Carlos Calderón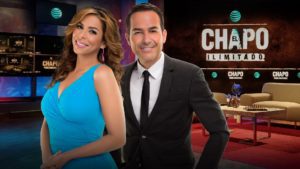 ---
MIAMI, FL – APRIL 21, 2017 – Univision Communications Inc. (UCI) today announced the launch of a weekly "El Chapo" aftershow, "El Chapo Ilimitado" (El Chapo Unlimited), with AT&T serving as the presenting sponsor. Univision's first live after-show will serve as a forum for fans to discuss new episodes of Univision's boundary-breaking original series "El Chapo," which explores the life story of one of the world's most notorious criminals: Joaquín 'El Chapo' Guzmán. "El Chapo Ilimitado," hosted by beloved Univision personalities Lourdes Stephen and Carlos Calderón, will be streamed via Facebook Live on Univision's Facebook page Sunday evenings at 10 p.m. immediately following the premiere of new episodes.
Each week, the 20-minute Facebook Live after-show will recap and dissect some of the most talked about moments of the episode and get fan reaction. Viewers will have the chance to learn about the making of the series through interviews with the show's producers, directors, and actors as well as through special behind-the-scenes footage. Additionally, each week "El Chapo Ilimitado" will give viewers an exclusive first-look at the following week's episode. Watch the exclusive extended trailer here.
"'El Chapo Ilimitado' is an extra dose of Univision's most thrilling story of the year and we are bringing an entirely new experience to our audience, giving them the opportunity to engage and experience this story like never before," said Sameer Deen, senior vice president of Univision Digital. "We are excited to work with AT&T to deliver a great platform for fans to interact with the show and be part of the conversation."
Fans of "El Chapo" can also continue to engage with the show through the Conecta App with interactive polls, episode trivia and answering fan questions.
"We offer unlimited entertainment on the nation's best data network so we can continue to connect our customers to the entertainment they love on their terms," said Valerie Vargas, vice president, Advertising & Creator Labs, AT&T Entertainment Group. "We continue to develop new and innovative ways to bring this entertainment to life in the palm of their hands. The second screen technology engages fans of the El Chapo mini-series with behind the scenes content and interactive polls like never before. This is the future of entertainment."
Pablo Wills, Digital Creative Director and Leonor Suárez, Director Video Production serve as the executive producers of "El Chapo Ilimitado."
Follow @ElChapoLaSerie on Facebook, Twitter, and Instagram and join the conversation using the hashtag #ElChapoTV.
CONTACT: Julissa Bonfante jbonfante@us.univision.com 305-894-8635 @UCIPRTeam
###
---
UNIVISION Y AT&T PRESENTAN "EL CHAPO ILIMITAD", UN PROGRAMA ESPECIAL EN FACEBOOK LIVE QUE SE TRANSMITIRÁ DESPUÉS DE LA NUEVA SERIE "EL CHAPO"
Lourdes Stephen y Carlos Calderón presentarán el primer programa post-show de Univision en vivo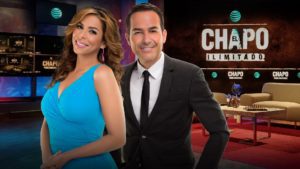 ---
MIAMI, FL – 21 DE ABRIL DE 2017 – Univision Communications Inc. (UCI) anunció hoy el lanzamiento del programa semanal "El Chapo Ilimitado", auspiciado por AT&T y presentado después de la trasmisión de "El Chapo". Este programa en vivo servirá como un foro para que los fans hablen sobre los nuevos episodios de la innovadora y original serie de Univision, "El Chapo", que explora la vida de uno de los criminales más conocidos del mundo: Joaquín 'El Chapo' Guzmán. "El Chapo Ilimitado", conducido por las populares personalidades de Univision Lourdes Stephen y Carlos Calderón, se trasmitirá por streaming vía Facebook Live en la página de Facebook de Univision los domingos a las 10 p.m., inmediatamente después del estreno de los nuevos episodios.
Cada semana después de la serie, el programa de 20 minutos en Facebook Live resumirá y analizará algunos de los momentos más comentados del episodio, y presentará la reacción de los fans. Los televidentes tendrán la oportunidad de enterarse sobre la producción de la serie por medio de entrevistas a los productores, directores y actores del programa, como también de videos especiales tras cámaras. Además, cada semana, "El Chapo Ilimitado" les dará a los televidentes un avance exclusivo del episodio de la semana siguiente. Vean el exclusivo avance prolongado aquí.
"El Chapo Ilimitado" es una dosis adicional de la historia más emocionante de Univision este año y estamos ofreciendo una experiencia totalmente nueva a la audiencia, dándole la oportunidad de participar y vivir esta historia como nunca antes", dijo Sameer Deen, vicepresidente sénior de Univision Digital. "Estamos muy contentos de trabajar con AT&T para ofrecer una excelente plataforma a fin de que los fans interaccionen con el programa y sean parte de la conversación".
Los fans de "El Chapo" también pueden seguir participando en el programa por medio de la app Conecta con encuestas interactivas, preguntas sobre los episodios y respondiendo las preguntas de otros aficionados.
"Ofrecemos entretenimiento ilimitado en la mejor red de datos del país para que podamos seguir conectando a nuestros clientes con el entretenimiento que les encanta, de la manera que más les convenga", afirmó Valerie Vargas, vicepresidenta de Publicidad y Laboratorios de Creadores de AT&T Entertainment Group. "Seguimos desarrollando maneras nuevas e innovadoras de hacer que este entretenimiento cobre vida en sus manos. La tecnología de segunda pantalla permite que los fans participen en la miniserie El Chapo y les ofrece contenido tras cámaras y encuestas interactivas como nunca antes. Este es el futuro del entretenimiento".
Pablo Wills, director creativo de Medios Digitales, y Leonor Suárez, directora de Producción de Video son los productores ejecutivos de "El Chapo Ilimitado".
Sigan @ElChapoLaSerie en Facebook, Twitter e Instagram, y participen en la conversación usando el hashtag #ElChapoTV.
CONTACTO: Julissa Bonfante jbonfante@us.univision.com 305-894-8635 @UCIPRTeam
###