HOUSTON – APRIL 20, 2017 – Univision Communications Inc. (UCI), the leading media company serving Hispanic America, welcomes Marcela Pérez Barros to Univision Houston as co-anchor of Noticias 45. Pérez Barros joins Houston's oldest and most watched Spanish-language television station beginning Monday, April 24, 2017.  She will share the news desk with the prestigious, award-winning journalist Raúl Peimbert for the 5:00 p.m. and 10:00 p.m. newscasts Monday through Friday.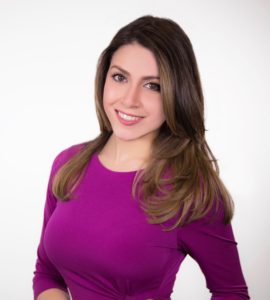 "Marcelais a world-class journalist that is experienced in covering the most pressing issues and stories for the Hispanic community. Throughout her time at Univision, she has served as a trusted voice for Latinos everywhere.," said Martha Kattan, vice president of News in Houston. "I'm proud to welcome her to the Univision Houston family and I have no doubt that she will bring a fresh perspective to the news desk and to our news team more broadly."
"I am thrilled to be joining Noticias 45 and this incredibly talented team," said Pérez. "I look forward to continuing to serve the Hispanic community and bringing them the news that matters to them most. Being part of the Univision family has been a very fulfilling experience and I am so happy to have this new opportunity to continue to do what I love for the people of Houston."
Pérez Barros comes to Univision Houston from Univision Chicago's television station where she served as a reporter for the past two years. Prior to joining Univision she served as an economic journalist at Santiago de Chile and previously collaborated at the Diario La República in Bogotá, Colombia. Her journalistic work in Bogotá led her to become a finalist in the Iberoamerican Economic Journalism Contest.
Pérez Barros is a graduate from the Universidad del Norte in Barranquilla, her hometown, with a degree in social communication and journalism.
During the February 2017 sweep, Univision Houston delivered the No. 1 Early and Late local newscast in the Houston area among Adults 18-49 and Adults 18-34, regardless of language.
Follow Univision Houston via @NoticiasHouston on Twitter and Instagram, and comment along with others on the "Noticias 45 Houston" Facebook page.
CONTACT:
Yvette Pacheco 646.560.4879 ypacheco@univision.net @UCIPRTeam
###
---
MARCELA PÉREZ BARROS SE INTEGRA A UNIVISION HOUSTON COMO COPRESENTADORA, JUNTO A RAÚL PEIMBERT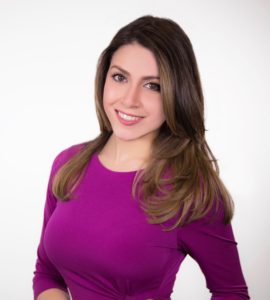 ---
HOUSTON – 20 DE ABRIL DE 2017 – Univision Communications Inc. (UCI), la principal empresa de medios de comunicación al servicio de la comunidad hispana en los Estados Unidos, le da la bienvenida a la reportera Marcela Pérez Barros a Univision Houston como copresentadora de "Noticias 45". Pérez Barros se sumará a la estación en español más antigua y de mayor sintonía en Houston el lunes, 24 de abril de 2017. Presentará las noticias junto al prestigioso y galardonado periodista Raúl Peimbert a las 5:00 p.m. y 10:00 p.m. de lunes a viernes.
"Marcela es una periodista de clase mundial que tiene experiencia en la cobertura de las noticias y temas más apremiantes para la comunidad hispana. Durante su tiempo en Univision, ha sido una voz confiable para los latinos en todas partes", dijo Martha Kattan, vicepresidenta de Noticias en Houston. "Me siento orgullosa de darle la bienvenida a la familia de Univision Houston y no tengo la menor duda de que aportará una perspectiva nueva a la mesa de noticias y, en general, a nuestro equipo periodístico".
"Estoy complacida de integrarme a Noticias 45 y este increíblemente talentoso equipo," dijo Pérez. "Espero continuar sirviendo a la comunidad hispana y traerles las noticias que más les interesan. Ser parte de la familia Univision ha sido una experiencia muy satisfactoria y estoy feliz de tener esta nueva oportunidad de seguir haciendo lo que me apasiona para la gente de Houston."
Pérez Barros llega a Univision Houston desde la estación de televisión de Univision Chicago, donde se desempeñó como reportera durante los últimos dos años. Antes de incorporarse a Univision fue periodista de economía en Santiago de Chile y anteriormente colaboró con el Diario La República en Bogotá, Colombia. Su labor periodística en Bogotá la llevó a ser finalista del Concurso Iberoamericano de Periodismo Económico.
Pérez Barros se graduó de la Universidad del Norte en Barranquilla, su ciudad de origen, con una licenciatura en comunicación social y periodismo.
Durante el periodo de medición de audiencia de febrero de 2017, Univision Houston fue el noticiero local vespertino y nocturno de mayor sintonía en el área de Houston entre Adultos 18-49 y Adultos 18-34, independientemente del idioma.
Sigan a Univision Houston vía @NoticiasHouston en Twitter e Instagram, y dejen sus comentarios en la página de Facebook de "Noticias 45 Houston".
CONTACTO:
Yvette Pacheco 646.560.4879 ypacheco@univision.net @UCIPRTeam
###