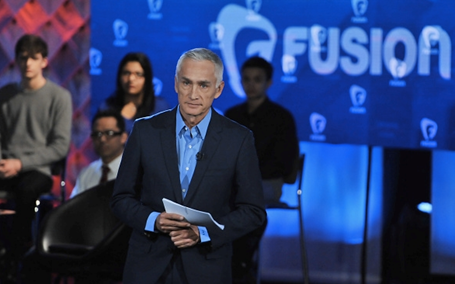 ---
By: A.J. Katz
It's a busy month for Univision and Fusion news anchor Jorge Ramos.
Not only will Ramos receive the Walter Cronkite Award for Excellence in Television Political Journalism on Friday, April 28th, but it was announced earlier today that he'll host a new series of interview-driven specials for Fusion.
The veteran broadcast and cable newser sat down with a variety of world leaders and pop culture figures for the new series Show Me Something, asking them to talk about "something they love." Ramos and his guests explored events that have challenged or defined them throughout their careers, as well as little known tidbits about their personal lives, things the public doesn't necessarily know.
"In a very charged political year, I'd like to experiment with the interview format," said Ramos. "It can be re-invented if you find a news maker in an interesting place, discussing relevant issues, and having him or her show you what they are really passionate about. After three decades in the business, I'm still getting surprised with the results."
"Jorge is undoubtedly one of the most engaging interviewers of our time," said Daniel Eilemberg, President of Fusion. "In this new series Jorge is taking viewers on a journey to discover what drives and motivates the influential figures who shape our culture."
Guests on the series include renowned chef/restaurateur Jose Andres, former U.S. Ambassador to the U.N. Samantha Power, popular comedian and late night host Conan O'Brien, and billionaire real estate developer Jorge Perez. All of these figures have a unique connection to the current social and political climate, including O'Brien, who recently shot a number of episodes of his late night program in Mexico City.
Ramos also talks to John Legend, and Dr. Alfredo Quinones-Hinojosa, known as Dr. Q, an undocumented immigrant who went on to become the head of brain tumor surgery at Johns Hopkins Hospital. He's now at the Mayo Clinic in Jacksonville.
The series premieres Tuesday, April 25th at 10 p.m. on Fusion.
Source: Adweek