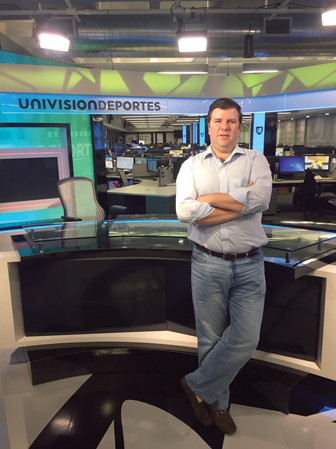 ---
By: John Ourand
As senior vice president of planning and operations for Univision Deportes Network, the country's fastest-growing sports network, Olek Loewenstein is focused on allowing his staff to have a good time even while pushing them to become technologically advanced.
Take last summer's Copa America Centenario tournament, for example. As rain delayed the Colombia-Chile semifinal in Chicago, the network's announcers and on-air graphics performed a mock analysis of the grounds crew as it tried to make Soldier Field playable.
"We've been able to foster an environment where we have fun and where people feel like making a mistake is right and OK, as long as you don't repeat them," Loewenstein said. "That allows us to have fun in the broadcast and do things that would not be permissible in a more conservative environment."
This environment has helped boost the 5-year-old UDN's distribution to nearly 50 million homes and its ratings to the point where it rivals bigger sports networks.
Media is in Loewenstein's blood. It's the family business, as his dad used to run a TV network in Venezuela. It should come as no surprise that Loewenstein made moves to bring the biggest technological advancements in sports media to soccer, from incorporating on-air graphics and augmented reality during games to using virtual reality and streaming games via mobile apps. UDN was the first U.S. channel to produce a soccer game using 4K technology.
"For the most part, soccer on TV has been the same for decades — 90 minutes, no graphics," he said. "In the U.S. market, it is much more permissible to talk about stats and graphic elements over a broadcast than any other market in the world. If you put graphic overlays in Europe over soccer, they would probably kill you. But in the U.S. it is much more permissive."
The culture that Loewenstein has created at UDN has allowed the network to try new things. As an example, at the Copa America tournament, UDN used alternate channels to highlight announcers who favored each team. "We're trying to push the envelope from a technology perspective," he said.
Source: Sports Business Journal