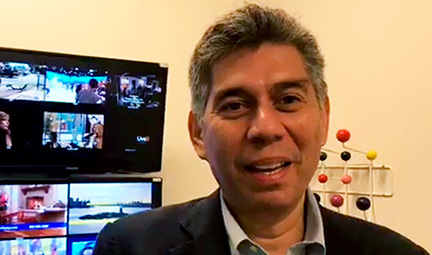 ---
Daniel Coronell from NTC, president of Noticias Univisión and partner of Colombia's Canal Uno, has 32 years of experience in journalism, a career he began in his native Colombia.
According to him, good journalism must be made both for digital platforms and for television. "We are working for Univision to be the first in all the platforms".
From the Noticias Univision building, which he feels very proud over, due to its great functionality, he commented that it has a data investigation unit and an infograph unit. "Here, we work in an integrated manner, our television platform with our digital platform aimed at making news."
Regarding Canal Uno in Colombia, which they have together with their partners Yamid Amat from CMI; Patricio Wills and his partner, RTI; and Alan Sokol and Jim McNamara from Hemisphere, he commented that they are precisely defining the channel´s name. NTC will be in charge of making the best news.
Likewise, he emphasized the importance of doing something different and in having a difrerent channel that preserves information autonomy. "It is a great benefit for Colombia to see a television production operation that is connected with the world."
Source: Produ