Social Media Host of Univision Network's "El Gordo y La Flaca" takes viewers into her journey from beauty queen to entertainment news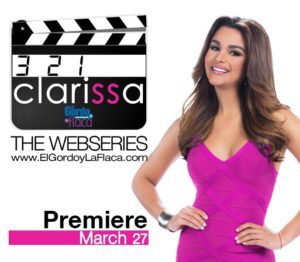 MIAMI, FL – MARCH 21, 2017
Univision Digital, the leading digital publisher serving Hispanic America, announced today a new digital web series "3, 2, 1 Clarissa!" featuring Clarissa Molina, the Social Media Host for the award-winning entertainment news show "El Gordo y La Flaca" (The Scoop and The Skinny), crowned "Nuestra Belleza Latina" (Our Latin Beauty) in the 10th season of the reality beauty competition. The web series gives viewers a look at the beauty queen's journey to her new exciting career in entertainment news and premieres on Monday, March 27 on www.ElGordoYLaFlaca.com.
In the seven-part web series, Molina returns to her humble beginnings in her hometown of New York and shares special moments with her family. "3, 2, 1 Clarissa!" showcases all the hard work and dedication that goes into transitioning from a reality beauty queen contestant to on-air talent and personality. Molina has competed in several beauty pageants, such as Miss Dominican Republic 2015, and represented the Dominican Republic at the Miss Universe 2015 pageant. Watch the exclusive sneak peek of "3, 2, 1 Clarissa".
"We're thrilled to continue developing original digital content around Univision Network's beloved talent and personalities," said Hilda Garcia, vice president, Digital Entertainment, Univision. "We are connected to how Hispanic Americans consume content and '3, 2, 1 Clarissa!' delivers on our mission to give younger audiences compelling stories across multiple platforms."
Viewers can get the latest on "3, 2, 1 Clarissa!" and join the conversation using the hashtag #321Clarissa on Twitter via @ElGordoylaFlaca, on Facebook.com/ElGordoylaFlaca and on Instagram @ElGordoylaFlaca.
CONTACT
Univision Digital lanza una nueva Web Serie, "3, 2, 1 Clarissa!", con Clarissa Molina. La host de redes sociales de "El Gordo y La Flaca" de la Cadena Univision permite que los televidentes le sigan su trayectoria desde los concursos de belleza hasta las noticias de entretenimiento
MIAMI, FL – 21 DE MARZO DE 2017
Univision Digital, el principal editor de contenido digital al servicio de los hispanos en los Estados Unidos, anunció hoy una nueva web serie, "3, 2, 1 Clarissa!" con Clarissa Molina, la host de redes sociales del galardonado programa de noticias de entretenimiento "El Gordo y La Flaca" y la ganadora de la 10a temporada de "Nuestra Belleza Latina", un concurso de belleza tipo reality. La serie digital ofrece un vistazo de las experiencias de la reina de belleza y su evolución hasta su nueva y emocionante carrera en noticias de entretenimiento. Se estrena el lunes, 27 de marzo en www.ElGordoYLaFlaca.com.
En la serie de siete episodios, Molina hace una retrospectiva de sus humildes orígenes en la ciudad de Nueva York, donde creció y comparte momentos especiales con su familia. "3, 2, 1 Clarissa!" muestra todo el arduo trabajo y la dedicación que se requiere para hacer la transición de concursante de certamen de belleza en un programa tipo reality a profesional ante cámaras y celebridad. Molina ha competido en varios concursos de belleza, como Miss República Dominicana de 2015, y representó a la República Dominicana en el certamen de Miss Universo de 2015. Se puede ver un adelanto exclusivo de "3, 2, 1 Clarissa!".
"Nos entusiasma mucho seguir creando contenido digital original con las personalidades y celebridades mas queridas de la Cadena Univision", dijo Hilda García, vicepresidenta de Entretenimiento Digital de Univision. "Estamos al tanto de los formatos en que los hispanoamericanos consumen contenido y "3, 2, 1 Clarissa!" cumple con nuestra misión de ofrecerles historias interesantes a una audiencia más joven en plataformas múltiples".
Los televidentes pueden enterarse sobre las novedades de "3, 2, 1, Clarissa!" y participar en la conversación usando el hashtag #321Clarissa en Twitter vía @ElGordoylaFlaca, en Facebook.com/ElGordoylaFlaca y en Instagram @ElGordoylaFlaca.
CONTACTO