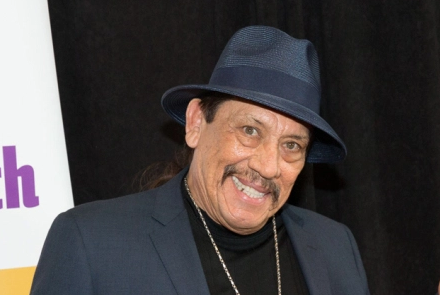 Photo by Suzanne Cordeiro/REX/Shutterstock
---
By: Denise Petski
El Rey Network has tapped Danny Trejo as host of its upcoming original unscripted series Man At Arms.
Trejo, who starred in both From Dusk Till Dawn the film and El Rey's series, will introduce each episode, preside over the expert roundtable of builders, historians and martial artists, and participate in the weapons testing phase to see how much destruction they can cause. The eight-part series is slated to premiere on the network in early June.
El Rey Network is bringing the digital series Man at Arms to television in a co-production deal with the show's creator DEFY Media. In each episode, a team of expert craftsmen skillfully reproduce famed weapons and armor from scratch, using both the technology that would have been available at the time such weapons and armor were originally created, as well as state-of-the-art technologies.
Trejo's other TV work includes recurring roles on Sons of Anarchy and King of the Hill. He recently finished shooting Dead Again In Tombstone, the sequel to Dead In Tombstone, for Universal.
Source: Deadline